Oooooooh, I've gots me own! *Rubs palms together* This Urban Decay Naked 2 palette is probably the most reviewed eyeshadow palette in the last 6 months, thought there was not as much of a frenzy bout this as its predecessor, the original Naked palette.  So what, it's high time I got to say something 'bout it, it's my first Urban Decay palette, haha!  Naked and Naked 2 palettes both come with 12 lovely shades of eyeshadow.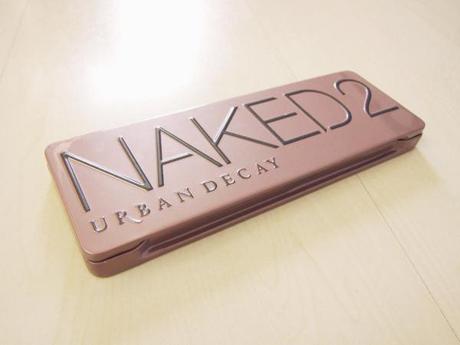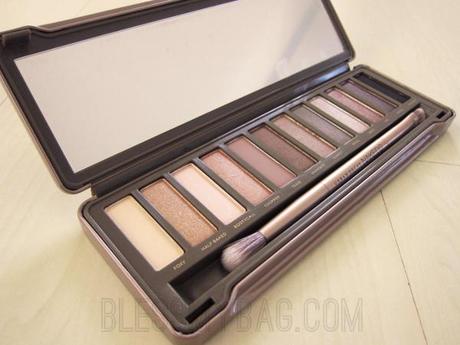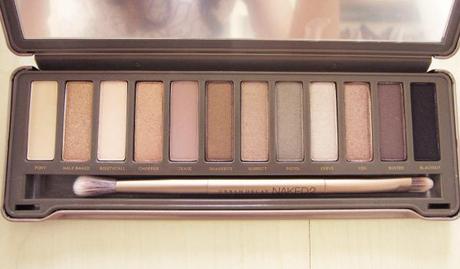 Shades and Finish L-R: Foxy (Matte), Half Baked (Shimmer), Booty Call (Satin), Chopper (Shimmer + Sparkle), Tease (Matte), Snakebite (Shimmer), Suspect (Shimmer), Pistol (Shimmer), Verve (Shimmer), YDK (Shimmer), Busted (Shimmer), Blackout (Matte)
The palette itself comes inlaid in cardboard with a minty Urban Decay Lip Junkie gloss in the shade "Naked". This wasn't exactly a birthday present but then in the end it was really funny because it kinda became one.  Another aunt gave me Php1500.00 birthday money, then the aunt that got me this said she'll only charge me something the equivalent of US$40 for this (about Php1600), so I slid the Php1500 I was given by the first aunt over to that aunt "There, paid", she laughed and said "Okay, the money just went around".  And then my grandmother arrived and gave me Php1000 birthday money, we laughed again.  So technically I only gave up Php500.00 for this Naked 2 palette, lots of indie makeup stockists bring this in, like House of Flair, but locally this would fetch about Php3200.00 (around $70).  In the States, its original $50 price tag converts to Php2200.  Read more to get the full post with close-ups and hand swatches.
More than the selection of shades within beauty lovers the world over developed a yearning for this because of its new sturdy metallic case that snaps shut on both corners in contrast to the first Naked palette's magnetized cardboard casing.  Lots of their customers were a bit disappointed with the somewhat "dead" selection of shades and the lack of matte shades, in the orignal Naked palette there were a lot more warmer colors and a blue brightened up the neutral selection.  As a pro makup artist I think it's still a good set to have on hand, especially for weddings.  The only two matte shades in this palette are at the beginning and end, Foxy and Blackout.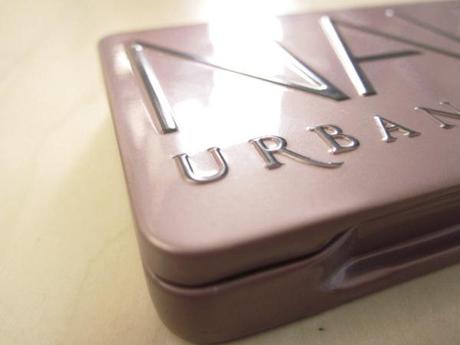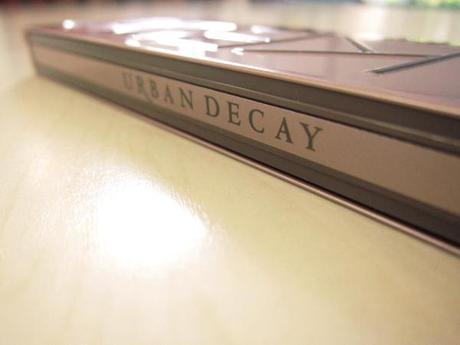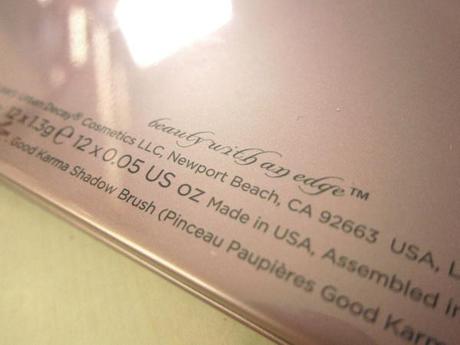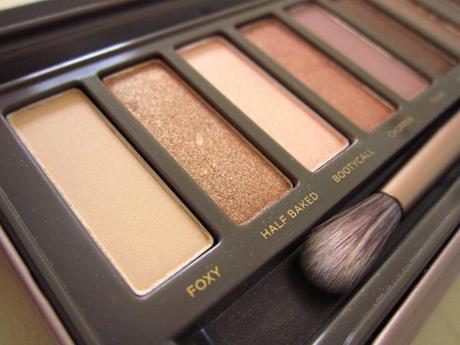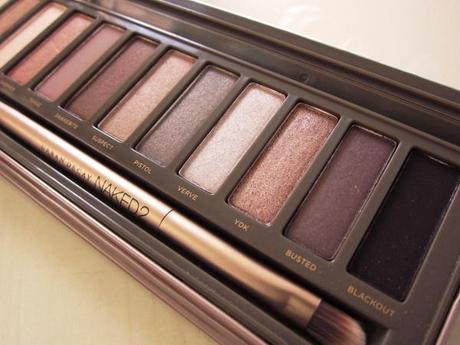 The eyeshadows in this Naked 2 palette have already been reformulated to have less fallout, more pigment, and more longevity just as mentioned in the recent launch of the single eyeshadows in tandem with the Build Your Own palette.  Can you imagine what a frenzy it would cause if Urban Decay re-released the original Naked palette with its more popular selection in the new product formulation and a similar metallic case?  That would be a major sales sweep and I'd certainly want to own the first naked palette if it could stand alongside this one in equal majesty.  Here are the swatches first without Urban Decay primer potion on the arm, then secondly with primer potion applied to the arm.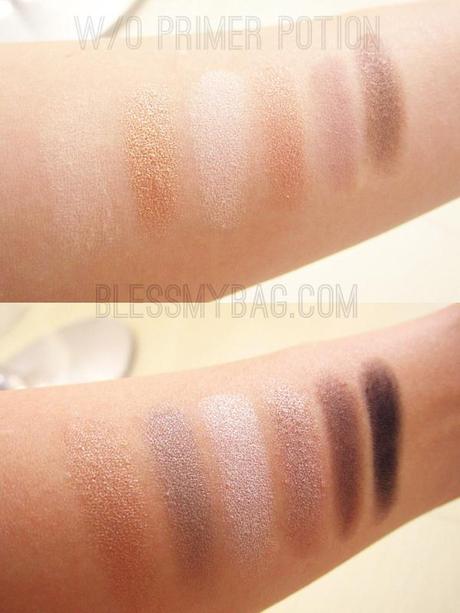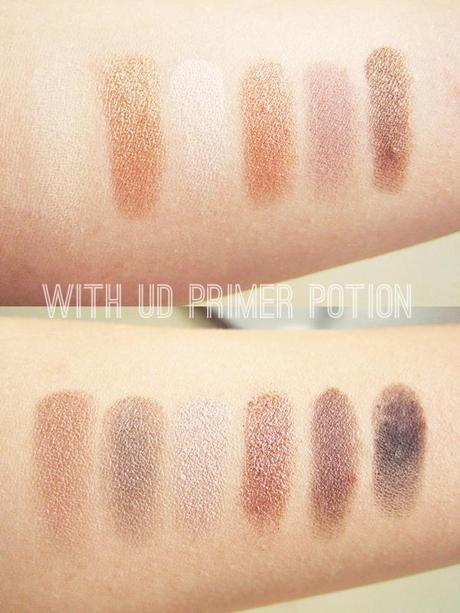 Shades and Finish L-R: 1st Row Foxy (Matte), Half Baked (Shimmer), Booty Call (Satin), Chopper (Shimmer + Sparkle), Tease (Matte), Snakebite (Shimmer), 2nd Row Suspect (Shimmer), Pistol (Shimmer), Verve (Shimmer), YDK (Shimmer), Busted (Shimmer), Blackout (Matte)
You can see the difference in application with and without primer.  The eyeshadow tends to spread a little bit more and have just a tad bit more fallout without the primer and the colors over primer give or take are more vibrant even upon the first swipe with primer beneath. It comes with a lovely synthetic bristle brush which I think is better for concealer frankly, pat and blend see?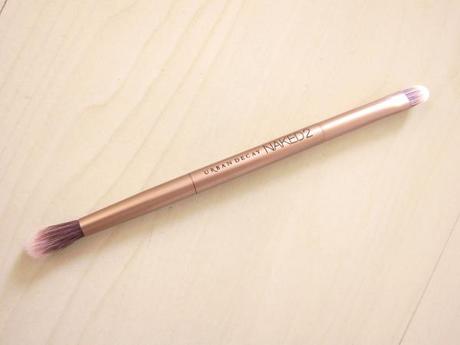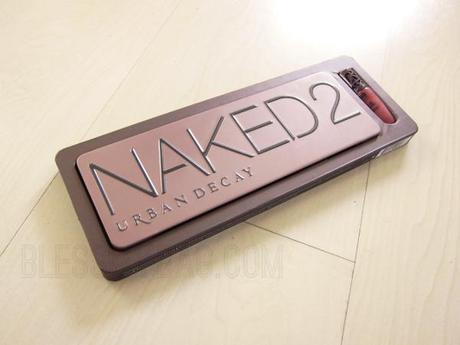 My favorite shades from this lovely palette are Snakebite (a ich, brassy, greenish bronze) and Pistol (a tarnished peuter shade). I WILL do a post with a range of smoky eye looks from this palette.  Thank you, Tita Donna for taking the time to get me this on her U.S. trip (but I'm sure she enjoyed the request because she got one for herself, too).  The Naked 2 palette is available online from UrbanDecay.com for US$50 and with limited stock in Sephora stores.  This is a permanent Urban Decay item.  You can also read Charlotte's review here on her Naked 2 palette, she's Lipglossiping, one of the top 3 beauty bloggers in the UK.  Locally you can check with Suyen's House of Flair shop if she has some on hand at the moment.