As it is coming to the end of 2012 I thought I would do a special post on my top 5 favorite perfumes. I am very picky with fragrance and once I find something I like I usually stick with it for a while, as it takes me a long time to find something else. This top 5 isn't really in any order but there is one that is my ultimate favourite ever which you will see at the end…
I also thought, with the Boxing Day and January sales coming up, fragrance is always hugely discounted and if you are looking for something new to try, these might be something to give a go…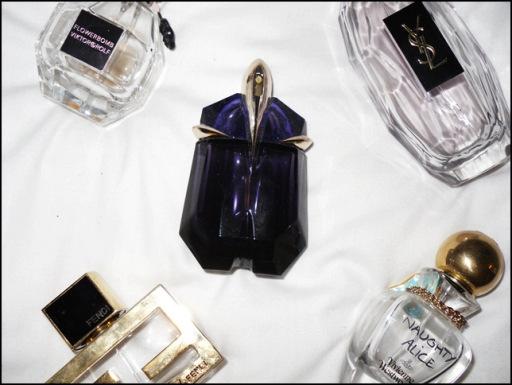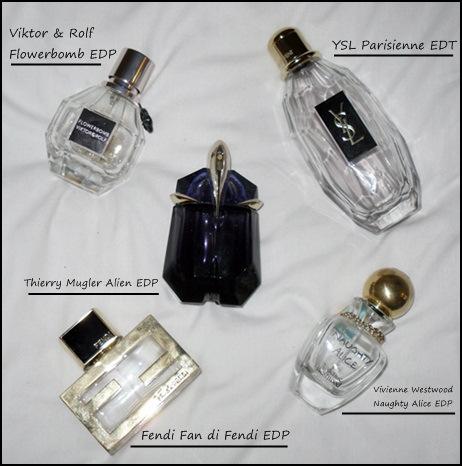 Naughty Alice by Vivienne Westwood
This I happened upon during a personal shopping trip. I didn't buy anything picked for me but this was in the changing suite and I fell in love as soon as I smelt it. It is quite unlike all my other scents but with similarities which is probably why I picked it. Firstly it is a Eau de Parfum, which I tend to prefer over the lighter Eau de Toilette scents. It smells very warm and sexy but soft and gently floral. In technical terms, it contains notes of ylang-ylang, Black rose and violet. The bottle is incredibly cute and petite with a dainty golden charm that, although I don't wear, would look nice on someone who likes gold jewelry. It also isn't too expensive, starting at around £35.00 for a 30ml bottle.
Fan di Fendi by Fendi
I can't quite remember how I discovered this but I think it was from a tester either in store or in a magazine but I smelt it and knew I had to have it. I ended up getting a bottle for my birthday last year and it is still one of my favorite scents. Again it is an Eau de Parfum and is so deep, sexy and strong yet so feminine and alive it makes you feel all womanly when you put it on. It contains very sensual ingredients such as Leather and pink peppercorns along with Yellow Jasmine and tangerine. Oh I just adore it! This is great for when you are going out and want to feel sexy and gorgeous, as this is truly trans-formative. Again, it is reasonably priced, around £40.00 for a 30ml bottle and the bottle is chic and simple but traditional Fendi.
Parisienne by YSL
This is probably the most recent fragrance of mine, in fact I am still wearing it. Now, I didn't choose this for myself, my best friend Sam did and I am so glad she did because I love it and it has shot straight into my top 5. I had smelt the Eau de Parfum of this scent and didn't like it. So I would never had gone for the Eau de Toilette but Sam proved me wrong as this smells completely different. Definitely the lightest scent I own, but it still has that sensual, muskiness to it which gives it depth and some added body. Although it has many floral notes, it doesn't smell sweet or too girly and contains Lily of the Valley, Iris and suede. It just makes me feel good when I put it on and that's really what you want from a perfume. And, out of all the others, it is the one I get most complements on. The bottle is so classically chic and french, I just love looking at it on my dressing table. You can get a 30 ml bottle for around £40.00. I'm lucky that I was given a 90 ml bottle!
Alien by Thierry Mugler
This is probably my second favorite scent in the world. A old school classic now, after it's launch in 2005, Alien looks unique and smells it too. Again, I prefer the strong EDP and it's deep, mysterious and distinctive scent always entrances me whenever I smell it. The main notes are very warm and sexy (I am getting repetitive ?) but it smells like nothing else I have. It is amazing. If I see this in the sale or on offer I always try and pick one up because it is just too good to be without. It is quite a woody scent with notes of Jasmine and white amber that lingers on the skin all day and it is a great pick me up. If you haven't tried this yet give it a go. It is far better than any of their other scents like Angel and I am sure you will love it as much as me. And if this sounds too much for you, the EDT is really nice also. However this is slightly more expensive, with a 30 ml bottle costing around £45.00, but it is soooooo worth it!
Flowerbomb by Viktor & Rolf
Now, we come to my favorite thing ever in the world of fragrance. A little known, kooky fashion house really made its name back in 2005 when it released it's first fragrance onto the world. And ever since I first smelt Flowerbomb (mainly due to its amazing, pink grenade shaped bottle) I fell in love. Nothing has ever come close to this and I doubt it ever will. So much so it is hard for me to describe it's scent to you, as it fills me with so many memories. I have tried almost every product associated with this from the perfume to the body lotion to the shower gel and it all makes an impact on your senses. It smells sweet, floral, warm, heady, musky and sexy yet odd all in the same spritz. The men behind it wanted it to turn a negative into a positive and I suppose it does, as even on the worst days ever I can smell this and feel ok. The scent itself is a contradiction, a mix of opposites; with floral notes of centifolia rose, India osmanthus, catleya orchid, sambac jasmine. I know, some weird names there. It is addictive and once you smell it you are hooked. Even Cheryl Cole is a fan! But really, this is the most amazing scent known to man and if you want a real treat this Christmas, buy a bottle of this. You will never go back. The most expensive of the lot, a 30 ml bottle costs around £50.00 but hell, it's the freakin' bomb!! (I had to get that in, sorry!)