It's about time, isn't it? Seeing that the top trending post on the site for the last 3 years was my Top Foundations post I'm convinced that this particular makeup topic was crying out loud for an update. Here are the slightly more luxurious ones that I feel have been worth spending for as part of my foundation arsenal. I present my top 5 high-end foundations plus, a brush and pressed powder so worth mentioning.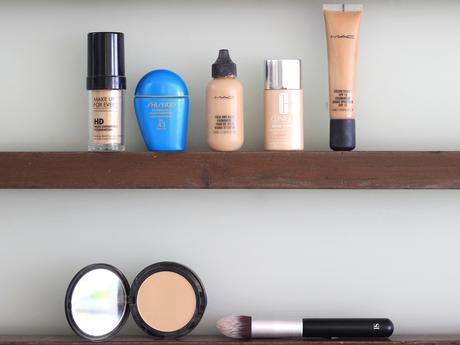 Along with mentioning my Top 5 foundations I need to share about the compact powder I use to set or tone down shine along the T-zone for the dewier formulas, that together with the foundation brush that I love for both liquid and powder application. I've gone the extra mile by shooting my face wearing all 5 foundations this morning. I used NUXE oil to gently remove my makeup between every transition followed by a wet face towel to take it all off quickly without additional chemicals...result, my face did not get irritated or break out into a rash. To see how these magical liquids wear and appear on my face (all without concealer) keep reading.
Two out of the 5 foundations this time around were also in my last Top 5 high End foundation picks. As you can see, MUFE'S original HD Foundation and the Shiseido UV Protective liquid foundation (formerly Sun Protection foundation) have stayed on strong in the list (which is funny because they're both waterproof and are actually the most difficult to remove). The brush I have brought in for show is FS Cosmetics' pointed foundation brush.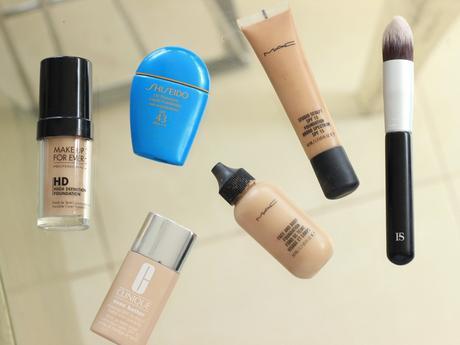 The FS Cosmetics foundation brush is soft, synthetic and makes me think it could be a slightly stubbier, more travel-friendly relative of the well-loved jumbo Louise Young LY34 Super Foundation brush. That Louise Young brush I'm comparing this one to is the one makeup artists and gurus in the UK always seem to fall back in love with for foundation application. This local FS brush (available at SM beauty, for under Php300+) reminds me of that Louise Young one in a less overwhelming more junior way. I also love it not just for liquid foundation application but for powder application especially around the facial features, under the eyes and around the nose. The powder that I've used to set I think 3 out of the 5 foundations mentioned is FS Cosmetics' pressed powder foundation in Mocha.
MAC FACE & BODY Foundation Php1650 (personal size) C2 no powder.
The modeling and film industry would feel the weight of its loss heavily if this particular foundation EVER (God forbid) got discontinued (which will probably be right about when my grandkids have grandkids, yea probably).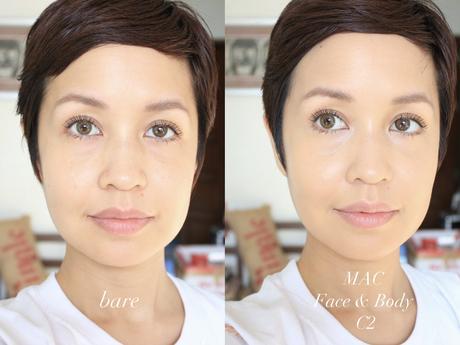 MAC Face & Body's versatility, as I mentioned in my Custom Fake Tan post here, is one that makeup artists like myself highly appreciate. You have that thin runny consistency that can be used sheer but alternatively can be worked and buffed into a higher coverage finish. The finish is that of healthy, juicy skin (great for skincare ad campaigns) and for a normal finish all you need is a thin layer of translucent powder over key areas, then of course this foundation can also be used over the body. It's quite transfer-proof once it sets which is partly why it's a dream product for models and stylists in production. I also love the Glossier-ish squeeze dropper bottles of MAC Face & Body (which came first), you see the shade of the product immediately and it's easy to store.
2. MAKE UP FOR EVER HD foundation Php2850.00n (original formula)
N117, half a shade too light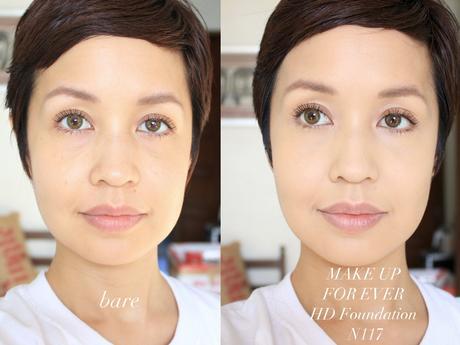 In my professional kit if there is any foundation that I would say is perfectly centered between dewy and matte and is pretty much close to holy grail status overall it would have to be MAKE UP FOR EVER's original HD foundation (which sports more satin to matte coverage than the Ultra version). The shade here is half a shade too light for me, my perfect shade is 120 but I've just run out, my setting powder in a deeper shade knocked back some of the lightness.
set lightly with FS Cosmetics powder foundation compact in "Mocha" in pressing motions with a brush just over the T-zone, around the nose, and under the eyes.
3. CLINIQUE Even Better Liquid Foundation SPF15
in Neutral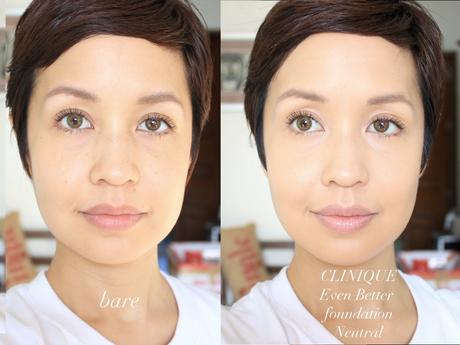 If ever in doubt on a project and to keep me sane especially during weddings I've done in the past I reach for this MAKE UP FOR EVER HD without fail. It is sweat and water-resistant, comes in a ton of shades with varying undertones, and uniquely enough, looks good on-camera AND in person. It's not thick but hides what needs hiding, doesn't cake, and also works well as an undetectable liquid concealer if I'm wearing lighter makeup. My skin is quite clear and normal but it will cover major flaws on troubled skin as well (especially if paired with the proper use of MUFE's Full Cover concealer).
4. MAC STUDIO SCULPT Foundation Php1950
in NC25 or NC30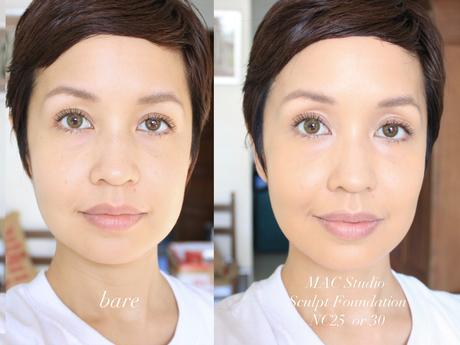 I first saw this foundation in action on singing icon Kuh Ledesma when she was doing her own makeup. I was surprised at how much coverage it provided (moderate to full) and what a beautiful satin sheen it left behind on her skin, it was a sort of non-shimmery glow. It really gave Kuh that lit-from-within glowy, fresh complexion the night she performed without making her look greasy. I tried it also at an event after and was so won over by the silky texture which felt great on the skin. I don't have the updated price just yet but will edit that in as soon as I do.
The portable packaging is fab and it contains low SPF protection at 15 meaning it's still suitable to use for evening if powdered lightly. The shade Neutral is a mere 25% too tan and neutral beige for me, but it's close enough, still want to get a more suitable shade, though. It's one of those liquid foundations that I don't really need to use concealer with because of the good coverage.
5. SHISEIDO UV Protective Liquid Foundation Php1750.00
in Light Ochre (slightly too light, but adjusts)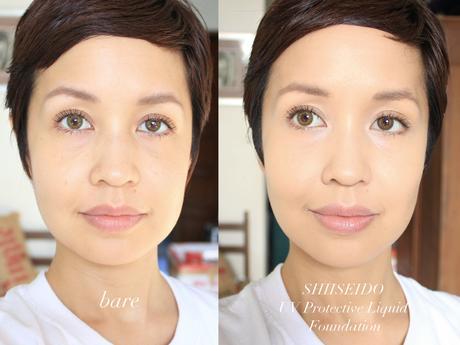 It was UK YouTube queen Zoella who got me curious about this MAC foundation. MAC Studio Sculpt foundation in a tube is actually the first MAC Foundation I've really liked and it doesn't give me a bad reaction. I also love that versus other MAC liquid foundations MAC Studio Sculpt comes in a tube. If it is set with a bit of powder (below it isn't) it will also look somewhat like the application of MUFE HD above. The finish is a satin to matte finish, it was just really hot in this shot earlier so it didn't set as quickly.
I remember staring at my cousin's friend's face once when we were in Tagaytay, I was tempted to ask several times, but didn't, I hesitated out of shyness like every half-hour hahaha but in the end I just had to ask (and I hadn't owned Studio Sculpt just yet) because I had this funny feeling. 'Til finally I gave in "I'm sorry I just have to ask, do you have a bit of liquid foundation on? Wondering what you're wearing, coz I think I know what it is." and my cousin's friend revealed "Oh, it's just this one..." when she said that I was almost sure I was right, and I was and lo and behold she pulled the tube of MAC Studio Sculpt out of her bag "I mix this with a little bit of my moisturizer so that it's not as full on...then I put it around my nose and under my eyes, like that lang with my hands."
Several years back MAC liquid foundations seemed to gain just a slight tad bit of notoriety for being too heavy or comedogenic (the cause of breakouts etc.) but that isn't so naman for all their formulas apparently. MAC Studio TECH cake compact foundation didn't agree with me before. That past cake compact was what caused a major breakout for me years ago, within 5 minutes of my application red itchy hives appeared along my jawline, cheeks, and neck and I had to remove it quickly, and to think it was a new compact. With MAC's Studio Sculpt liquid foundation however (tube) I have absolutely no bad reaction at all, it agrees with me and it's an extremely photogenic foundation (also if lightly powdered). My tube of the NC30 shade is half a shade too dark for me since the Studio Sculpt formula oxidizes slightly, so ideally in Studio Sculpt's formula I should be using MAC shadeNC25.
This is the most heavy-duty hard working foundation of this bunch I believe. It protects the skin from UV rays with a high SPF level of 43 and at the same time has the most beautiful blendable matte finish but...you have like only 2-3 minutes to blend it in properly then it sets and is very waterproof which is why I prefer to use my hands when applying this gorgeous foundation by Shiseido. This is also the foundation I wore the most while on the elections campaign trail last week, versus heat and sweat it performs well.
The Shiseido UV Protective foundation only comes in 2 shades, a fair and a medium sort of shade and annoyingly I seem to be in between. I chose to go for the lighter shade since there's a better chance of it adjusting over my skin within the first two hours, but you can still tell it's a little bit light for me. My compact powder knocked the shade back a bit. I first learned about this foundation through Fleur of fleurdeforce on YouTube, whatever foundation works well for her has always knocked the ball out of the park for me and this one stuck really well.
That just about rounds up my five favorite high-end foundations. I also selected these products not just for their overall makeup performance but also for their convenience, packaging, and portability. Notice that 4 out of the 5 foundations are all packaged in a travel friendly manner and 3 out of the 5 will fit in your pocket or allow for more room in my kit when in transit. If I am going for a pricy foundation I do highly prefer that it isn't going to break and spill my hard earned money everywhere.