Everyone loves a bargain and if you're constantly on the hunt for affordable foundations that won't break you out, have decent coverage, and have acceptable shade ranges then drugstore brands today have a lot to offer!  It's a highly competitive market globally in the drugstore beauty industry and even if we don't always get the full "all-you-can-eat" buffet of compelling drugstore ranges that the U.S. and EU have there are more imported makeup brand selections today locally than ever before, at least from what I observe.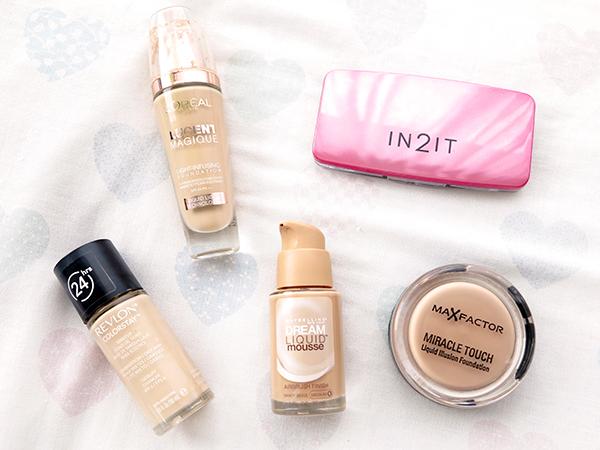 CLOCKWISE: Revlon Colorstay Foundation 24-hrs (Combination-Oily skin), L'Oreal Lucent Magique Light Infusing Foundation SPF24, IN2IT Oil-Free 2-Way Powder Foundation SPF25, MaxFactor Miracle Touch Liquid Illusion (cake) Foundation, Maybelline Dream Liquid Mousse Foundation
I still do wonder why only a minority super noticed when fave brands Urban Decay (not drugstore, indie) and Za cosmetics were available locally (ahhhh, social media, we needed you then), what were we thinking when we let them leave?!!  Anyway, here are my local picks from the drugstore price makeup ranges.  These are foundations that have really impressed me and I that I do use on rotation depending on the kind of finish I want.  Note to everyone L'Oreal True Match foundation almost made it to the list but I like the Maybelline Dream Liquid texture better.  If you've got a deeper skin tone don't have a shade among the six available in Dream Liquid then the L'Oreal Match range will probably have your shade.  Read more to get to my specific thoughts on each one.
Let's begin with a wedding staple that has not failed me even in the most humid, sweaty conditions (note: This foundation needs to be applied and set when you're clean, toned, and NOT sweating before it can begin to hold up miraculously when you actually begin sweating, let's not run short on common sense).  The following foundation reviews are not in any order of rank or importance as they all perform differently.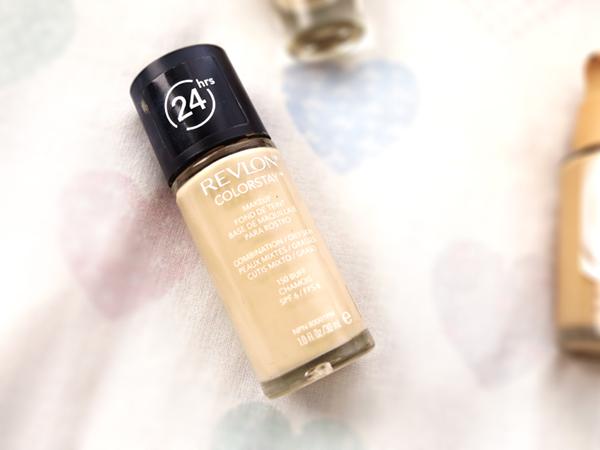 Revlon Colorstay Foundation 24-hrs (Combination-Oily skin) Php895.oo, Watsons, Mercury Drug, PCX, First Aid, and leading department stores.

"Longwearing coverage with a lightweight formula that won't cake, fade, or rub off. With Time Release Technology specifically formulated for combination or oily skin to control oil absorption and shine. Your look stays flawless throughout the day."
I have used this on brides who would profusely tell me they sweat too much too quickly or have told me they oil up instantly.  It hasn't failed me.  The brides tell me they're amazed at how they sweat thru the ceremony but the makeup doesn't come off with the sweat when they tissue up.  The sweat comes thru and the makeup stays on.  I'm telling you makeup remover wipes WILL NOT take all of this off and it will take you 1 TV show and a half to get this stuff off if you're not going in with a proper bi-phase remover plus or a cleansing milk and toner.  The only other foundation I know that performs similarly well against sweat and the elements with thin coverage is Make Up For Ever HD foundation (and Shiseido Sun Pro but that's too much SPF), that being said MUFE HD certainly isn't at a price of Php895 from the department store.  Revlon Colorstay imparts a beautiful semi-matte to matte finish, I highly recommend applying it using a buffing method for a thin airbrush-like finish.  On my cousin Paolo Valenciano's wedding day, as a bridesmaid, I wore this mixed with a bit of L'Oreal Lucent Magique foundation to ensure longevity with a bit more of a natural glow.  They sell this abroad in 2 variants, Normal to Dry, and Combination to Oily, it seems they only sell the combination to Oily variant locally but I use it and my face doesn't feel like a prune even with the longevity.  The only thing I don't like about this reliable, fantastic foundation is the pump-less glass bottle.  Revlon Colorstay Foundation 24-hrs was voted Best Drugstore Foundation in the Temptalia Reader Awards 2013.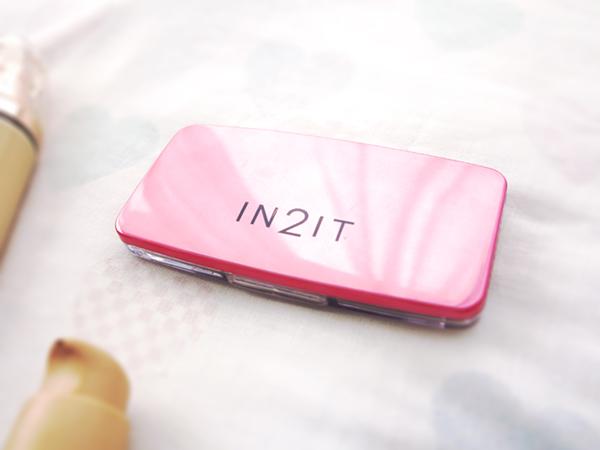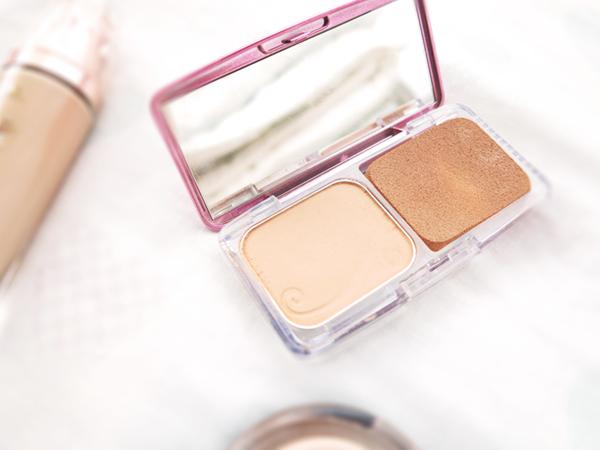 IN2IT Oil-Free 2-Way Powder Foundation SPF25 PA ++  Php795 / Refills Php500+ Watsons, Mercury Drug, PCX, First Aid, and leading department stores


"A 2-Way Foundation with extra cover with silica and Sunsil-T to control sebum and shine.  Contains light diffusing ingredients for a more natural and radiant look.  Made with the SoSoft powder processing system for an ultrasoft 2-way foundation powder.  Silicone treated to be waterproof and extra longwearing.  Tested to a sun protection level of SPF25 against UVB rays and PA++ against UV rays. With vitamin E for extra moisture."
Excuse the dirty sponge I just used it the night before…it certainly needs a rinse.  Two-way powder foundations or pressed powders in general are a local favorite for Filipinas who work everyday, especially those who can't be bothered to faff and fiddle with brushes when dashing out the door to catch a train, jeep, or bus before the height of the morning rush.  I let my mom have a refill of this to try for the first time and she went through it and hit pan like a hot knife through butter and she asked for another one, and another one, and another one…and up to now this is what she uses.  I ALSO use this when I have next to no time on my hands, it's such a foolproof, flawless formula, you can use it dry (I suggest if dry use a dense kabuki brush, not the sponge) or wet with a sponge.  What makes it W-I-N with a capital W-I-N is that when it blends out after a few hours with your face's natural oils aka sebum, it looks even better on than some premium liquid foundations I've used (see the IN2IT solo review here).  I'm not kidding, it's not thick and cakey…it's got a super soft and silky, finely milled texture.  Plus with this I don't need concealer, I just build it up under my eyes with a damp sponge.  In this case when using the sponge wet you can swipe and rub it all over your face (make sure you don't leave streaks because that will dry wrong) and that's simply how it applies, no dab-dab until you're finishing up under the eyes.  It's got 85% natural ingredients, is easy to bringand it doesn't break me out.  The only drawback is the range of 6 shades are only from light to medium (a MAC NC35 at the most), gosh if there were dark shades I'd even use this on TV commercials for big batches of models, such quick touch up and you skip the step of having to powder at the end because well, it's powder.  If you're a medium to dark complexion you can try the L'Oreal True Match 2-Way powder range.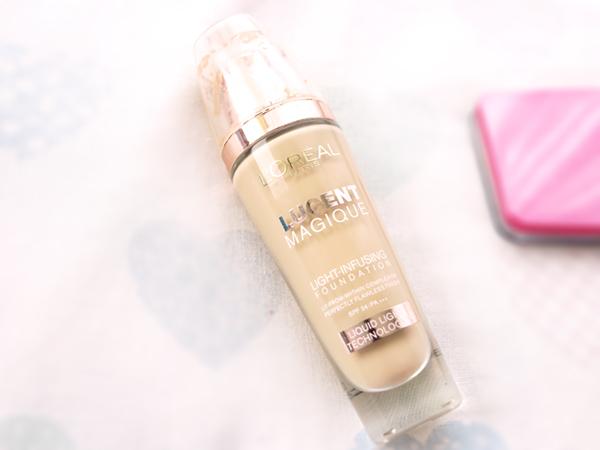 L'Oreal Lucent Magique Foundation (True Match Lumi in the US, Lumi Magique in EU) Php700.00+ Watsons, Mercury Drug, PCX, First Aid, & leading department stores

"This foundation combines 3 powerful ingredients that work to improve your complexion the more you wear them. 40% pure water for all-day hydration. Antioxidants and Vitamins C and E for improved clarity and skin tone. And Liquid Light Technology for an instant, luminous glow."
I first bought this in Hong Kong but this range has been available for several months now locally.  What it is, essentially, is a good drugstore dupe they say of the YSL Touche Eclat foundation.  I can certainly see why.  You get a glow and sophisticated dewiness that isn't brought about by shimmer but seemingly by a good mix of peptides, pigments, and well-processed silicone suspended in a water based formula (it feels as silky and hydrating as the Rimmel Wake Me Up concealer but without the shimmer) .  Even Jane Cunningham mentioned this last year as a feels-like-luxury budget foundation.  I'm feeling perhaps that what they call liquid-light technology sounds gimmicky but it really isn't coz gosh this really delivers that first class sheen for normal to combination skin.  For oily skin I wouldn't highly recommend this because it's quite slippy, though it is indicatively oil-free.  It glides onto normal skin flawlessly delivering sheer to medium coverage.  Applying loose powder to target areas will give you a soft focus semi-matte finish.  If you've got dry skin I suggest you exfoliate before putting this on…it will gather in cracked, flaky areas if you've not carefully prepped and hydrated your skin the night before.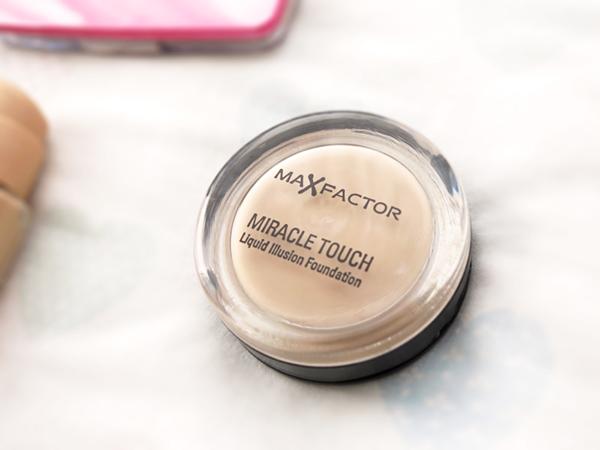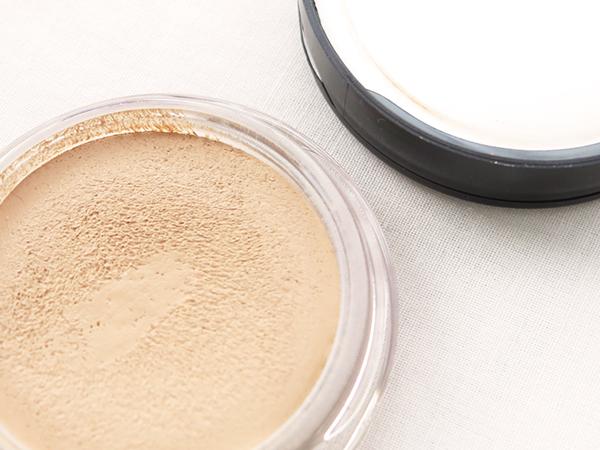 Max Factor Miracle Touch Liquid Illusion Foundation (Made in Ireland), Php895.00 local leading department stores

"The unique all-in-one Miracle Touch Foundation has a solid-to-liquid formula to give you a flawless base with one easy application.  It is suitable for all skin types including sensitive skin in an innovative solid-to-liquid formula.  It's a complete base in one easy step with no need for concealer and powder.  Dermatologically tested."
I dismissed this foundation as pan cake before in the department store but when I saw Ruth Crilly of AModelRecommends.com rave about this on her Youtube channel (at this link)    I realized that it was more of a solidified liquid cream foundation that's quite travel friendly (as long as you're not heading for the beach in the summer, melty…melty).  It's amazing though because when my buffing brush touches this and places it on my skin, it's cool to the touch as if it's a liquid going over my skin, it instantly slides on and is great when you buff it out and gives a semi-matte to matte finish that makes you look like you've got great skin, it does conceal redness well.  You can double this up as a concealer, it's got that thick sort of texture.  I still believe you have to finish off with powder over the T-zone in spite of the description.  The shades are a bit neutral for my warm skin but a bit of mineral powder in the right shade will help finish the look correctly.  It's one of those foundations that doesn't look like makeup and is very photo-friendly when applied correctly.  It's a great local dupe of my Canmake 5 in1 BB Compact from before and the MUD Cream foundation (though the shade selection could definitely be better)  from my Top 5 High End Foundie post but  I have yet to give this a standalone review because Max Factor just sent it to me recently, but it's already impressed me so quickly that it's earned a spot among my Top 5 Drugstore foundie picks.  It comes with a sponge compartment in the cap, too.  My shade is Warm Almond 45 (which is a more neutral MAC NC30) a little too pale but if I keep it in the center of my face it's believable.  I wish I had a warmer shade though.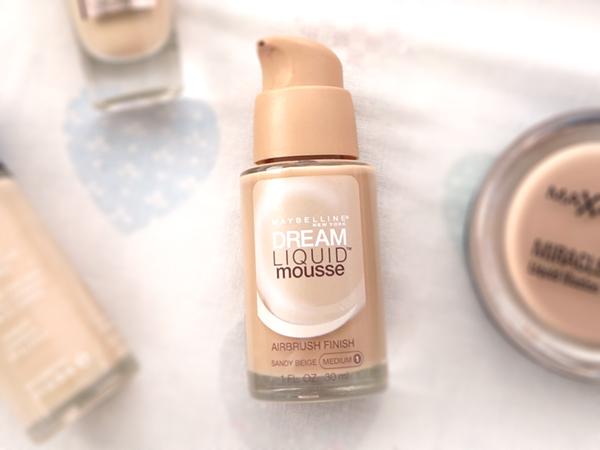 Maybelline Dream Liquid Mousse Foundation, (Dream Satin Liquid in EU)     Php599.00 at Watsons, Mercury Drug, & leading department stores
Air-whipped liquid provides perfecting coverage for 100% poreless skin, ideal for normal skin, oil-free, fragrance-free.  Dermatologist-tested, allergy-tested, non-comedogenic – won't clog pores, safe for sensitive skin.