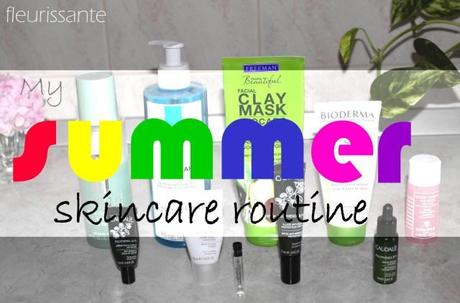 Hello lovelies,
I hope you are enjoying this nice summer weather. I certainly do :)
However, summer also means it is a time for a skin-care routine switch. Since I'll be spending a lot of time outside in the sun (even with sunscreen), this means that I have to quit using acids and retinol (they make the skin photosensitive) until the late fall. This also means using creams that are not as rich as those in my winter routine, as well as exfoliating more often to properly remove sunscreen.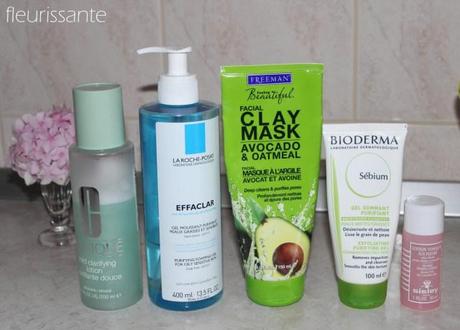 The first part of my routine is pretty similar to the winter one – it consists of cleansers and masks.
The first product on the photo is Clinique Mild Clarifying lotion. I did mention that I am avoiding acids during summer, but this one has such a low concentration that I'm using it now and then. Since the acid is weak, I don't get exfoliating benefits.
At the moment, I'm using La Roche Possay Effaclar cleanser. I've been using it for half a year and so far I like it, although I might be tempted to try something else once it is finished. It works well for what it is – it cleanses my skin without stripping it too much – after all it is intended for oily skin.
In the center is Freeman Avocado & Oatmeal Clay Mask. I'm not too happy with it. It is a nice mask, but the scent is overwhelming and irritating.
Bioderma Sebium exfoliator is my staple – this is the second time I've repurchased it and I plan to repurchase it again. It perfectly removes the dead skin cells, at the same time not being too irritating.
Sisley Floral Toning Lotion is the best (and the most expensive) toner I've ever used.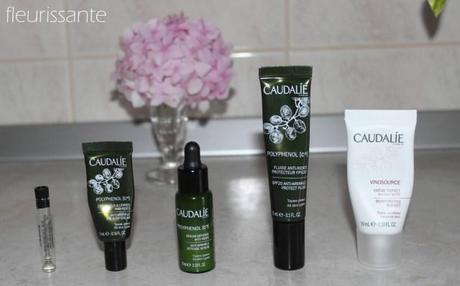 After I've received a deluxe sample ser as a GWP, I've decided to completely stick to Caudalie routine and to test all the products from Polypehnol C15 range simultaneously. I plan to write a more thorough review soon, but after using it for two weeks I have to say that I like the whole collection.
In the evening after cleansing I apply Polyphenol C15 Eye Contour Cream on the eye area and two to three drops of Polyphenol C15 Serum on the face. After five minutes (once the serum has sunk in) I apply Vinosource Moisturizing Sorbet. Once or twice a week I apply several drops of Polyphenol C15 Overnight Detox Oil.
In the morning I apply a couple drops of Polyphenol C15 Serum and follow with Polyphenol C15 Anti-Wrinkle Protect Fluid SPF20. If I plan to spend some time outside, I apply additional sunscreen (at the moment I'm finishing up Uriage Tinted Sunscreen).
This routine doesn't make my skin perfect (I don't think there's anything that could help with my pores), but it helps with dehydration and flaky skin. Also, it doesn't break me out and leaves my skin pretty much clear.
Do you switch your skincare in summer?
xoxo Tamara
Filed under: Bioderma, Caudalie, cleanser, eye-contour treatment, face exfoliator, Freeman, mask, moisturizer, serum, Sisley Paris, skin treatment, skincare Tagged: beauty, bioderma, caudalie, caudalie polyphenol, la roche possay, Sisley Paris, skincare, summer skincare routine