I turned 32 this year and decided that I wanted to pamper myself.  I always said that I refuse to become that woman who freaks out when she gets older.  I have to admit that I am having a little pang of anxiety, but I shook it off and called my girlfriend and we booked ourselves into a night of spa pampering.
I heard good things about Ufford park spa in Woodbridge and since it was only 30 minutes away, we decided to give it a go.  This post is going to be a review of the facilities, spa experience, and overall experience there.
My spa experience was purchased from Wahanda.com and included:
* Overnight stay* 3 hour in Thermal Suite* 30 minute treatment* 3 Course dinner* Full Breakfast
Now if you are looking for a modern contemporary urban spa facility, this is not the spa for you.  It is set in a rural area with country comfort written all over the decor.  So I won't go into the fact that I found the decor outdated, but maybe that is what people like about this place.  It is a Best Western, so of course you will get the 3 star treatment as expected.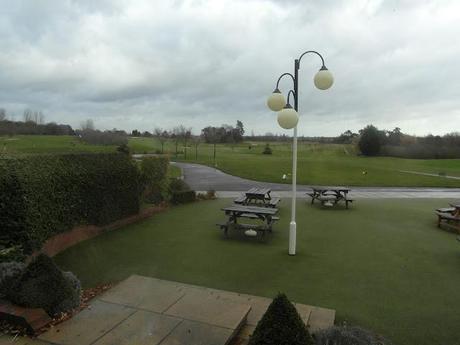 Ufford Golf & Spa at Woodbridge Suffolk
The staff were all very friendly, chatty and professional.  They allowed us to check in 30 minutes early which was great.  I was telling my girlfriend that my biggest pet peeve is if the room smells.  Thankfully, everything smelled clean :)  The room had the typical amenities such as a hair dryer (from like the 80's lol), drying towel rack, shampoo, liquid soap and body wash.  I recommend bringing your own toiletries.  We were starving so we rushed to the bar that was open.  It was a ghost town lol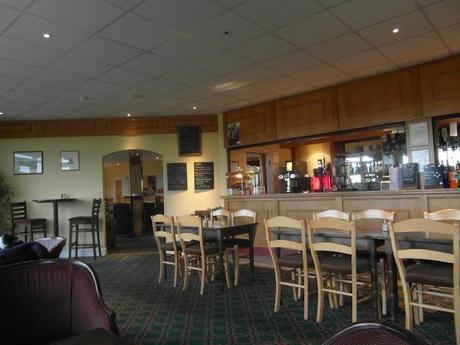 Bar
The food is above average.  I really enjoyed my fresh cod & chips and my friend loved her prawn salad too.  A little overpriced, but usually golf & spa establishments usually are. So I wobbled my bloated ass to the spa area for us to indulge in 3 hours of the thermal suite.  This is when the fun begins!

Thermal Suite
I couldn't bring a camera into the thermal suite, because there was a lot of humidity, and I didn't want to ruin the camera, so unfortunately I couldn't photograph the different rooms.  I'll do my best to describe the suite, because IT WAS AWESOME!
The small pool in the middle of suite has several different jets and two water spouts aka "waterfalls".  It massaged my back, and I loved how it was heated.
There was also two foot spas where you put your complimentary bath salts in, but because there was no jet, you just ended up sitting there soaking your feet.  I was slightly bored with this part lol, so after 10 minutes of sitting there, we moved on.
The sauna was nice, but a typical sauna. But the other features of the thermal suite were fantastic.
The Mineral Grotto was a wonderful steam room infused with minerals.  You sat in the room in comfortable marble tiled curvy seats.  It smelled lovely, and sitting in there for 15 minutes really made my skin glisten and I felt freaking fantastic!
The aromatherapy steam room smelled amazing too, but the seating was not as comfortable as the mineral grotto, so I kept returning to that room.
Now my favorite part of the thermal suite was actually the walk in shower with peppermint mist.  I loved this area.  A light mist lightly touched my skin, and I felt rejuvenated and wonderful.
After the sauna, I highly recommend walking into the other shower feature that has a powerful jet of lemon water coming from the sides.  That was absolutely amazing.
They also had crushed ice available to give you that fire & ice sensation.  Very nice touch.
And last but not least, when you were done pampering yourself, you could grab some water or tea and sit under the man-made starry ceiling lighting in comfortable padded lounge chairs.  Unfortunately, we never got to do this, but it looked neat.
Overall, my favorite had to be the mineral grotto, peppermint mist shower, and the jacuzzi pool.The thermal suite is well worth the money. Actually, my favorite was the fact that nobody was in the thermal suite but us.  We had the whole place to ourselves :) SUPER LIKE!
I choose a mini 30 minute facial as part of my spa package.  My beautician was friendly and professional.  Her facial was basically like any other mini facial that I have had.  It wasn't bad, but it wasn't the best I had either.  In the middle of our session, the music was interrupted by this horrible interference of some sort and completely broke the ambiance, but that wasn't her fault...shit happens.  She was professional enough to apologize about it.  I liked how the treatment room was dimly lit, but I could tell that it was a renovated hotel room, which slightly bothered me, well I just found it odd I guess.  The mini facial is basically a cleanser application, exfoliating application, massage with cream and a light day cream on top.  30 minutes is definitely too short, and I highly recommend upgrading to at least an hour really.
After our treatment, we had our 3 course dinner.  The food was above average just like lunch, but the portions were small.  I definitely didn't think it was worth the money that was priced on the menu, but as it was part of our package, I really couldn't fault it.  The waitress was nice enough not to charge me for the diet coke, so I really couldn't complain.  We were still hungry, so we filled ourselves up with a pitcher of sex in the beach ;) lol.
We spent the next morning in the thermal suite for an hour, and shed a small tear when our hour was up LOL!  Check out was super easy, and we definitely enjoyed our night at Ufford.  I would definitely return there again, just to sit in that mineral grotto again hahaha.