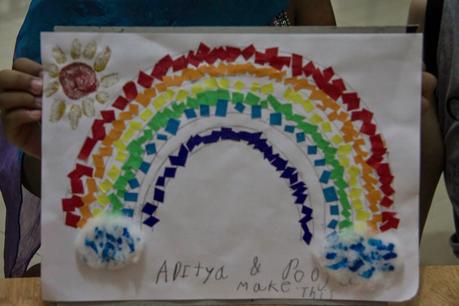 My son's Holidays started and it is Big challenge for me to keep him Busy. I have put him in Two Summer-camps, one is craft, drawing and Dancing. The Another one is Physical Training. They take all exercises including jumping, balling, running and many more. But, he doesn't get satisfied with all these. After coming back to home , he still want something. I really get confused ,surprised and boring when I hear "SOMETHING". This means he wants more but he don't know the word what he wants. I have to decide "SOMETHING" and he should like it and it should create interest in him. Basically, Mom is full time busy in his Vacation. So, I find various activities from friends and Internet and try to keep him busy at home also. Last week, I given him Rainbow Craft task. It was very easy for me , but he took 3 days and help of his friend to complete that. How to Make Rainbow craft ? 1.First we cut all color papers Red, Orange, Yellow, Green, Blue, Indigo, Violet into small squares.2.I have stick plane white paper on card sheet of same size.3.I have drawn lines to make simpler for him to stick all the squares and written the name of color on paper.4.He has stick all colors in all lines with help of glue.5.For clouds, we used cotton and dipped in blue water color and stick on end of rainbow.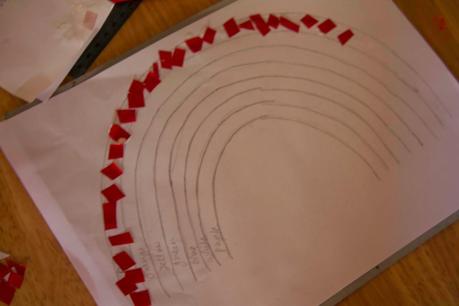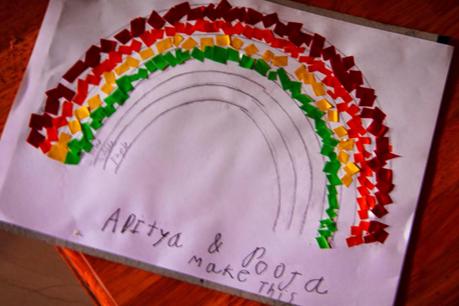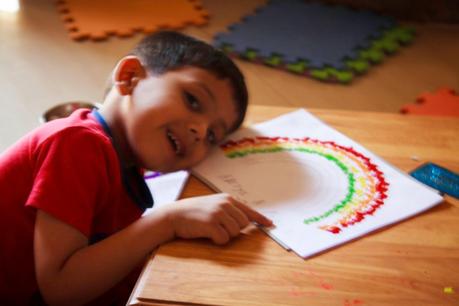 His friend, Kitu helped him to accomplish his task on third day ;-)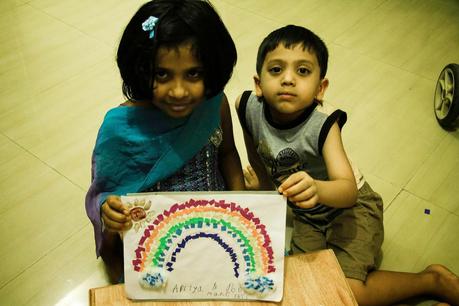 Finally, the Rainbow Craft was ready with Sun smiling at the corner. And he did not forget to add our names at the bottom ...so cute.....!!!