Many of you have asked me to write a post on my skincare routine, and I've been meaning to write one for the past few months. It's something I never got round to doing, but finally I've gotten my act together. I also wanted to turn this post into a video, but realised I don't know how to make one.
Below are the products I use in my

skincare regime

. As I'm still (relatively) young, I believe in keeping things simple. An overload of products tend to clog my skin, so I much prefer a simple regime of

cleanse-tone-moisturise

.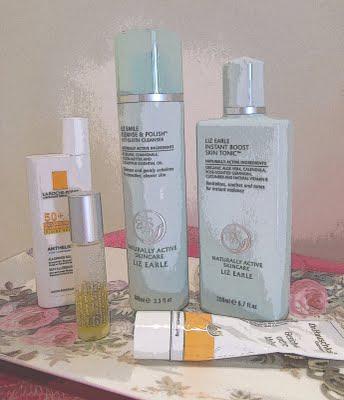 I'm pretty happy with the current condition of my skin. It tends to be sensitive at times, but I find that it's fine when I use simple products that don't irritate my skin. I also noticed a huge decrease in sensitivity when I keep it

well moisturised

as well as when I switched to

luke-warm/cool

water when cleansing my face instead of hot.
Here's are a couple pics of me

au naturel

without makeup I look a bit ill I know. I'm not though, it's just what I look like sans makeup!):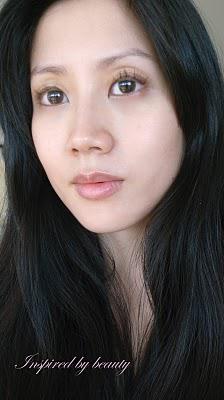 My main skin concerns are hyper sensitivity and pigmentation.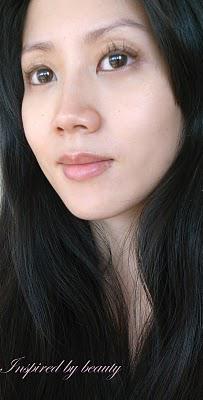 And here is a close up pic taken in better lighting: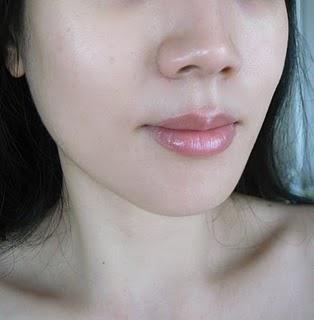 I LOVE natural products, but unfortunately most of them don't love me. I try to use organic natural products as much as I can, but most organic essential oils (especially floral ones) irritate my skin. Through perseverance, I managed to find a range of products that use natural ingredients but do not irrritate my skin.
Onto my current skincare routine. I have been using these products for 4 months.


Cleanse

with Liz Earle Cleanse and Polish Hot Cloth cleanserTone with Liz Earle Instant Boost Skin Tonic

Moisturise

with Dr.Hauschka Melissa Day Cream

SPF protect

with La Roche Posay Anthelios XL
In the evenings, I replace the Dr. Hauschka cream with Liz Earle Superskin Concentrate, and skip the SPF cream.


Liz Earle Cleanse and Polish Hot Cloth Cleanser -£12.25

This multi award winning cleanser uses a warm cloth to cleanse the skin whilst gently exfoliating. I've read some reviews saying this cleanser made them break out in spots, so I'm one of the lucky ones this cleanser works well for. It made me break out in little bumps on the forehead. I figured that as it centered on the forehead, in my case it probably wasn't a bad reaction, but may be a result of the cleanser purging my skin and cleaning out the pores. I stuck with it for a couple of weeks, and after a week my forehead was completely clear.
This cleanser has a thick creamy texture with a herbal eucalyptus scent. Combined with the warm cloths, it makes my skin feel thoroughly cleansed while feeling soothed.
The bad points of this cleanser is that I go through them too quickly. A 100ml tub last me only 3 weeks, so I've recently upgraded myself to a 200ml tube. In addition, the whole removing with a warm cloth thing, while is ok with me, maybe too abrasive for other sensitive skins. Also the cloths may need some getting used to. They need to be washed very frequently ( I use a fresh cloth everyday). This can be a pain while traveling. In Peru we would travel to a different location everyday, so carrying semi-dried cloths was a hassle. (Especially when camping!)


Instant Boost Skin Tonic - £12.25


I like the word tonic, and together with the shape of the bottle reminds me of yesteryear where people shopped for remedies in apothecaries.
This alcohol free toner smells of flowers. It does it's job (i.e removed residual traces of cleanser and closes pored slightly) and leaves my skin feeling fresh.
(For the Liz Earle products, you can find their full ingredients list on their website.)


Dr. Hauschka Melissa Day Cream -£23.95


Specially developed to meet the needs of combination sensitive skin, this cream is right up my street. It has a medium to light texture and smells of fresh lemons. It sinks into my skin beautifully and keeps it well hydrated. It never feels greasy or oily on my skin, even in the hot Summer months. What I love most about this cream is the light healthy glow is gives.


Liz Earle Superskin Concentrate -£19


In the evenings, I use this heavenly scented oil instead of moisturiser. As I get older, I start feeling the benefits of using an oil. This one feels relatively light for an oil and is a beautiful golden colour. I adore the scent. It's hard to describe, but immediately gives me a sense of well-being.
This oil makes me wake up to super soft glowing skin. It's really made me addicted to using facial oils!!
The £19 version comes in a rollerball. I would probably get it in a pump bottle next time due to hygiene reasons.


La Roche Posay Anthelios XL SPF50+ - £16.50


There's nothing much to say except that this is the best daily facial sun protection I've come across. It comes in a light fluid which spreads easily across the face and applies like a dream. La Roche Posay is not a natural cosmetic brand, but I love it all the same. I find them a godd, no nonsense brand whose products do what they claim.
...
So that's my everyday skincare routine. I've been using them for around 4 months now, and as much as I love them I'm still fairly fickle and like to try new products.
* As you can see from my pic above, I have skintone imperfections which I'd like to correct by trying out some brightening products*
I'll write another post soon on the

treatments

I like to use twice a week (masks etc), as well as

a

note on skincare

-sharing tips which I've received and learnt over the years. As that is generally why I began a blog to begin with to share, swap and learn tips and tricks with all the beauty enthusiasts out there!