It's been a busy start to my new year. I've been building a new website in between making orders. My site is finally live. I'm so excited I made it all by myself. "So what", you may say. If you know me, you will know I'm not into all the techy stuff. I have a very good friend Claire Gould who sent me a book & a bar of chocolate (for the stress)  she answered all my e-mail questions. I'd be lost without her. Claire you are a star!
January is proving busy with plenty of wedding invitation orders. Wedding Invitation Scrolls are still the most popular wedding invitation, with Jessica  butterfly invitation a close second. I've sent out three large wedding scroll orders in the last 2 weeks. I'm now starting my next scroll order.
I've had such lovely feedback in the last week. It makes all the hard work so worthwhile.
My first week back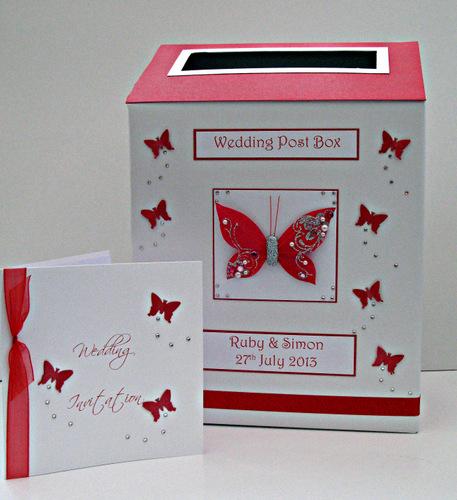 Jessica
This order went out first week of January. I love the red it's so vibrant.
I will be making the rest of the Wedding Reception Accessories in June.
My second week
My second week I had 2 wedding invitation scroll orders to get out plus a couple of baby keepsake boxes. I worked flat out all week to get these items made.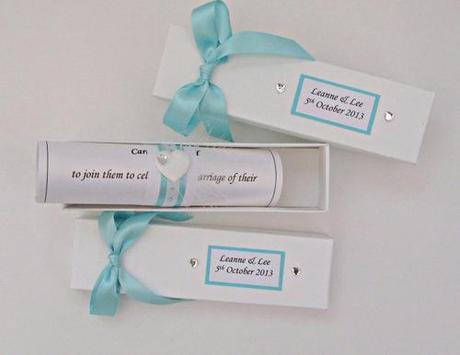 Megan
A marriage certificate holder to match.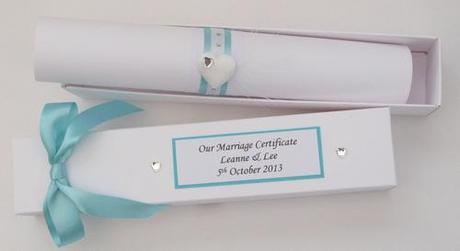 Marriage Certificate Holder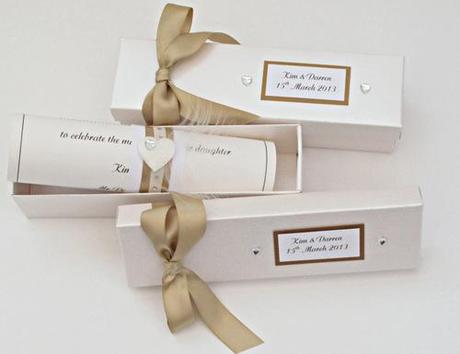 Megan
 Another marriage certificate holder to match the invitations.
I'm now into week 3
I've made  another two Wedding Invitation Scroll orders.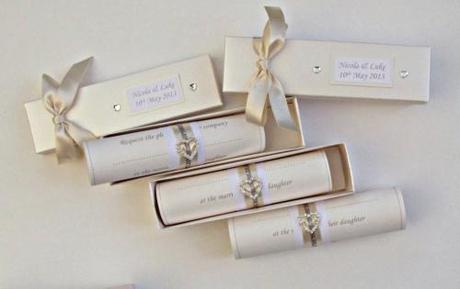 Elegance
These Wedding Scroll Invitations arte absolutely stunning. Ivory pearlesent boxes with an ivory bow. I adore this color scheme. They arrived this morning. I've just received an e-mail form the bride's mum
Hi Julie,
Wow the invitations are BEAUTIFUl! what can I say but thank you. I know Nick and Luke are going to be so so pleased with them . Will soon be in touch again regarding the hymn sheets. Audrey
Another scroll order arrived this morning.
Wedding Invitation Scrolls in black and white with a red rose. The bride & groom wanted a card style evening invitation, so made the card style to match the wedding scrolls. The scrolls boxes were ice white pearlescent. I made the evening invitations in exactly the same pearlescent card.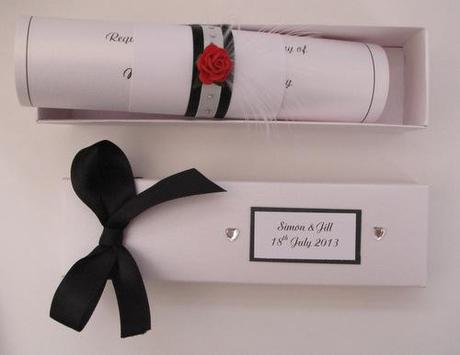 Ellie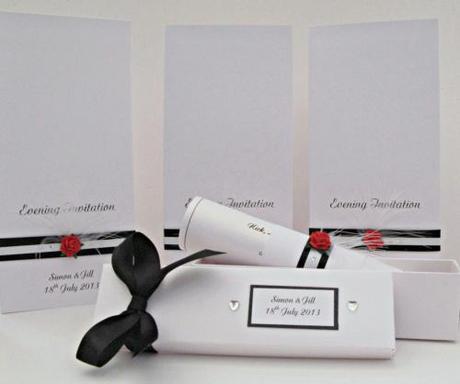 Ellie
 The bride and groom have just e-mailed to say they have arrived.
Hi Julie 
Have received the invitations and they are amazing THANK YOU so much, just stunning, you have done a fantastic job thank you again. Kindest regards, Jill
I have worked so hard this month. Sometimes going to bed at 3am. I've loved every minute of it.
I have the best job in the world!
I hope you like my new site. I'd love some feedback
If there is anything you would like to see on my blog please get in touch.
January is proving to be a lovely month.
Now I'm off for a lie down phew!
Julie x
If you would like to follow me on Facebook I have many more designs and color schemes.