WOW! What a crazy couple of weeks it's been. I use crazy in a good way of course :) I have literally been finishing up working at my previous job and training with the new one and opening up a brand new shop. I've been doing long days, coming home and trying to spend as much time with the hubs and the pup and trying to get some sleep to rejuvenate myself.
Funny enough, I do feel rejuvenated (despite feeling tired). What an odd combo right? I'm so much happier now than I have been in quite sometime.  Perhaps it's a feeling of accomplishment, or a feeling that I am moving in the right direction.  My future is still unsure, but I feel like I can see things a bit more clearly.
Hope all my American friends had a great
Thanksgiving
.  I guess it's one of those holidays for me that I never really cared for much (SHOCK! how un-American of me lol).  I also don't care for Turkey so maybe that's why. I don't know, much of Thanksgiving has lost it's meaning anyways in America.  I did however enjoy days off of work to celebrate it :)
Anyways, so back to my new job. I know I told you all that I recently started working for Lush Cosmetics.  I've really enjoyed (and learned a ton) from their training programs.  I also feel more welcomed at Lush than any other job that I have had.  Possibly because everyone is allowed to be themselves.  Some of you may not know that this was a huge leap for me as I have a bit of an anxiety issue when it comes to crowds, and I am really starting to deal with that with a positive approach and I'm much happier as a person too.  So it's been ALL GOOD in the hood ;)
And of course I have loads of products to review in the up coming months. I've been doing a lot of product testing and I'm not quite allowed to write about them yet, but boy has it been a fun month for that! I am having a hard time finding space for it all in my tiny little room.
So before I head off, I just wanted to show you all my LUSH stash. For you lushies out there, you will love this, for everyone else, you are going to think "it looks like food" lol
Take care and will be back as soon as my schedule is set in place and I have a bit more time to blog.
Until then, happy pampering xx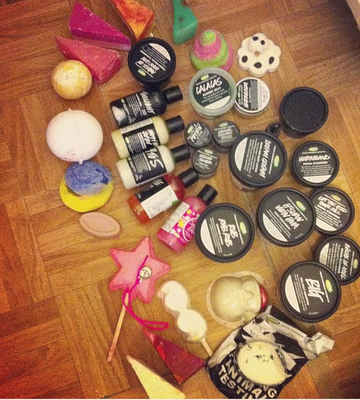 LUSH Products!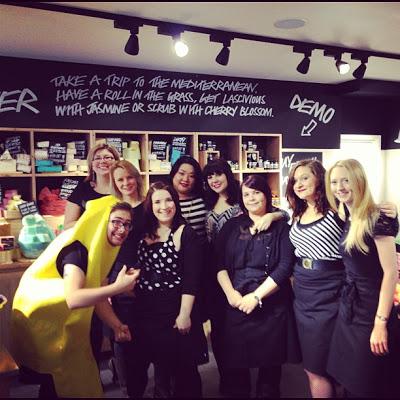 My really lovely team!