You guys. YOU GUYS! I think I have arrived at the Lush Cosmetics party a bit late, but I'm here, and I'm so glad I made it. I honestly don't remember how I first heard of Lush. I think it might have been from YouTube's CoffeeBreakWithDani or ShaaanXO… In either case, watching both of their videos where they talked about Lush and all the fun bath stuff they have used, or are looking forward to using really got me excited. And I'm talking about REALLY excited.
I love baths. I love them. I love them so much. I especially love baths these days, since my 9-month pregnant body is experiencing a lot of aches and pains that only seem to be alleviated with warm water. I've tried stretching and rubbing the muscles, as well as just relaxing and not being on my feet so much, but honestly, nothing works except for a warm bath. Go figure.
So I've been trying lots of bath products, both from the drug store and more high-end. Up until I was introduced to Lush products, I was pretty much sticking with those yummy smelling Philosophy bubble bath + shower gel + shampoo combos, as well as the Dr. Teals Foaming Bath Chamomile gel, and while I do really like these bath additives, I was still on the hunt for something truly sensational.
What does truly sensational mean to me? I'm talking something that's highly aromatic in a really decadent and indulgent way, something that would leave my skin feeling crazy moisturized and nourished and not at all tight or itchy, and something that would help my tired and achy body get to feeling a bit better in these last weeks before Baby Jack makes his grand debut.
So after I watched those videos I mentioned above, I was on their website faster than the speed of light.
I learned a lot about the brand, like how they're completely cruelty free, and actually fight animal testing (hurrah for fur babies!), how they use only fresh ingredients, and hand make each product.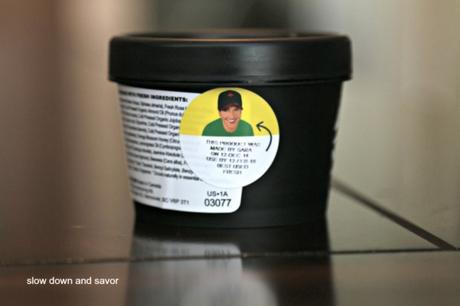 They participate in ethical buying, "green" washing and all sorts of other really cool stuff. I fell in love. And you better believe I made an order. Like, right away I made an order.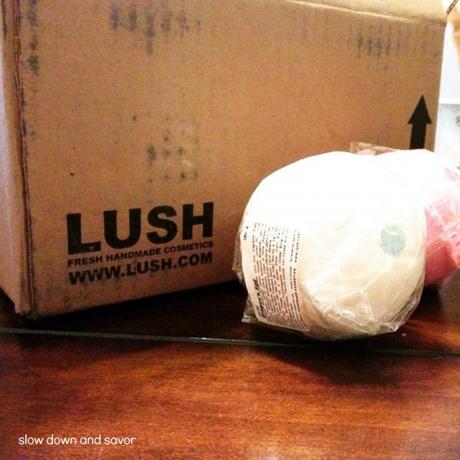 My first order consisted of two bath bombs in Sex Bomb ($6.25) and Dragon's Egg ($6.25), a container of their Lovely Jubblies breast cream ($25.95), a pot of Mint Julips lip scrub ($9.95) and a tin of It Started With A Kiss tinted lip balm ($9.25). When the package arrived, I was stoked.
I think the first thing I did when the box showed up, after ripping the thing open, and spraying packing popcorns everywhere, was decide which bath bomb I would use between the two I'd selected. Once I made my decision on the Dragon's Egg, I lugged my loot into the bathroom where I drew a bath, slathered my lips with way too much Mint Julips scrub and threw in the bomb.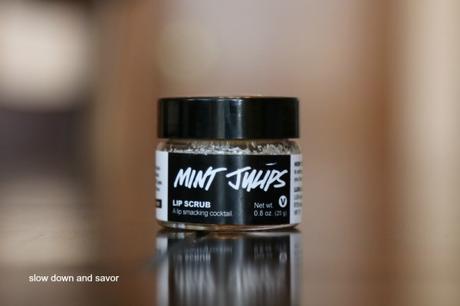 First of all, that lip scrub = life. It's so sweet and delicious and lickable and I just want to eat it. EAT IT.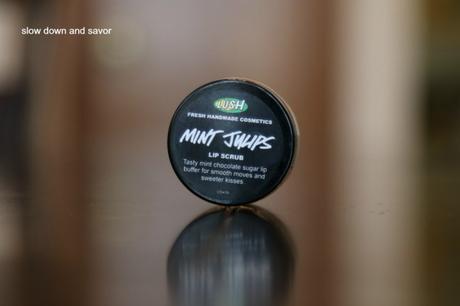 But I refrain. I don't know how, but I manage to just use it for the correct purpose. And it works really well. My lips are crazy dry most of the time, and I have this really bad habit of biting them, and tearing them up. It's a problem. But this scrub has helped to remove the dry skin that causes me grief, which is a relief to say the least.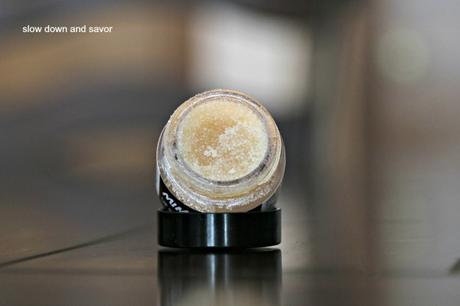 According to the Lush website, The Dragon's Egg bath bomb is described as being a "Citrus sherbet-scented fizzy firecracker: Unleash fire and bathe in a whirlpool of magnificently vibrant, sizzling color and a spectacular explosion of sights, sounds, and scents. Inhale the refreshing sherbet-y citrus scent of lemon and bergamot (orange); you'll feel like you're up and away on the back of your own dragon. This mystical Bath Bomb fizzles, crackles, curls, and ends with a glitter explosion. Citrus oils are known for their invigorating effect on the mind, and Dragon's Egg is no exception! Drop one of these into the bath for a serious wake-up call on groggy mornings, or before an evening out."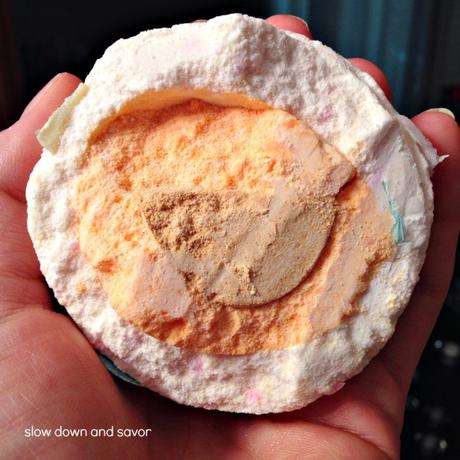 Well, doesn't that just make you want to cannon ball right in? Well, my tub is just a tad too small to do all that fancy diving stuff in, but I just about did. I absolutely loved the way that the bomb fizzled and filled the room with beautiful fragrances.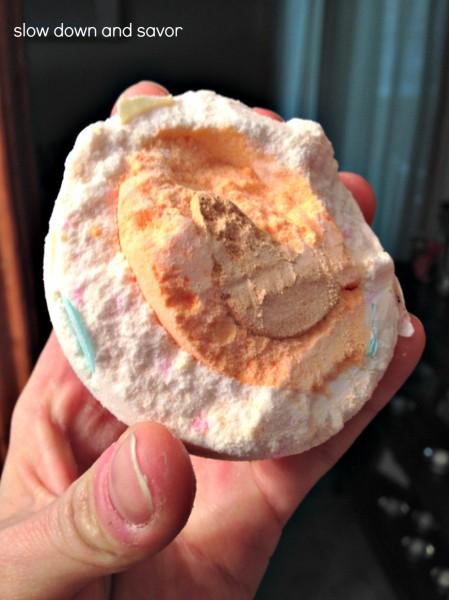 It really transformed my surroundings and I was excited. My bath water was insane. The bomb was making cracking and popping noises, while the water changed from clear to a bright yellow color with GOLDEN GLITTER floating every where. WHAT???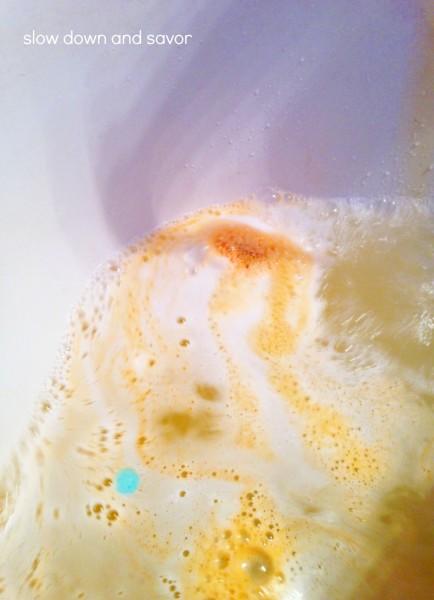 My inner unicorn was screaming with joy as I splashed around like a crazy person, hoping to emerge from this bath covered in the glinting and gleaming joy. Marcus the Cat looked at me crazy, like actually crazy as I splashed around. Sadly, the glitter didn't stick to my skin, but the gorgeous citrusy smell did, and that was awesome.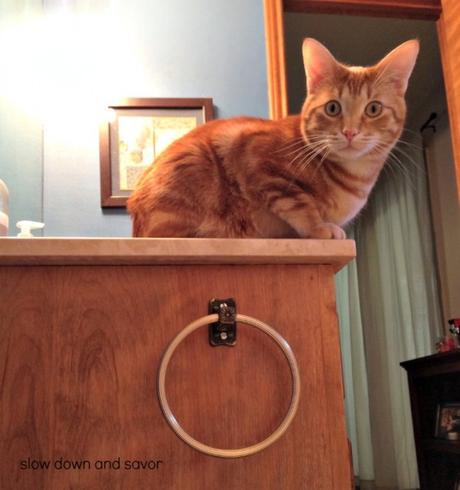 While the description says that this particular bomb is invigorating and will prepare your groggy mind and body for a full day or a fun night out, I didn't quite experience that for myself. I'm betting it's because, like I said, I'm 9 months pregnant, and nothing can make this exhausted mama feel a lick of energy. Sorry. But it was a beautiful bath. I emerged soft and relaxed.
I patted my skin dry and decided it was as good a time as any to test out the Lovely Jubblies cream, described as a floral breast cream.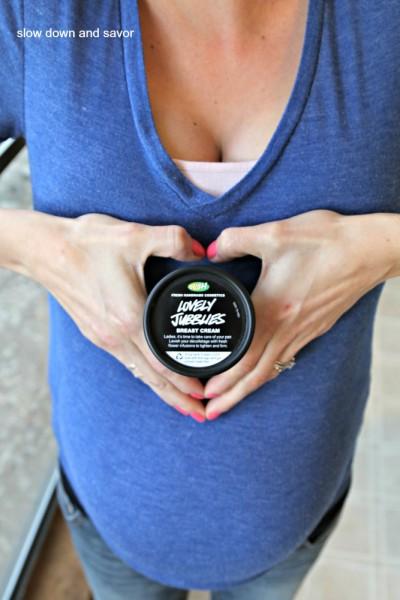 "Take care of your finest features with Mother Nature's finest ingredients. Our brilliant breast cream is packed full of tightening meadowsweet infusion and firming tiger lily petals to help fight the forces of gravity. We add heaps of beeswax and organic almond and avocado oils to soften your breasts and keep them supple. Smooth a generous amount onto your skin and leave your cleavage smelling like a fresh floral bouquet of orange blossom, rose, jasmine and ylang ylang."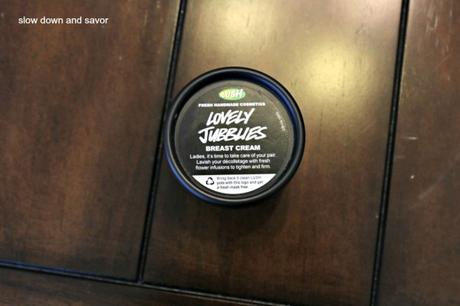 I'm super obsessed with the smell of this stuff. It's positively intoxicating, and extremely relaxing. If I could afford to bathe in this stuff, I would. Seriously. It's thick in consistency and super creamy in texture.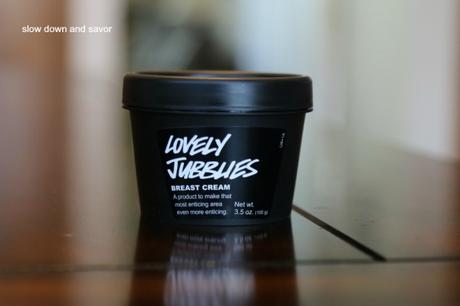 I absolutely LOVE the way it makes my décolletage and preggo belly look and feel, and sometimes, if I'm feeling super indulgent, I'll put a little on my arms and bum, and I swear it makes my skin just look a bit brighter and a bit firmer. The more I use it, the more I like it, and after about a month of using it on a daily basis, I couldn't be more pleased with it.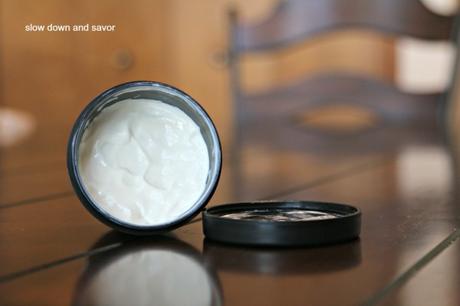 But a word to all the pregnant mamas out there, this stuff is amazing for during pregnancy, however, if you plan on nursing your little one as I do, they recommend not using the cream until you wean him or her, since the cream is EXTREMELY fragranced. We want our babies to bond with our scent, not with the aroma of something else. I really will miss the stuff, but I'll have it ready to go for when Baby Jack is weaned.
The last thing I did on that first day with my Lush goodies was apply the lip tint. See, I didn't know it was a tint when I got it. I thought it was just a balm, so this will help to explain why I decided to apply a bright reddish pink lip tint to my lips just before bed-time. I just didn't know better. But I found out pretty quickly, as it is pretty intensely pigmented. I was startled, but after getting over the initial shock of my bright berry lips, I was able to really assess what was going on. The scent was weird, and not my favorite. I honestly just could NOT place it, and it wasn't until this past weekend when I visited the Lush store in Austin (more on this later) that I realized what the smell was.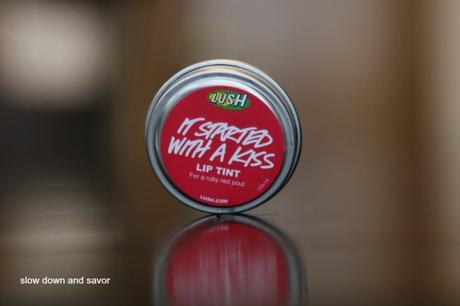 I really should have just read the online description, which says, "Tint your lips with fresh apple infusion, warming cinnamon and a hint of white chocolate. Inspired by a certain apple-biting princess, It Started With A Kiss paints your pout an irresistible shade of ruby red, sure to lure your prince (or princess) charming from the path they had mistakenly wandered off on. No one will be able to resist your tempting pout when you wear this, and kissing will swiftly follow."
While it doesn't exactly remind me of apples and white chocolate, the girl who helped me out at the store said it reminded her more of frosting and I'll be darned if she isn't completely right. I mean, there's a touch of apple crispness somewhere in there… but frosting is it. Now that I know what the smell/taste is, I'm a lot more comfortable with using it, and I'm actually wearing it right now.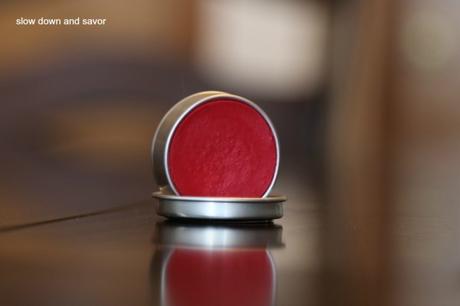 It is quite beautiful, and I also read that it could double as a cheek stain, if you treat it like a cream blush. Interesting… I bet it would give you that Snow White, been out in the freezing cold, natural flushed look. Yep. Interesting…
Anyway, a few days later, I tossed the Sex Bomb into a tub of warm water and I have to say, while I wasn't a huge fan at all of the scent (it was just too powdery and musky for me), but I was fully obsessed with how bright pink the water turned, and how soft my skin felt upon exiting. The website says it's jam packed with"Scintillating jasmine, clary sage and ylang ylang," and I guess it's just that I'm not big on those smells when combined. But did that stop me from staying in that warm and cozy and hot pink bath? No. It wasn't OFFENSIVE; it just wasn't my favorite.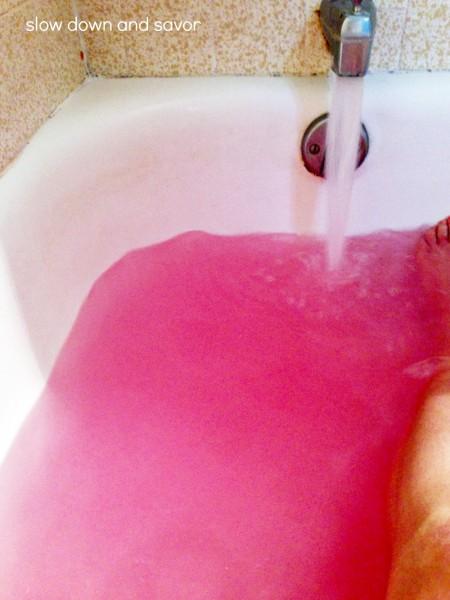 So now I was out of bombs, and didn't know what to do with myself. I felt like I NEEDED more. Yeah, I have a Lush addiction already. So when we found ourselves in Austin a couple of weekends ago, my husband decided to be awesome and surprise me with a trip to the Lush Cosmetics store on W 6th St. EEEE!!!!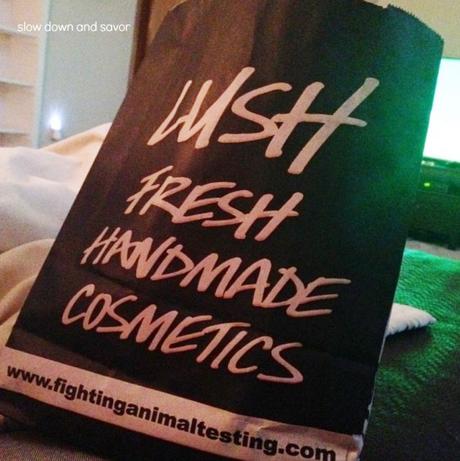 We arrived around 5 p.m. on Sunday afternoon, and the place was jammed. I felt a bit overwhelmed in there. I mean, there was SO MUCH stuff… EVERYWHERE. There were lotions over there, bombs over there, and then over THERE, there were perfumes, butters, shampoos, conditioners, lip scrubs and more. There were so many things. I must have looked like the ultimate deer in headlights.
After only a few minutes of gazing at everything, and I'm talking only 3 minutes, I was approached by a SUPER sweet girl who worked there. Thank God. I needed help, and I needed it bad.
She started out by asking me all about my skincare needs and desires, as well as any questions I had regarding anything about the company or the products. And after spending some considerable time with her, and around the other workers, I can tell you one thing. These people know their stuff. They really, really know their stuff. The girl that was assisting me knew practically every ingredient in each product just off the top of her head, and could tell me right away if it would work for my skin type or not. I was beyond impressed, and was also pretty blown away by the amount of time and care she took in making sure I was informed and had any and all questions satisfied. She even showed me how to use various products, tested some out on my arms, and allowed me to just bask in the glow that is Lush.
One product that really struck me by surprise was their Buffy Bar ($22.95): "Massage our Buffy body butter all over your wet skin in the bath or shower to make you softer and smooth to the touch, paying special attention to your backside. We add ground rice, almonds and beans to Buffy to act as exfoliants; the rough textures eliminate lumps and bumps and sloughs away dry skin cells to reveal brighter, fresher looking skin. Rinse off the exfoliating bits and pat yourself dry. There's no need for body lotion after a Buffy slaying session, because the cocoa and shea butters keep your skin beautifully smooth, moisturized and soft to the touch."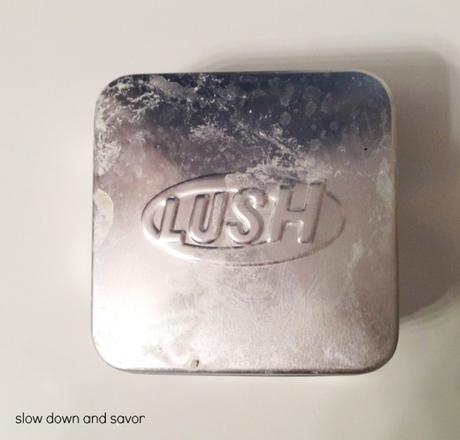 I was astounded in the best way with this product, and went from "Nah, I don't need that," to "PUT THAT IN MY BASKET, WOMAN!" Oh my gosh. It smells light and nutty, and left my skin SO soft and smooth. I'd never felt my arm skin so soft and smooth. Ever. Ever. Ever. #InLove. I ended up getting the smaller of the two sizes they carry, and now I'm kicking myself, wishing I'd just gotten the larger size. It's so amazing.
I've now used the Buffy Bar 6 or 7 times, and I do have to say, it does melt pretty fast. I am glad I got the special Lush tin to store the bar in, because otherwise, I'd say this bar would be long gone with the melting that takes place in the hot and wet environment of our shower. I'm really curious to see how many washes this bad boy will last, but so far, so good.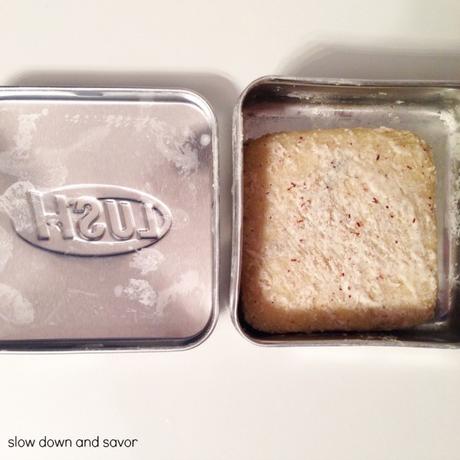 Anyway, after we were done testing lotions and soaps, I decided to get up, and look around at the rest of the stuff, including bath bombs, melts and bubble bars. The girl who was helping me hung out a bit longer until we were both satisfied that I knew where everything was, and that all of my questions were answered. Talk about awesome customer service!
I toured around the bath bomb section, smelling each ball of joy as I went. While I may have smelled a few I'd rather never smell again, there were more that made me squeal with joy. I didn't want to go too overboard on this visit, so I decided to pick up ONE bomb and ONE bubble bar, instead of 15 like I wished I could.
The bomb I selected was the Sakura bomb ($6.45), and oh my gosh. It smells heavenly. It's described online as being, "A refreshing floral dip into springtime. When the blossoms burst forth in spring, it's a tradition to take a picnic and bottle of sake and enjoy the beauty. Noriko, one of our product inventors, hails from Japan and this beautiful Bath Bomb represents what it's like to be in a park while the breeze blows through the blossoms in the trees. Instead of heading to the park, lay back in serene waters while the gorgeous scents of mimosa and jasmine envelop you to give you the joyful feeling of springtime. Sakura: simple, elegant, and enduringly beautiful bathing."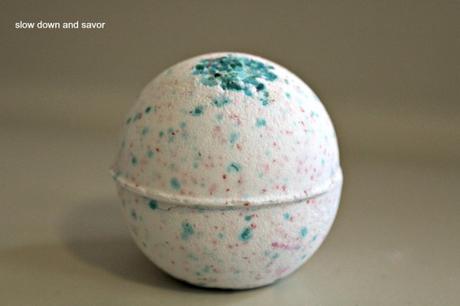 It's just amazing… The smell of Japanese cherry blossoms and mimosa blossoms combined is graceful, sweet and light. It really does smell what springtime conjures up in my mind, and I love the delicacy of it. Smells like THIS one make me happy. Way more happy than that Sex Bomb.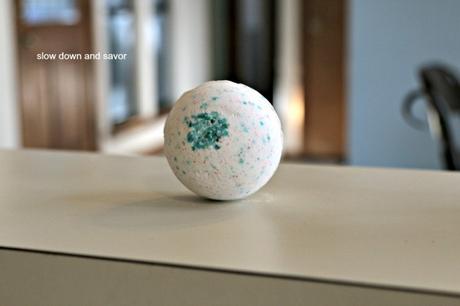 The final product I picked up was the Bright Side Bubble Bar ($10.95).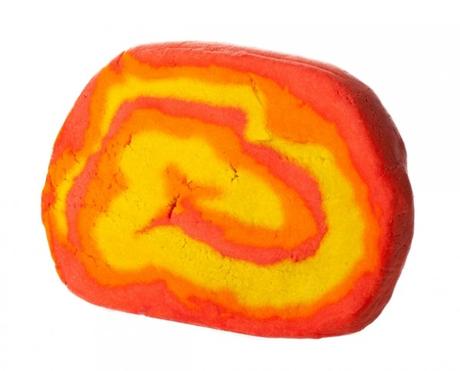 Photo courtesy of www.musingsofamuse.com since my patience was GONE and I used the bar before taking any photos… #Fail
"Everything about this Bubble Bar will leave you feeling cheerful and looking on the bright side of life! When you crumble this one under the tap, your tub will turn into a vivid, hypnotizing red-orange sunset with frothy white clouds of bubbles. Sink in and inhale the uplifting citrus blend of Sicilian mandarin, tangerine and bergamot oils, and imagine yourself in a sun-drenched locale. You'll emerge from the tub feeling energized and smelling like a dream!"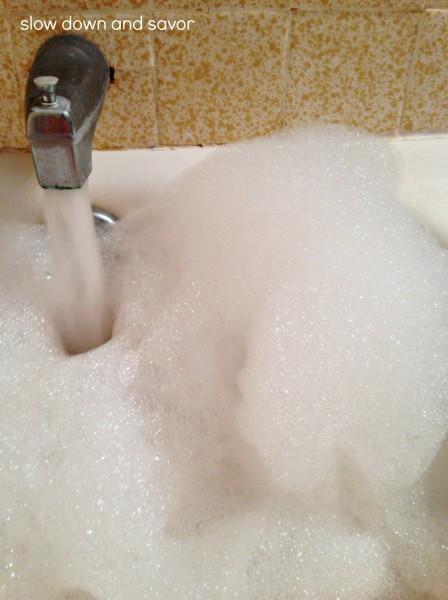 This is my favorite thing ever. First of all, it smells INCREDIBLY INSANELY DELICIOUSLY WONDERFUL. Seriously, it smells like you are cutting into a fresh, juicy orange. It's so bright, rejuvenating and still somehow relaxing. I fell in love with it at the store, and as soon as I got home, I wanted to put it to use, and have used it now 3 days in a row. IN A ROW.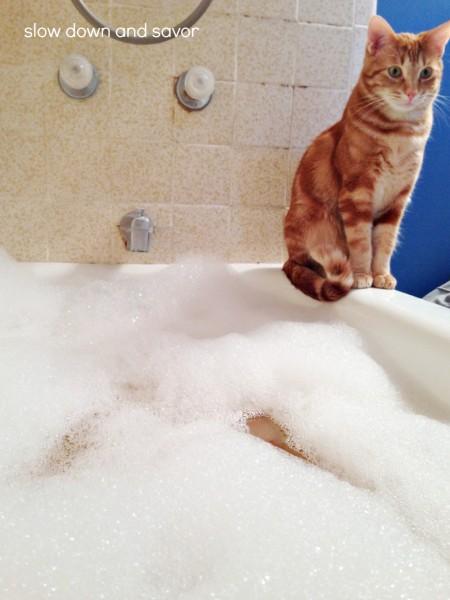 I love how you can break this bar up into small pieces, and use just a bit for each bath. I have about 1/2 of the bar left after having used it for three days, so for my average sized tub, I think I'll end up getting 6 VERY bubbly uses out of it. I'd say this product in particular is well worth the price tag based on the use-yield.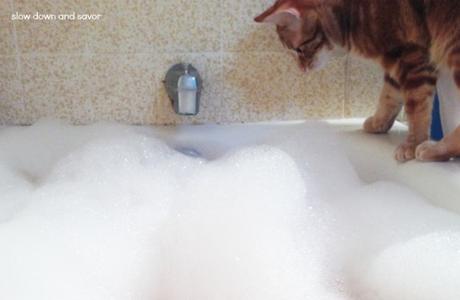 All in all, I have become a Lush believer and a Lush addict all at once, and I can't wait to go back to the store and grab some other things I was oogling over, both for myself and for my family! Yes. Lush is truly sensational.
Plus, I think my mom would totally get into this stuff just like I have, so I think the two of us will make a trip up there this week, provided Baby Jack doesn't make his grand debut before we get a chance!
I mean, hello!!! That Green Fun soap/bath bar looks like a ton of… well, fun… for the little one, and the shampoo bars and body butter bars look like something my husband would be totally into. I'm also after the Enchanted Eye Cream, and perhaps some more bubble bars, melts and bombs! We shall see!
What's your favorite Lush product?