Hi, at long last I got a video up! The camera work on my Morning Skincare Routine video is a bit shaky sorry about that but Mom really did her best, she helped me that morning get it done, God bless her. Drink Bonamine nalang before watching, lol.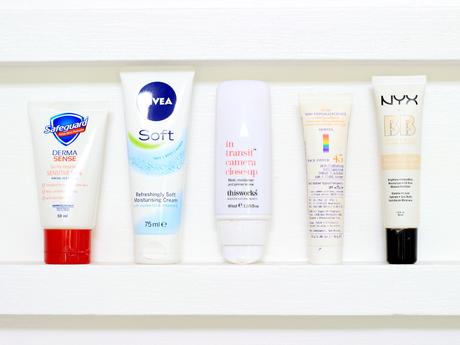 1. Safeguard Derma Sense Cleanser for Sensitive Skin (fragrance-free)
2. NIVEA Soft Moisturizer (bought in Japan)
3. This Works In Transit Camera Close-Up Moisturizer
4. VMV Hypoallergenics Armada Face Cover Sunscreen SPF45
5. NYX BB Beauty Balm in shade "Natural" (oil-free)
Of course you understand that on some days I don't get to use all of the ones mentioned here. Sometimes, I leave out one or two of these in the rush, but right now these are all the products I've been reaching for before I'm out the door in the morning. Click continue to get to the video.