Putting up a post like this was obviously somewhat of a holiday afterthought, but I bet Santa has his superpowers charged at this time of year anyway. Regardless of tardiness I still want to share a couple of these beauty bits with you. All except one bit, to my knowledge, are not readily available in retail locally.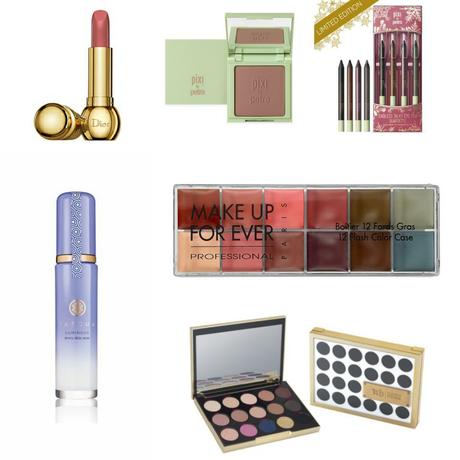 One of those hydrating mists I spotted thanks to Jaclyn Hill, leaves a beautiful sheen on the skin and is a lovely perk for no makeup makeup looks.

"A silky liquid spray-on moisturizer of Squalane, Red Algae and our HADASEI-3 complex can be misted for a boost of soothing hydration, resulting in dewy, luminous skin anytime, anywhere. This milky emulsion contains moisturizers and humectants leaving skin rehydrated. Does not contain high levels of alcohol and fragrance found in conventional hydrating sprays, which can dry out the skin."

I own a Diorific lipstick in the shade "Glory" and it is an absolutely fabulous long-wearing formula. Not a mile away from Estee Lauder's acclaimed Pure Envy lip range.

"An easy-wearing matte whose secret lies in its unique use of an exceptionally soft and velvety micronized silicon powder. The "powdery" silicon smoothes colour with no streaking while striking a subtle balance between hold and comfort. Unlike traditional matte makeup, this formula continuously moisturizes lips without drying them."

That one local item, which was the Pixi Contour Powder (it's awesome and available in major SM beauty floors), was one I actually owned for a couple of weeks and strongly appreciated. Sadly, it smashed to bits after an accident on one job, and is now a haphazard mess to keep in my handbag even after pressing the powder back into the compact. The contour color was so on point, more on point for shading in my case than NARS Laguna.

"A limited edition set of 4 bestselling waterproof, easy-glide eyeliners in a gorgeous, giftable box. Featured colors: BlackNoir, BlackCocoa, DeepPlum and SlateGrey."

For a makeup artist like myself an array of shades like this in multi-purpose textures are most likely a dream to work with professionally...it probably also makes a bloody good bruise kit. The first flash case contains basic primary colors so that one is an essential as well, especially for costume and theater work.

"This 12-Piece Make Up For Ever Flash Color Case is found in the kits of many well-known makeup artists. Create an array of looks for eyes, cheeks, and lips with this luxe palette that's perfect for on-the-go touch ups. " 12 x 0.21 oz Flash Color in Grey, Neutral Brown, Purple Grey, Rosewood, Dark Antique Pink, Ivory, Livid, Kaki, Pink Brown, Fresh Pink, Sienna, Rusty Brown URBAN DECAY x Gwen Stefani Eyeshadow Palette

For awhile, a couple of years to be honest, I was somewhat sick of seeing eyeshadow palettes. I just got so saturated and not interested after a couple of years' surge of masses of them in the industry. Gwen, however, piques my ever present nineties nostalgia and seeing a palette like this had me goo-goo eyed all over again.

"In a true creative partnership, Gwen Stefani and Urban Decay created the UD | Gwen Stefani Eyeshadow Palette. Wende Zomnir-co-founder of Urban Decay-and her product development team spent countless hours at Gwen's house, talking makeup and working closely with her on every detail of this palette-from the case to the amazing shades. This palette features her 15 must-have shades of eye shadow, including 12 never-seen-before colors and three that are from the Urban Decay shadow collection."
What beautiful stuff! They're from all over so I've linked to the global sites where most information or pricing is available. I pray you have a happy Christmas and don't forget to make an effort to share moments and love in person, not just snaps online!