It took awhile but my vlog on my Korean Facial experience at Oracle Aesthetic Clinic, the world's leading Korean dermatological and surgical beauty clinic finally uploaded without errors or freeze-frames. You can read all about them . As I write this part of the paragraph, the internet, it seems, at the moment has taken the quickest route to sabotage my smooth upload moment. The upload has stopped twice and been reset twice on YouTube. It's moving slowly now and finally progressing. Oracle Skin Clinic is a Korean chain of dermatological clinics acclaimed by their use of advanced technology, their trust in medical expertise, and their application of gentle skincare products in their treatments.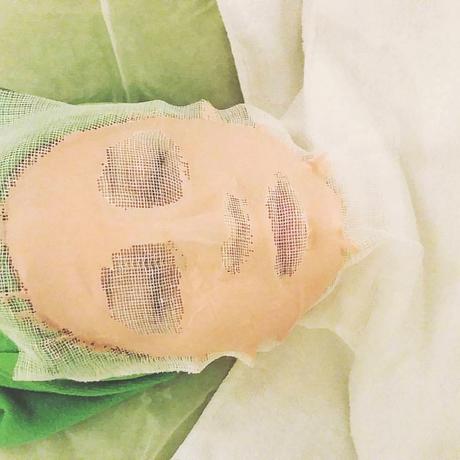 The Pomegranate mask, a finishing touch on one of the most gentle, yet effective clinic facials available locally today, the Oracle Korean facial (FULL FACIAL Php3500.00, 50% off for first timers). ORACLE AESTHETIC CLINIC 2/F Republic Glass Bldg., #196 Salcedo St. corner Soria St., Legazpi Village, Makati, Metro Manila
When my aunts had a sister sweep of the facials halfway in they were already thanking my mother for recommending the clinic because they were raving that it was the best facial experience they'd ever had. One of those aunts of mine has even more sensitive skin than mine and is married to a German so her standards are wayy up there, but she was the first one to say it was the best. I got my slot a few days later on Black Saturday and I opted for the Korean Facial treatment with no extractions. Read on to see a few more shots of my aunts during their facial experiences at Oracle Skin Clinic before watching my at the end of this post.
My aunts experienced services before I did. If I'm not mistaken I think they all went for the Korean facial since it was their first time and wanted to be sure it was a treatment suitable for sensitive skin. Only two of them opted for extractions (sanitized zit, blackhead, and whitehead removal) and I didn't want extractions either on the day I went to the clinic, I preferred not to have any whiteheads removed via extraction. These photos are not in sequential order.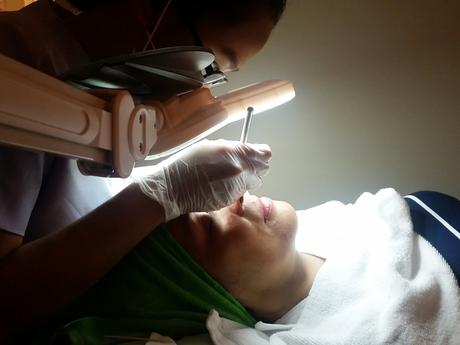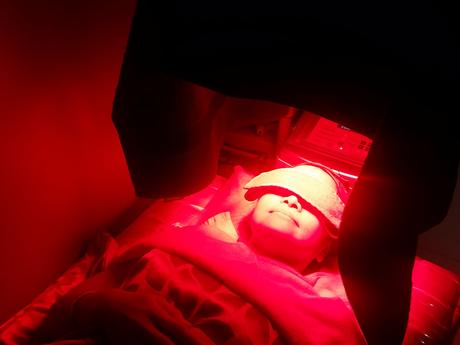 The Korean facial consists of a gentle scrub, a treatment moisturizer, ultrasound triggered collagen, gentle pore suction/extractions, electronic exfoliation, ultra sound triggered collagen, Vitamin C serum, light treatment, electronic pore stimulation, the pomegranate facial mask, then sunscreen protection. No makeup application is recommended a few hours following the treatment.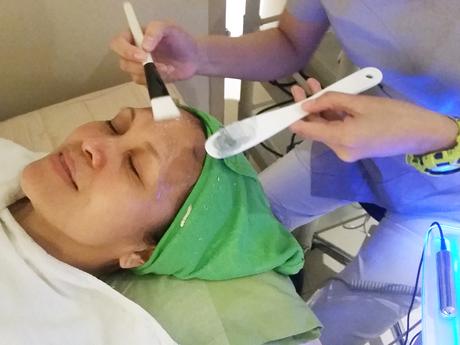 In my vlog review below my free skin analysis was actually shot before the facial, I chose to put the skin analysis at the end of the edit instead for flow and because I didn't know how to end the video. It doesn't matter at all whether the skin analysis is done before or after the facial, unlike me my aunts had their skin analysis after their facials, it can be either or.
This on my Korean Facial was filmed last Black Saturday during Holy Week. I've never had a full on facial like this at a branded skin clinic in my entire life, so this one's for the books. Oracle Aesthetic Clinic is a Korean chain that was brought here locally by a family friend. I was not paid to do this video. For a limited time what I know is that first time facials for new Oracle clients are considered 50% off. The service I was bestowed here was considered complimentary as they invited me to document my experience and review the procedure. Long story short, I'm excited to go back eventually. The truly big shocker was the positive revelation of my TruSkin Age vs. my actual age at the end of my vlog.