Hi there once again peeps, :-hIfy'all have read some of my existing posts in this blog, you might have of alreadyguessed that taking care of my skin is of the upmost importance to me.(…guessed?:-/

Nah, who am I trying to kid? Itwould be blatantly obvious

, =))ROFL!)Therefore, you would understand thatjust like any other skin care enthusiast, I am devoted to a Serious Skin Care regimethat targets my oily skin, whilst focusing on the early signs of ageing; afactor that has become more evident since I reached my mid-thirties.:-S

  

Thedamage to my skin, caused from years of neglect, includes sun damage and is a partiallya result of the misuse of skin care products. :"> The side effects from this maltreatment when Iwas younger has evidently come back to haunt me, starting to rear its uglyhead, the premature aging symptoms are now more noticeable and it's beginningto take its toll on my skin.:(My regular anti-ageing routine normallyboasts an array of the most effective professional skin care treatments I canlay my hands on and often there's no expense spared. :-" I had came to the conclusion that I had to aimhigh if I wanted products that trulywork and were able to deliver results thatI could see.I was willing to use whateverit takes in the hope of being able to repair, recharge and restore my skin to achieve,once again, the perfectly youthful-looking complexion.;)
A while ago, Robin from Simplicité approached me to test driveseveral products from their plant-based skin care range.Prior to coming into contact with Robin, Ihad only ever heard of Simplicitéand knew very little about the brand, so I must admit that at first I was feelinga little dubious. :-? However, the moreI analysed the idea and pondered on my current regime, I surmised that thepossibility of taking a natural approach to my skin care, would allow my skin totake a breather:- from the highly potent combination of treatmentsI normally used.#:-S Yet, despite my fear of the unknown, I came toconceive that a complete skin care overhaul might actually do my complexion theworld of good, without hampering my already developing progress and possiblysustaining an even more encouraging outcome.:)I had nothing to loose andeverything to gain, so I was determined to give it a workout.After some initial brand research, I soonlearned that I could introduce Simplicité,a natural, plant based, aromatherapy skin care line and still be able to addressexactly the same skin concerns that my usual regime focused on.>:/ I quickly determined that incorporating theappropriate Simplicité treatmentproducts from their comprehensive, natural skin care line up, my skin'sspecific needs would be adequately accommodated.I liked the idea that by using a simple andpure range with the ability to feed my skin with a concentrated blend of essentialnutrients and antioxidants, which are integrated with herbs, plants and flowersto establish their uniquely organic formula, Simplicité makes it attainable to procurethe overall results I am perpetually striving for.*-:)
Everything you need toknow:
All Simplicité skincare products are free from alcohol, parabens, synthetic or added fragrances,silicones and other 'questionable' naturalingredients, often exploited in commercial brands, such as mineral oil. In fact, the Simplicité line-up flaunts only thehighest quality, medicinal grade, plant extracts that rejuvenate your skin andrenew your spirit.Respectfully, Simplicité don't support animaltesting and neither their products nor their ingredients have been tested onanimals.=D> David Lyons, a leading Australian herbalistand naturopath, is the mastermind of Simplicité.Along with his wife and co-founder Robin, thedetermined duo developed Simplicitéinitially for personal use, then eventually to meet the growing demand for natural-basedproducts in both the Australian and International market.Comprising of only the freshest herbalextracts, which they prepare and formulate themselves, using the highestquality, hand-selected, organic ingredients.

(*)

With over 25 years of extensive research and customersatisfaction, David and Robin have substantiated that their natural skin care conceptis fully results driven.Ideal for allskin types, even the most sensitive, Simplicitédelivers remarkable improvements for those suffering from sun damage, prematureageing, sensitivity and acne prone skins.As professed on their website "Mostskin care products just moisturise ... that's easy. It's when you enhance yourskin's tone, elasticity and smoothness with antioxidants and active herbalprinciples that you'll look younger, and feel better about your skin.That's the Simplicité difference!"
Now that you know alittle bit more about Simplicité, let me share my journey and personalproduct experience with you all.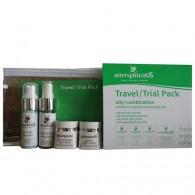 SimpliciteSkin Care Starter Pack Comb/Oily
This kit includes a full regime of Simplicité products that cleanse, calmand soothe the complexion, therefore ensuring this rejuvenating package deliverssoft, supple skin and encourages a youthful, healthy glow.Featuring four travel/trial sized products ina handy zippered pouch, this pack is the perfect introduction to the benefitsof Simplicité, the convenienttravel companion or a superb gift idea.
Inside the kit you'llfind:
Plant Gel Cleanser (20g) – I enjoy utilising this facialwash as my AM cleanser because it is so invigorating and refreshing, which wakesup my skin and implements a kick-start to the day ahead.It has a light and creamy texture that worksinto a gentle foam to leave my skin feeling completely clean and fresh.It redresses the balance of my skin withoutstripping it of its natural oils, yet it's still powerful enough to cleanse thoroughlyand remove all dirt, oils, bacteria, surface debris and the most stubbornmakeup (if I were wearing it) from myface.
Hydrating Floral Spritz (60ml) – Post cleansing, I lightly spraymy skin with this beautiful flower-infused facial spritz and implement it intomy skin care regime as a toner.I thengently press it into my face to help the solution absorb, which leaves my skinsoft, hydrated and well balanced without any sticky residue.It assists my skin's natural defence systemand refines my pores to help keep moisture locked in.It's also ideal as an instant 'pick me up' anytime I need a revitalisingaromatherapy boost to lift my spirits and refresh my skin, promoting an effectualway to cool down during a long, hot day. I can also vouch that it works a like a charmto set my mineral makeup.
Oil Controlled Day Creme (20g) – This lightweight daily moisturiseris highly nourishing and comfortable without being too rich or greasy on my alreadyoily skin. The arousing scent isuplifting, whilst the quick-to-dry/absorb formula sparks my face to feel softand evenly balanced, hydrating any parched areas to create an effortlessly smooth,uniform canvas.It's suitable for thewarmer months because it's not at all heavy on my skin and makes a great baseto apply my daily makeup.The naturalblend is non-comodogenic so it doesn't clog my pores; instead it stimulates mysenses and adequately provides ample moisture to maintain constant hydration anda shine-free finish throughout the day.
Lemon Night Creme (20g) – I have mentioned this nighttimemoisturiser before, in my Moisturisingpost, because after this trial, it impressed me so much, I wanted to use it ona permanent basis. It's definitely becomeone of my favorite moisturisers and is absolutely the most kosher night creamI have ever had the fortune of using.:xWith its gorgeous lemon fragrance andcreamy butter-like texture, it is a sheer pleasure to use.This non-greasy cream is deeply nourishingand conditioning, but not too rich or heavy, making it profoundly fitting formy oily skin.In addition to presentingexceptional hydrating properties, it helps to clarify my skin and reduce theappearance of blotchiness, redness and discolouration.Over time, my skin has progressively revamped,flourishing less roughness for a softer texture, tighter, more concealed poresand rapidly fading areas of pigmentation.Oh, and can't forget to mention, I have also noticed that my visiblefine lines have softened considerably.Ithas invaluably contributed to my fulfilment of obtaining a clearer, brighter,more youthful-looking complexion.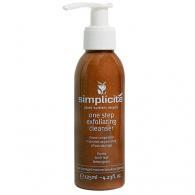 SimpliciteOne Step Exfoliating Cleanser
This is a cleansing and refining duo, enriched withmicro-fine cinnamon particles that enable a fantastic multi-tasking deep-porecleaning product, expedient for all skin types.While I normally shy away from physical exfoliators, I found this one supergentle and so effective that I couldn't resist the urge to continue randomly usingit.I am relieved that it doesn'texacerbate my sensitive skin either; in fact, it actually proffers a calmingrelief to red, irritated skin.With an elevatingnatural cinnamon fragrance, that lifts my spirits as soon as I get a whiff, italso revives my skin, triggering a boost of radiance when it appears dull andtired.It has supported a considerable improvementin the reduction of blackheads forming around my nose, by clearing out any build-upof gunk and congestion from deep within my pores. It sloughs away any dead surface cells; provokingmy skin to look alive and feel refreshed, by smoothing the texture so it's babysoft to touch.Immediately after usingthis product, an all over healthy glow is revealed and my complexion appearslucent.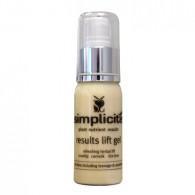 SimpliciteResults Lift Gel
This was the one product I was most excited to try, becauseI read claims of it being a "Herbal Alternativeto Botox".:-OIt boasts a thin, slightly runny consistencywith a non-sticky, creamy, gel-like texture (similar to a lotion) that feels cool and soothing as soon as ittouches my skin.Adorning a crisp, freshscent this treatment indulges an overall exhilarating feeling to my skin,whilst elevating the senses.Uponapplication, it instantly plumps my skin prompting the appearance that it'sfirmer and bearing more resilience, whilst instigating an all over, natural-lookingluminosity.It is remarkably lightweightand so refreshing that I often use it in place of my daily moisturiser, as itoffers generous hydration, without making my oily skin excessively shiny orgreasy throughout the day.I love how itimmediately improves my complexion, brightening and evening out the tone, whilstsmoothing and softening the texture, especially when my skin appears allstressed or tired.:x

  

:x

  

Aslong as I'm armed with this amazing treatment product, I can be sure that Iwill never have to suffer the unsightly consequences when too many late nightsstart to wreak havoc on my skin , since it's the best weapon to combat all ofthose nasty symptoms.All I need a doseof this miracle moisturiser and my skin transforms, being vibrant, alive andbursting with radiance.I have also contrivedthat the longer I use it; I am seeing more permanent changes, as my complexion becomesmore refined and brandishes a better overall clarity.With Simplicite Results Lift Gel on my team,I am confident I will never need to resort to the '

toxic

' botox option.:-OI don't know about you guys, but I'll stickwith this safe, natural substitute, thank you very much!Plus, my skin adores the endless benefits andit makes a perfect featherweight treatment moisturiser that doesn't suffocatemy skin come summertime.

;;)
My Final Verdict:
I ended up pleasantly surprised with the general conditionof my skin after committing to this au natural, Simplicité skin care routine,undividedly, for two months straight. ;)I freaked out at first:-O asmy skin went through an initial 'detox'period, where it did all sorts of weird things, like constantly breaking outand producing even more oil.~X(

  

However, I realised that it's normal whenchanging your skin care routine for it to expel all those nasty toxins as itadjusts to the new products. #:-S I waspatient during this time :-w persistingdiligently with the individual Simplicitéprogramme that Robin had personally recommended for me, then after several weeksof battling along, all of a sudden, my skin progressed to a greater new level.YAY!<:-PIt totally cleared up and was blossoming with a newfound radiance, provingto me that natural skin care solutions absolutely do work!As I mentioned, before I tried this range Iwas sceptical that I wouldn't be able to achieve the same level of resultsusing a natural range that I always get with my professional skin caretreatments. :-S Now, I can honestly say that upon concludingthis trial, I don't think my skin has ever looked better!:D Simplicité exceeded my expectations, allowingme to accomplish a clearer, more luminous complexion and optimum skin health. I wouldn't hesitate in using Simplicité again, as a natural skincare alternative further and because I was so influenced by the vast improvementsI successfully acquired, I was spurred to stick with a few of these products,which I use on a regular basis as a crucial part of my skin care regime.Simplicitéallows me to maintain the fountain of youth by repairing existing damage, nurturingmy skin and protecting it from external aggressors, all using a simple, holisticapproach.I dare say it allows me tostand ten foot tall and bullet proof because I'm ultra proud to be sporting thereputable 'Simplicite Glow.'

\:D/
Have you tried anything from the Simplicité range?Have youfound natural skin care products to be equally effective as theircommercial-style cousins?What natural,organic or plant based brands have you tried and liked best?
All images in this post are generic (sorry folks, my download speed ended up getting capped this month from my internet provider and adding my own images at snail pace wasn't an option, lol)

  :p