Hey lovey,
Oh my gosh it feels like it's been so long since I wrote! It's been crazy insane here since last time I wrote which was Saturday... let me explain.
Saturday after I wrote I didn't end up going to my Christian Louboutin exhibit because it was pouring rain and I was exhausted so I had a nap. Rough, right? Then I wanted to slip to the mall because I wanted to get a new purse to go out with on Saturday night. I ended up getting a really pretty black clutch from Ted Baker..
Then we came home and got ready to head out for the TIFF party we were invited to at The Fifth Social Club. It was so much fun! When we first got there it was a bit dead just because we showed up early to avoid lines.. we made out way up to a bar that wasn't the main bar, and hung out there with each other. Eventually a big group of people came up and joined us, and one of them happened to be the owner of the bar, and another happened to be Joffrey Lupul of the Toronto Maple Leafs.
WHAT?
Do you understand how gorgeous Joffrey Lupul is? Well if not, take a peek....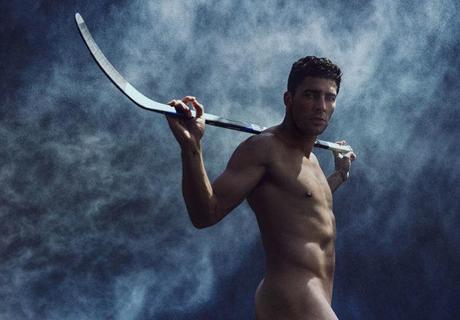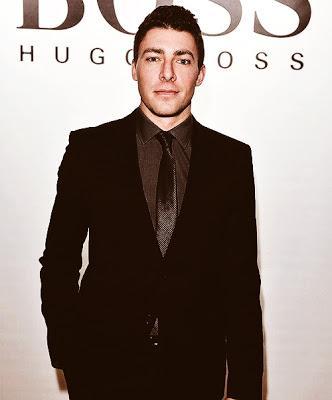 ... uh... ya. I'd say he's attractive.
He had his girlfriend with him who is equally as gorgeous and I wanted to seem cool so I didn't ask for a photo. However, he did talk to us and so that's cool, right? :). The group ordered this drink, and apparently more people than I thought knew about this (judging from people I've told this story to already).. anyways, it's a fishbowl filled with ice, a bottle of champaign, a bottle of vodka and bar lime, and they put a million different straws in it. It's basically a communal drink. As they were leaving, I convinced the bartender to let me have the drink. So this happened: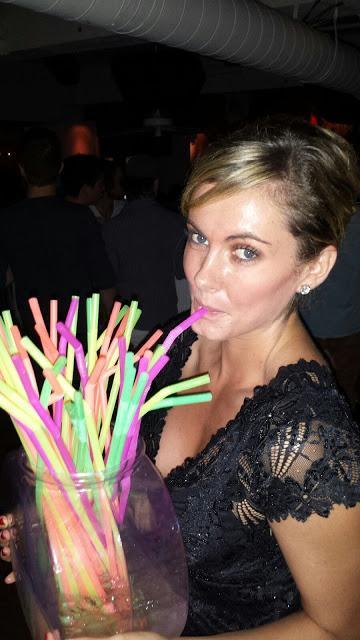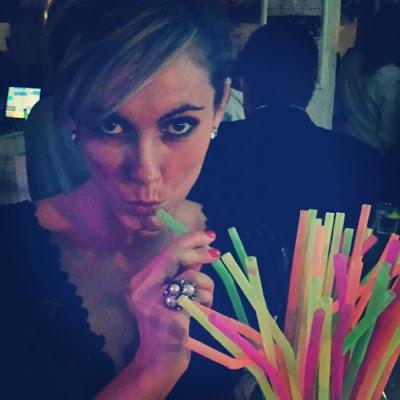 I didn't drink the whole thing obviously.. but it was fun to have :). The owner of the bar actually came back and "officially" gave it to me, since I'm sure he's the one that "paid" for it. Was very nice of him, thank you Oliver! :)
On Sunday morning I ran the Yorkville 5km Race with Michelle! It was kind of hard to get up after being out so late during TIFF (they serve until 4am.. oy!) but I managed to get there and run! I was excited for this run because I LOVE Yorkville here in Toronto. It's so glamourous and so much fun to spend time, and this is Toronto's only Boutique run, only letting 1000 participants in on it. We got there and as we were approaching the race, I found another friend of mine.. Jonny!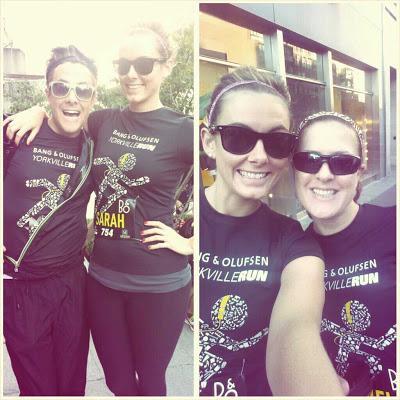 This was us before the race.. fun right? The tshirts were nice, and the funny thing is that the name bib actually lines up with the shirt so the little guy doesn't really get cut off! Haha, genius!
I managed to bust out the 5km in about 31 minutes, it was a slow one, but I only stopped 1 time for water, so not too bad!! I think the medals for this race was the best part of it all....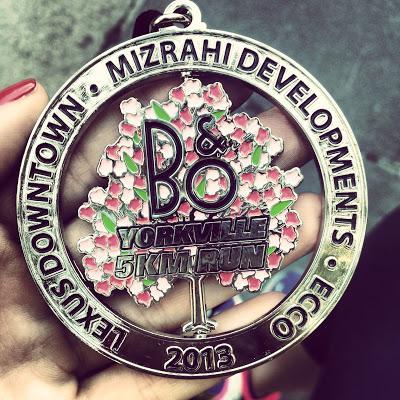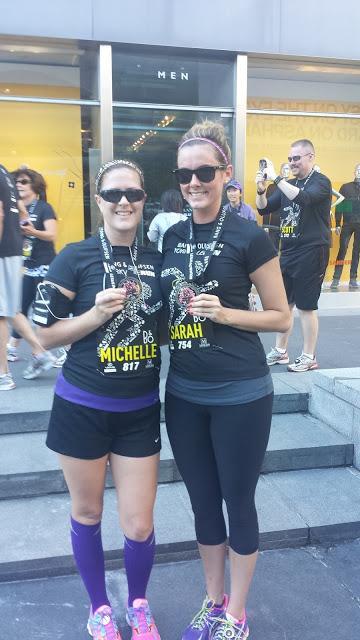 It's so darn pretty!!!! I will be doing this race again just to keep collecting the medals! They also have really fun treats after the race too :)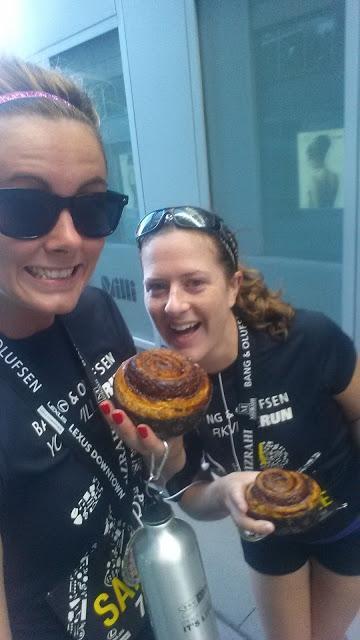 CINNAMON BUNS!! :) Haha, clearly we are very excited for these buns. They were delicious by the way.
Then after I got home I had to instantly start packing because I flew to Ottawa on Sunday afternoon! What a whirlwind. Not only was I already a bit queezy from the night before, but my landing into Ottawa was slightly bumpy so I spent the landing with my eyes closed lol! So I spent the night in a hotel by the airport in Ottawa and it happens to literally be in the middle of nowhere... so what did I do for dinner? Obviously I ordered Chinese Food Takeout.
Oh my god guys. I accidentally ordered a lot, so I ended up eating more for breakfast. I felt like absolute shit. My skin got so oily and I was exhausted and it just wasn't good. Epic fail. The good news is I wasn't away from home long, and as soon as I was done at my work meetings I caught my flight back to Toronto and I was home by 5:30pm! I snapped some photos from the plane on the flight home, but I was in the worst seat ever for photos...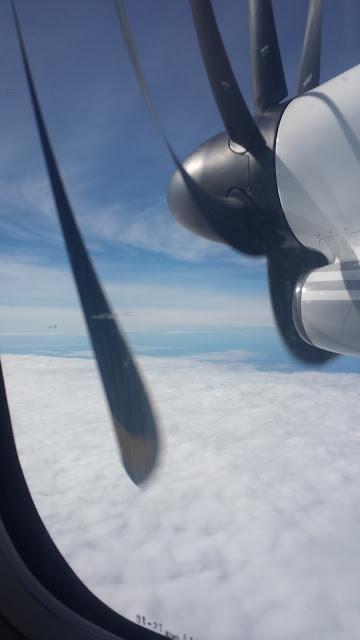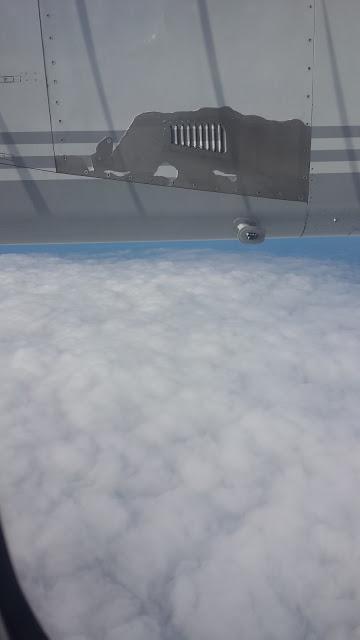 Pretty clouds!! So I got home and crashed in bed, and yesterday I spent the day catching up on other things I needed to, and all of a sudden it's Wednesday night!! Pheew!
So because my weekend wasn't the healthiest, I've been eating veggies and drinking green juice all day today! Speaking of which, I think I might go pour myself a glass now.
Oh! And make sure to remember to enter my Miracle 10 Peel Treatment giveaway!!!
a Rafflecopter giveaway
For all of the terms and conditions (and photos) click here for the original post!
Q: Did you do any races this weekend?
Q: What's the best advise to give a newbie traveler to keep the eats clean?