Hello lovely people!
It has only been a week later since my last post, but I feel like a completely different person.  Gibraltar was sunny and beautiful. Other than the jellyfish infestation, I managed to get a good amount of beach time in.  Going up the rock was an amazing (and slightly scary) feeling and being so close to the monkeys was an amazing experience in itself.  I could see Africa so vividly as well! The pillars of Hercules is now my new home away from home. I can't wait to return.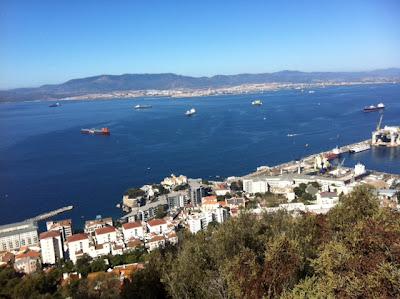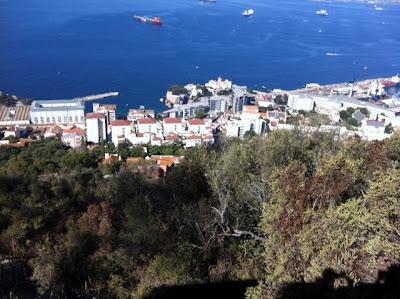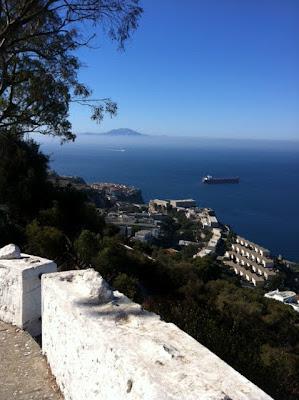 I have to admit once again how scared I was driving up this rock and being so high up lol.
The other great part about Gibraltar happens to be the cosmetic & perfumes shops on Main street.  What a great place for an avid beauty collector like myself :)
So onto the bounty! I went a little Chanel crazy, and in my defense if it wasn't 20% off with an additional 10% off on top, I probably wouldn't have splurged like this. But I'm pretty happy with my stash.
Guerlain - "Sun In The City" golden highlighter (on sale for £37)
Chanel - illusions d'ombress in mirifique & epatant (£17.50 each)
Chanel - nail color in coco blue, beige, pearl drop and mat top coat (£13.05 each)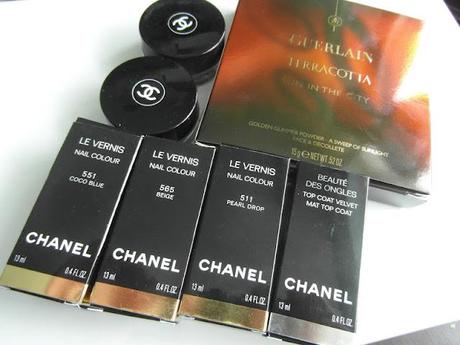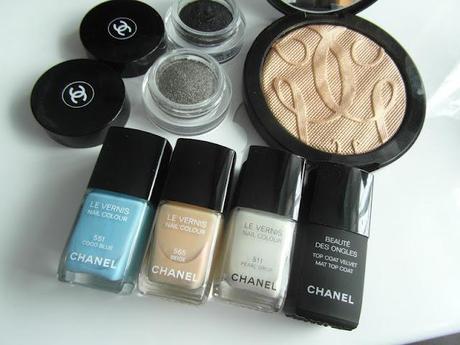 I'm going to go a little pic heavy on the Guerlain highlighter, because it DESERVES it. It is a massive highlighter.  Just as they have done in the past, Guerlain really puts a lot of attention and detail into the hetch marks.  I hope my photos will show you the ripples within the compact. I have yet to see anyone do a highlighter like this, and despite hesitating at the £37 price tag, I am so happy to have this in my collection.  Oh and it doesn't hurt that pigmentation on this is absolutely amazing.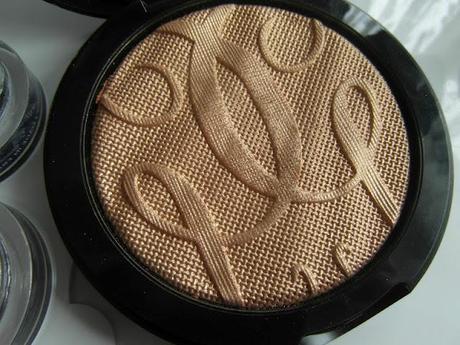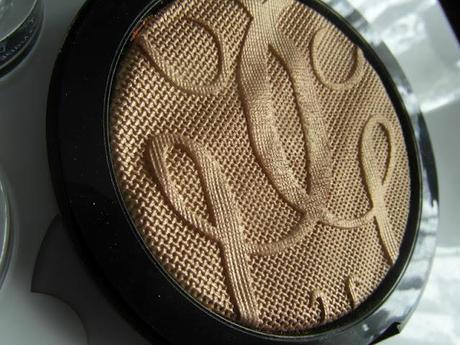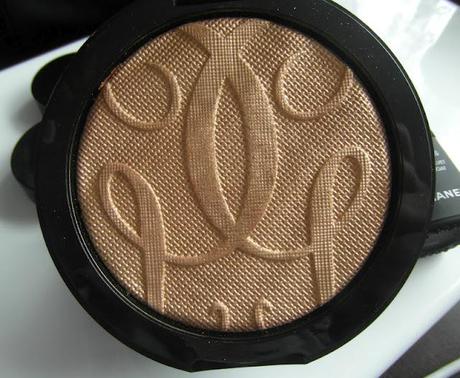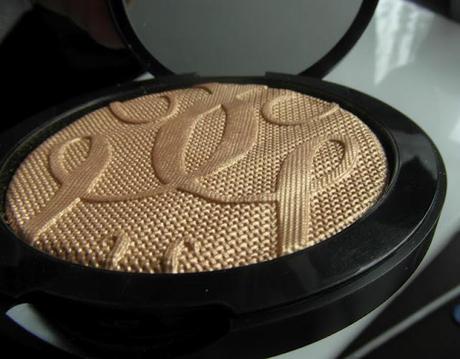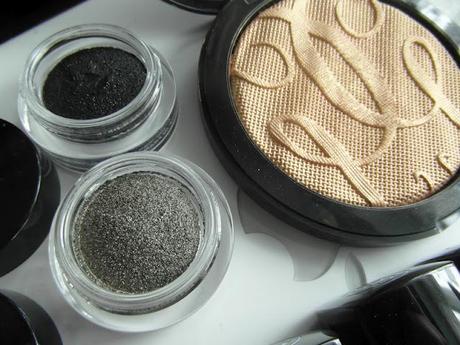 You guys all know my deep love for these Chanel cream shadows. The illusions d'ombress are all amazing.  I bought Mirifique after seeing someone wear it as an eyeliner.  This has kicked MAC's blacktrack's butt and has taken it's place in my heart. The shimmer of this cream shadow really gives a unique look to the plain black gel eyeliner.  I absolutely love this, and I plan on re-purchasing this over and over again. Please Chanel, do not discontinue this!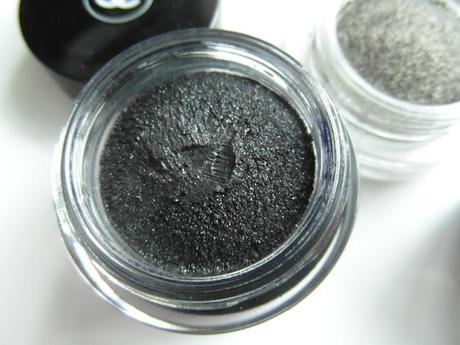 I was given Epatant previously by a friend, but for some reason the product was defected. I'm not sure what it was but the scent was off, so I ended up just swatching it for the blog and that was it. I knew I had to replace this as it really is an amazing color for the fall.  The shimmery army green/pewter shade is the type of unique shade that Chanel produces.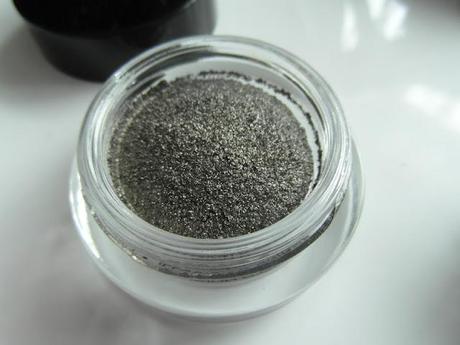 Other than the Mat top coat, these three are nearly impossible for me to get, so you could imagine how quickly I snatched these up when I saw them. You will all definitely see a NOTD with these soon.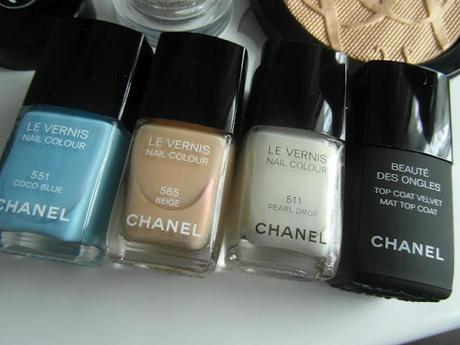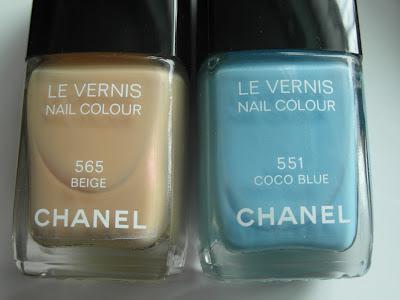 Really didn't expect to see a pink shimmer to Beige, what a pleasant surprise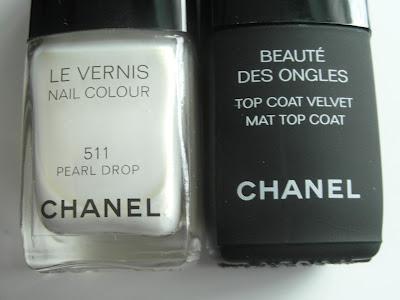 And the most exciting purchase from my holiday was actually a complete splurge. I guess this is what I was saving my money for the last 3 months :)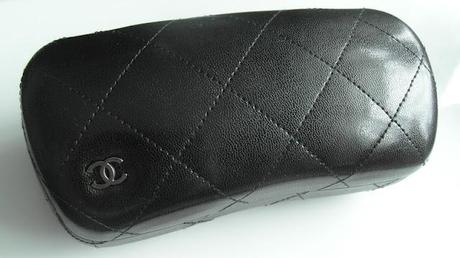 Love the silver & black enamel frame and big lenses.  I suffer from a low (non existent) nose bridge, so buying sunglasses is always a struggle ( just like buying jeans). So, when I find a pair that fits me and actually looks good, I have to buy it. DH wonders why it has to be so expensive however lol Men....they just don't get it, do they?
  I don't know flowers, but I don't mind the Chanel flower at all lol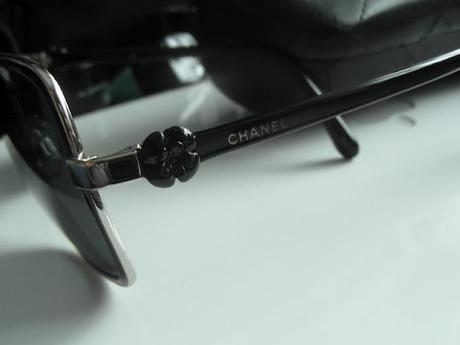 So yes, that is my haul. Slightly broke, but at least I have some amazing goodies that will keep me busy for a while.  I actually came back from my holiday and jumped on ebay and purchased a load of topshop earrings. I don't know what it is about their earrings, but I just love them. So fun and funky fresh!
I know the next time I go back to Gibraltar, I will be bringing back perfumes as well. I think I found my beauty mecca :)