What are the makings of what beauty-zapped people call a "holy grail" foundation?  I'm talking about good, solid medium to full coverage foundations here, the types that "wow" you upon application, not a tinted moisturizer, or BB and CC Creams even which tend to slide off center into new categories.  We are in a completely new era when it comes to makeup and skincare  formulations.  New and delightful finishes and textures pop up left and right and in different densities, too.  However there's no denying that the rise of THIN, light, runny bases with great coverage is upon us.  We can already mention forerunners like Chanel Vitalumiere Aqua, Estee Lauder Invisible Fluid Foundation, or more recently now pretty popular, Givenchy Airy Light (Mattisime) Mat Radiance foundation…the one Ruth Crilly of AModelRecommends currently praises repeatedly.  The demand for weightless, comfortable base formulas that cover as well as benefit the skin grows daily.  It's great to know that Shiseido, a brand we can get locally, have their own version.  This is the undoubted first cousin of the Sun Protection Foundation which I love for daytime but can't use often at night due to high SPF.  It's time for this other lovely base to step into the limelight…here on the blog.  There won't be much lecturing in between (I've obviously done it in advance) so I'll let the photos speak for themselves.  Here I unveil the light but smooth coverage that the Shiseido Perfect Refining foundation gives (with a light dusting of powder over T-zone, no concealer).  Behold the requisite dramatic photo, highlighting its texture…Shiseido inspired obviously.  Don't let the black-and-whiteness of this first image throw you off.  I just couldn't resist getting all editorial about this, don't you just wanna slap me now?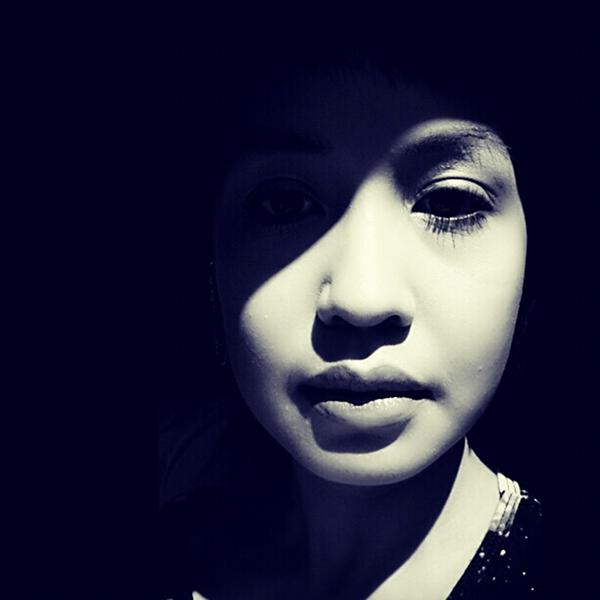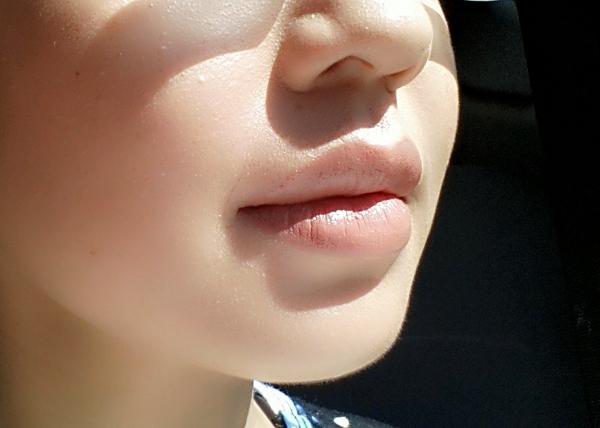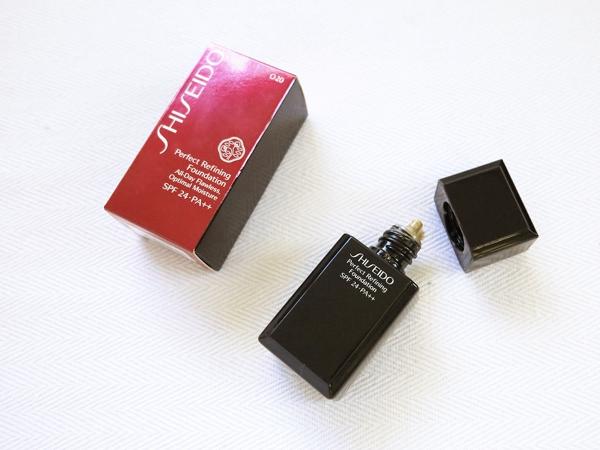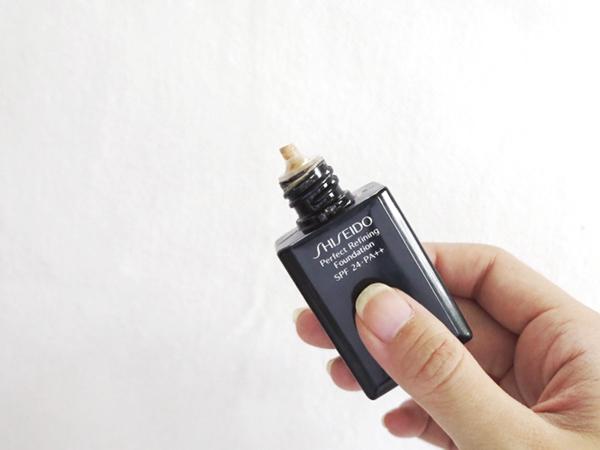 SHADE: O20 "Natural Light Ochre", LOCAL PRICE: US$38.50, approx Php1650-Php1700 for 30ml, NON-COMEDOGENIC : SPF 24 (SPF factor seems to vary by location, UK has SPF 15/17,  Mom got this in Japan) Shake before use.  Comes in 18 shades in B-Beige, O-Ochre, and I-Neutral tones.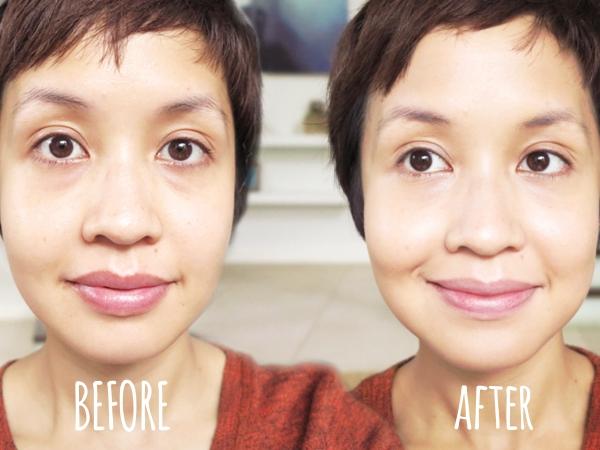 Taken before applying Laura Mercier setting powder over T-Zone
I first heard about this foundation by UK YouTube Beauty Guru fleurdeforce.  Look at that awesome foundation match and meet my reluctant twin…I asked her to pose for the "before" photo and we switched shirts after (Ripley's Believe it Or Not).  It says on the box and paper insert that the foundation is supposed to be a semi-matte finish and it actually really is semi-matte the first time I tried it which was last week.  I first tried it in an air-conditioned room which made the air drier and made all the difference.  The only reason why I look a bit more dewy here is I've been moisturizing like crazy for the past 3-4 days to avoid getting "snowflakes" around my nose using overnight moisturizer and day moisturizer.  That extra hydration slash radiance made the difference underneath the foundation so that's why I mentioned earlier that a light dusting of pressed powder over the T-zone was in order for today.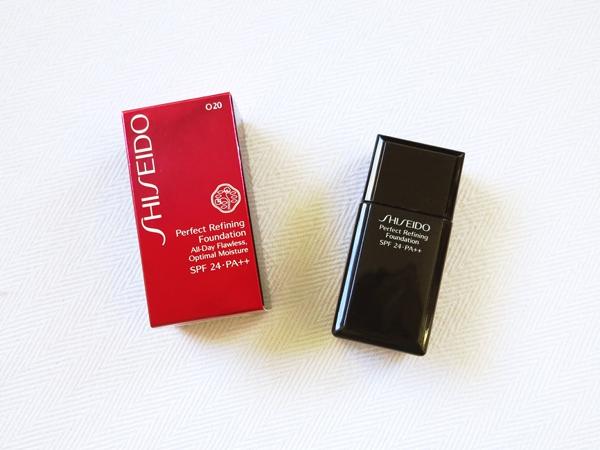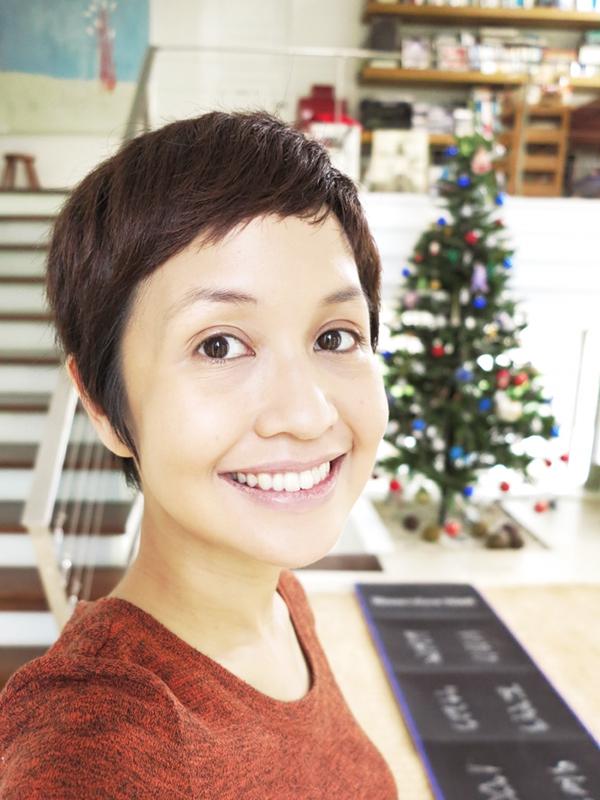 After setting powder application over T-zone.
What actually truly MAKES this a holy grail product for me is the exact color, texture, and the fact that unless I've had an awful night in there's practically no need for concealer in my case.  I now take back almost every time in the past that I said I had a great base match, now THIS shade, O20 Natural Light Ochre, is a spot on match which really made me laugh out loud and almost jump through the roof when mom arrived and I tried it because I wasn't even in Japan with her when she got this for me.  I actually searched the product online checked out the shades, crossed my fingers and picked O20 which happened to be perfect.  Mom was sweet to say nothing is by coincidence and she said "You have an artist's eye and God helped you choose the exact one."  I'm safe in saying that nearly none of you will disagree with me on the subject of color.  I wouldn't recommend this for those with oily combination skin because you'd have to bat the shine away throughout the day with pressed powder but I do highly recommend it for normal sensitive/dry combination skin because it's smooth, hydrating (but not greasy) and comfortable to wear.  It's in quite a dinky little black bottle and resembles an obese USB stick and contains 30ml of this marvelous product which is a standard amount for high-end foundations.  Do you think I have a winner here?  I most certainly do.  Follow Shiseido Philippines' Facebook Page for more updates and information.