You asked for it so you're getting it, YAY. I apologize for the 2 day delay, internet issues. I ended up finally uploading this 4 minute HD video in like 5 minutes in a corporate office (wow, can I live here)! We'll start off with plenty of product right here when you watch my FULL evening skincare routine video.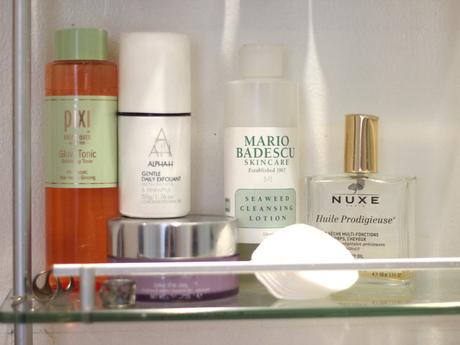 CLEANSE: Clinique Take the Day Off Cleansing Balm (Boots, Oxford, UK) EXFOLIATE: Alpha-H Gentle Daily Exfoliant powder (Sephora Philippines, formerly Luxola) ACID TONE: Pixi Skintreats Glow Tonic Exfoliating Toner (Pixi, UK) NOURISH/MOISTURIZE: Nuxe Huile Prodigieuse Dry Oil for Face, Body, Hair RECOVER/SOOTHE: Mario Badescu Seaweed Cleansing Lotion (press sample, Rustan's)
In contrast, the quick and lazy evening skincare routine (1-2 products, when I have 0% batt on me) will be brought to you in a blog post. Read on to watch the video embedded at the end of this post.
Here is the video in which I take you through my FULL evening skincare routine on days when I have some energy and time left over at the end of the day. This includes skincare products and my personal methods. Watch it here or in the player embedded below.