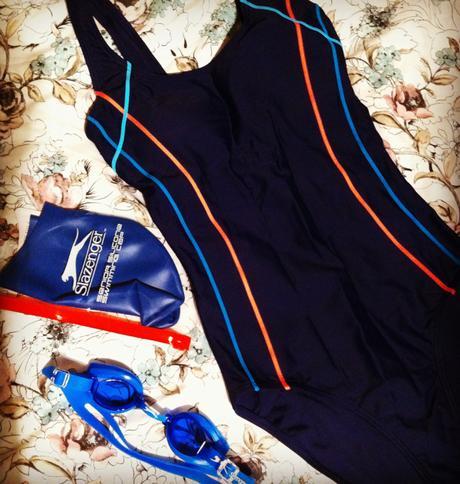 Some of you might remember that in my post about what's in line for 2016 in the world of Chloe, I mentioned that I want to get stronger at swimming. Not a New Year's Resolution – because let's face it as soon as it becomes one of those you feel disappointed when you don't keep them, or is that just me? I just pledged to myself that I wanted to start thinking about being a stronger swimmer so that on holidays I don't have to be the kill joy – the one who won't go down the sky high water slide due to a feeling that I'm going to drown at the bottom, trust me that is how you feel when you're not confident!
So right at the beginning of the year I started to enquire about adult swimming lessons in London. I had a lovely conversation with the team at a london based swimming company (Immerse Swimming – Before you ask, no they don't know I'm writing this) about my swimming experience and what I wanted to get from lessons. We then looked into when I was free and agreed that it would be good if I booked a last minute lesson as I'm always super busy. This worked perfectly for me, especially as it also works out a bit cheaper too.
Last week I had an e-mail from Immerse swimming to let me know that there was a last minute slot available the next day, at Aldwych One Hotel with a guy called Rhys. I booked straight away – you might as well get the ball rolling … I was going to say throw yourself in the deep end but I don't think that's quite right :P
Aldwych One is pretty close to work. It's an incredible location with a private health club downstairs and amazing facilities. The pool was really quiet with two other people maximum at all times and it's only 1.5m so it's great for nervous swimmers who don't like being out their depth, like me.
Rhys met me on the side of the pool, introduced himself and made sure he remembered my experience and what I wanted to work on – he got it spot on. We then both got in pool where Rhys helped me build confidence being in the water and we worked on floating and improving my breast stroke technique. Rhys was really supportive and helpful, he made me feel at ease even with how tense I was, as I hadn't been in a swimming pool in almost 2 years. The 45minute lesson went pretty quickly but I really enjoyed it and felt like I'd already improved a little.
I came out of the pool feeling so good about myself for doing my first lesson and the effort I put in. I was so tired too!
A 1:1 session is so good if you can afford it –  Although I've never had group adult swimming classes, the level of attention you get from a 1:1 and how much the coach can focus on your technique and body language I found really beneficial.
I'm on the mailing list for the next last minute lesson slots which is great. Although I think I'll get some practicing in first, I can't wait for my next lesson! Hopefully over the coming months I'll hit my goals at becoming more confident.
What are you doing this year?
Chloe xx