I love exfoliating.
It always makes my skin feel cleaner and it makes me happy to imagine all of the yucky dead skin being scrubbed away. Exfoliating is good for your skin as it sloughs away all the old skin and dirt that has collected and helps to reveal all of the new, brighter skin underneath.
However, be careful you don't over do it! Over exfoliating can leave your skin dry and cause it to over produce sebum. This can lead to spots, which is completely the opposite of what anyone wants!
My favorite facial exfoliator is by St Ives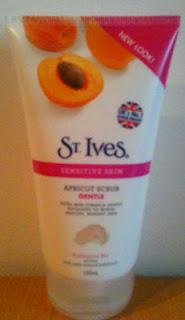 St Ives Gentle Apricot Scrub
Apologies for the fuzzy picture - camera issues.
I have the scrub designed for sensitive skin, which is still very granulated and does a great job. Because it's for sensitive skin, it's not too harsh and doesn't feel overly 'scratchy'.
I also have a little face brush from The Body Shop, which I use too (but not at the same time or on the same day) and that's also really good. It's easy to get carried away with that though!
Grace