Hello!
I thought I'd do a quick post about my current favorite skincare items which I use in my daily routine.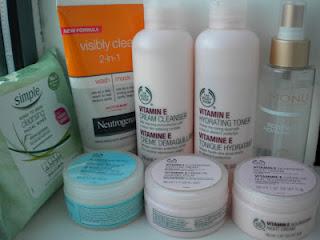 (From Left to Right)
Back Row:
Simple
Cleansing Wipes,
Neutrogena
Visibly Clear
2 in 1,
The Body Shop
Vitamin E Cleanser,
The Body Shop
Vitamin E Toner,
Monu
Rosewood Face and Body Mist
Front Row:
The Body Shop
Seaweed Mattifying Moisturiser,
The Body Shop
Vitamin E Illuminating Day Cream,
The Body Shop
Vitamin E Nourishing Night Cream
As you can see, I'm a little obsessed with The Body Shop at the moment. I used their products many years ago and have only recently returned to try them out again - I'm hooked!
My Routine:
First thing in the morning I put the
Neutrogena
Visibly Clear
2 in 1 on my face as a mask. I put the product onto my skin when it's dry and leave it on for about 5 minutes. Then I hop in the shower and I use a mini face brush (also from The Body Shop, but not pictured - sorry!) to gently scrub the mask off. I love this mask as it really cleans my skin and helps to wake me up in the morning. The consistency is like a thin clay and it tingles slightly once applied so I feel like I can really feel it working to unclog my pores!
After my shower I use
The Body Shop's
Vitamin E cleanser. I tend to put a little on a cotton pad and wipe it all over my face. I really like the smell of the Vitamin E products, they're almost floral but not too 'Old Lady'. Then I'll either use another cotton pad to wipe the Vitamin E toner over my face to remove the cleanser or I'll spritz my face with the
Monu
Rosewood Face and Body Mist. 
If my skin is feeling particularly dry then I'll use the Vitamin E product as this is the most hydrating toner I've ever come across! It has a slightly oily feel at first, but it sinks in like a dream and doesn't feel oily at all after a few seconds. This one also smells really nice.
The
Monu
mist is something I got in the April
Glossybox
and has become one of my favorite products! It smells amazing - it has essential oils and rosewood and sandalwood in - and it's so refreshing. It can also be used to perk up your make up throughout the day (almost like a cheaper version of the
Caudalie
Beauty Elixir - I did say ALMOST all you
Caudalie
converts!)
The next step is obviously moisturiser - I have 3 pictured. Most days I use
The Body Shop's
Vitamin E Illuminating moisturiser (the middle one) as it gives a lovely glow to the skin. It's quite a light moisturiser, but I've not experienced any dryness during the day since I started using it. It's a pale pinky-purple color and looks a bit shimmery in the tub so I was wary to begin with as I really hate to look 'sparkly' and much prefer a matte look on my face. I feel like I look greasy and disgusting otherwise! However, this moisturiser doesn't look sparkly when it's sunk in, it just gives a nice subtle sheen.
If I'm feeling particularly wary of the sparkle I'll use
The Body Shop's
Seaweed Mattifying moisturiser. This stuff is amazing if you want to control shine! Not a hint all day and no need to touch up with powder at any point.
At the end of the day I'll either take my make up off with the
Simple
Cleansing Wipes if I'm feeling lazy or I'll use the
Neutrogena
product again, but as a wash this time and without the face brush. Then I'll use the cleanser and toner again.
The last step is The Body Shop's Vitamin E Nourishing Night Cream. This is so thick and creamy - a little goes a really long way! I love this for night time as it really feels like I'm giving my skin a good long drink overnight. I also think this would also be really good to use during the day in colder weather. This does leave a slight sheen on the skin as it's so thick, but this doesn't really matter overnight - you might want to use a powder to tone the shine down if you used this cream during the day though!
Wow - that was a lot longer than I intended it to be, sorry! Congratulations and thank you if you got this far without getting bored and giving up!!
Grace