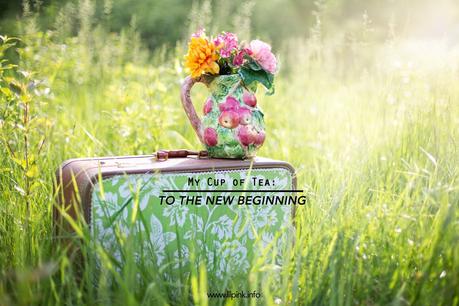 The storm hushes; the ocean calms; the earth silences; and life moves on. To the new beginning.
Sometimes, the beginning doesn't always have to be at birth. Our own beginning commences when we realize that we have no choice but to accept life as bitter as it is. After acceptance, we learn that there is no other path to take but the path of a new beginning - where the pain of the past is forgotten, the lessons are learned and the happy memories are cherished. 
We are wayfarers in this world. And every wayfarer has to learn that he would always have to take a new path in order to reach to his destination. Moreover, he has to learn how to move on when he is about to leave or being left behind. 
The world is dynamic. We either embrace the change it brings to us or be succumbed to the idea of the past. 
They say, the past is the known fantasy. You can never go back nor you can bring it to the present. Those who dwell with the past will only hover themselves to self-destruction.
Also, they say, the future is the unknown fantasy. You can never fastforward the present nor bring it to the present. And those who dwell with the future are nothing but wishful thinkers.
The only reality we have is here and now. And we can only do so little in the current time. It is either we spend it reminiscing about the past and worrying about the future, or doing what we can to change the future so that the pain of the past will be forgotten. 
The decision is in ourselves. No one can do it for us. Not even those who are crazily in love with us. All they can do is show their support and love. Otherwise, it is our choice. 
To be happy. To move on. To accept the bitterness of reality. To remain steadfast. To choose to live.