This might be totally random to you, but I have a little jar I keep on my bedside table full of little bits. Stuff I use pretty much daily and stuff I want to use when I am to lazy to get out of bed. Does anyone else have anything like this? No? Just me...
I keep my bits in an old jam jar, it fits everything in and look cute and vintage.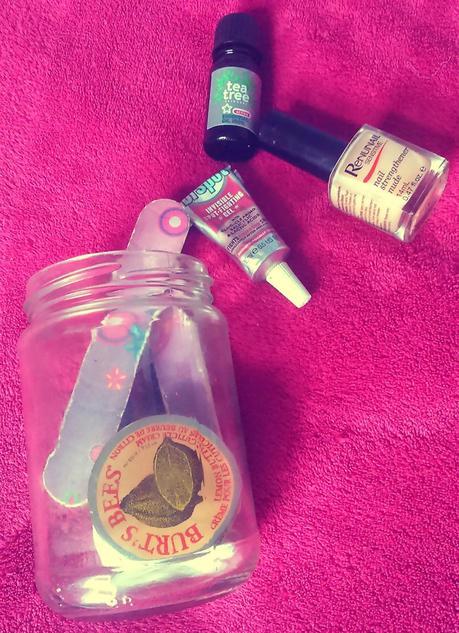 In my jar I have nail bits, skin bits and other random bits. As for nails, I have my beloved Burts Bees Cuticle Cream, this stuff is amazing, it really has helped my nails become stronger and healthier. I also have the Renunail strengthener, this is quite new to me so I don't really have too much to say but so far I am really liking it. There are 2 nail files, both are pretty old and disgusting but I am too lazy to go and but more. I also have a cotton pad, for when I need to take polish off. 
 For skin I have 2 spot treatments, a tea tree oil and Soap and Glorys Dr Spot. I am trying to use up my Dr Spot I do like it and I have so many so I have picked this one out to try and make my self use it. I love tea tree oil, if you know me you will know I have this stuff in so many skin care products and have it everywhere.
For random bits I have some tweezers, because everyone needs them, they are pretty useful. And I have some (bath) oil which I use when I am struggling to sleep. It is meant for baths but I rarely have baths to I sprinkle a bit over my pillow when it's needed.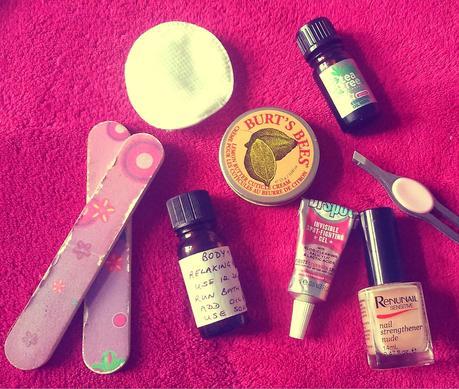 Click links to find products
Burts Bees Cuticle Cream £5 || Leighton Denny File (WANT) £12 || Renunail £7 || Dr Spot £10 || Tweezers £3 || Tea Tree Oil || Cotton Pads
Do you have a jar?
Allie x
Do you follow me?Twitter || Bloglovin


*Post Contains Affiliated Links*