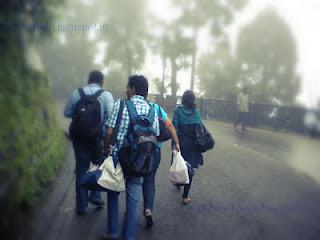 It seems like everyone of us entered to our office cabin little earlier. After the exams got finished it was a drastic change to our life that we began to have formal in our life. Life got a new twist, now I and all my friends are busy with our job, and just before that last exam we were like a free bird. We supposed to go anyplace which pop up to our mind, and all were enthusiastic to travel. But this enthusiasm or it can be say that the OUR chemistry has began to fade. This weekend trip actually was to

rendezvous ourselves and to get away from the new routine.


We decided to bust out to Mussoorie on 05 Aug 2011 and as always Sandy was the first to give his thumps down. Aswathy was dizzy and as expected she also step back from this trip, and after everything was said and done Rahul canceled the trip at the last minute because his sister got an accident that day.

 

Eventually, to board the train to Dehradun there was only 5 of us remaining; Vicky, shanky, bhavna, raveena and me. We get into our train and where off at mid night. As it was late night and as it ws AC compartment we can't speak lound as every other passengers already slept.
Early morning we reached Dehradun station and we went to Bhavna's house , there we fresh up had tea with some snacks. After that Bhavana's dad took us to the taxi stand of Dehradun and from there we rented an ambassador taxi for our trip. The best part of the drive to Mussoorie is that it's just 34 Km driveway from Dehradun to Mussoorie. It is an excellent curvy highway with many sharp cuts and steep climbing which may force you to put your first gear sometime depending on your vehicle speed just before the steep climb. At many parts of the road two vehicles from either side of road can barely run parallel.  The scene is breathe-taking to look at the valley below. I would advice those who are driving should not look to that valley while driving, here always need to keep your eyes on the road only. There are enough halt points where you can stop and see the valley below and take nice photographs. You should not surprise to see clouds coming in front of you or some time you will not be able to see the valley below as you are above the clouds.
Our room was booked in Hotel Mall Palace, which was located at mall road itself. The worst part of our trip was that we went on rainy season. Every time it was raining over there so we had to stay in hotel room itself. Mussoorie – the city as such was calm and ample place to relax. The city was under British rule and many buildings and roads were constructed during those pre-independence times.  So everything is done in European style. By exploring the structures and borders around mall road, it resembles a euro touch. It will give a feeling of that you are not in India but in Europe.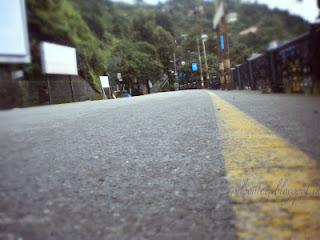 At evening rain was stop for while and we explored the streets of Mussoorie. At night, Mussoorie was even more beautiful. The sunset and the dazzling view of the street lights down in the city center was a real visual treat to the eyes.
Early morning was really so gracious. I woke up and went to see the beauty of Mussoorie outside our balcony and was so eye catching one, suddenly I gear up for a walk around the hills. Before going for the I called by everyone to see the majestic morning but all were so lazy and were just crawling with their pillows, but I didn't insist them. I was really in a thrill mood to have a walk in such a great ambience and just switch the best in me and went off. After getting out of our hotel I had no idea where to go and I just start walking through the road. Suddenly found an adjacent not and I start walking through that road which was non paved road as I want to see things which was less explored by others, and that road was so lonely. After having few walk I got see a back road and in which people were jogging and walking. This stretch of road was very long to me as I was new to this place and I don't know where the road is going, and so I was alone this road was not ending also.
While walking I came across a cemetery which tasted like a horror instinct. The place was locked and isolated. The cemetery was full of mosses as there was lots of rain over der. Just near to this cemetery there was an ashram devotees were paying their visit over there for rejuvenating their mind and soul. After having some snaps of that cemetery I start walking and halted at Hawa mahal, morning walkers were having their yoga over there and I also sit over there for a while. The place was so cool and the whole landscape was stunning as sunlight was rendering with the hills. After having some relaxation to my mind I resume my walk and reached mall road and I get into a tea stall to have some sizzling pakkoras and tea. After finishing my tea I went back to our hotel and it was around 9 o clock and still everyone were sleeping. I woke every one and we got ready to check out from the hotel. After we get ready we checked out from our hotel and we went for shopping. After the shopping we catch a taxi and went back to Dehradun were we had to catch our shatabdi at 5 O' clock.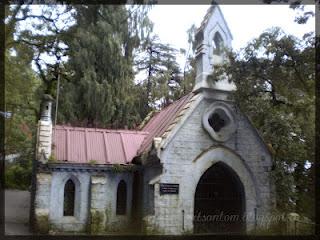 Mussoorie is a very good destination for weekend getaway. As it is just 230 Kms from Delhi you can easily reach by car or it is a better option to catch shatabdi from delhi and reach Dehradun and then just took taxi or bus from Dehradun. Taxis and buses are available throughout the hill frequently. Mall road is having very nice scenery, and as for my personal opinion would suggest taking a hotel in mall road itself for better view and for better accessibility.