Have you ever wondered whether authors use music to inspire them?  I have, Anne Holly shares with us how music inspires her story Like Magic. 
**************************************************
A Playlist for Like Magic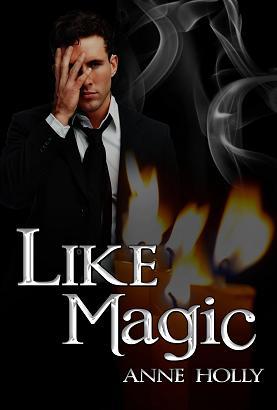 Recently, I was kind of forced to do a playlist for one of my books – a list of tunes that contributed to the writing of the book, and songs that told the story or illustrated the book in music. I say forced, not because I don't like music, but because it's often hard to recall everything that went into a book once the writing is done. However, I found it surprisingly easy to paint a musical portrait of the book in my mind, once I thought about it, and discovered I love describing my books in song.
So, I decided to do another – this time for my newest release, Like Magic, an erotic contemporary romance with hints of paranormal mystique. A story of a man sucked into the world of a witch on Halloween night, and he's not so sure he wants to be there, or what to make of it. Here are ten songs that explain the story, and the book's theme song. I hope you like them, and they let you glimpse a bit of where I went with the book.
Ian Hannigan was having the worst day of his life. A real estate prospect turned out to be a prank, his car has been stolen, and he's stranded in the worst neighborhood he can imagine on Halloween night. If he believed in magic, he would swear he'd been cursed. Nothing could possibly make this day any worse or better… That is, nothing but Raven, a mysterious occult shop owner who not only claims to be a witch, but insists that she summoned him as the answer to her aching loneliness. Ian's night just got a lot weirder.
10. The Searchers - Love Potion No. 9
http://www.youtube.com/watch?v=Xc0XDGTeRao
The whole thing starts with a love potion in an occult shop, and glories in the troubles such things can cause. There are all sorts of versions of this song (try out the Coasters and the Clovers or the Ventures, as well), but I like the Gypsy riffs best in this version.
9. Elton John – I Guess that's Why they call it the Blues
http://www.youtube.com/watch?v=QIc8tYOofJ8
Passion, and the pain of separation. It doesn't get any better than the lyrics: "Laughing like children, living like lovers, rolling like thunder, under the covers…"
8. Rankin Family – Rise Again
http://www.youtube.com/watch?v=2ZypkL0nsbc
A good traditional band from back home (Nova Scotia, Canada), with a solid Gaelic sound. This song fills out the generational themes in the book – the presence and absence of parents, and the future for their children. Really, birth, death and rebirth are the only bits of magic mist of us actually experience, via the magic of procreation.
7. DEVO - It's a Beautiful World
http://www.youtube.com/watch?v=56u6g0POvo0
This song has always rung true chords for me. Some people are happy, loved, shiny – but there's that hint of irony here that reminds us this isn't the case for everyone. This song captures the loneliness both Raven and Ian share, which brings them together.
6. The Cranberries – dreams
http://www.youtube.com/watch?v=Mk2jjCSeUHc
Ethereal, graceful, romantic, and oh-so-Irish, this song was the magic in Like Magic.
5. T-Rex - Children of the Revolution
http://www.youtube.com/watch?v=6u1CB5xzbm8
This was sort of Raven's theme. She is a child of the revolution, in the middle of a modern urban slum. Love and beauty and freedom, mixed with self-awareness and honesty. I love her, and I admire her.
4. The Eagles - Witchy Woman
http://www.youtube.com/watch?v=1d8hZtvRPno
I like driven music, since I write at night. This one is a classic sexy witch tune, and was a natural addition to the playlist.
3. Type O Negative – Green Man
http://www.youtube.com/watch?v=ASLc9XVluAE
The Green Man, a pre-Christian symbol of nature and rebirth in the British Isles, never made an appearance in the book (unlike the Horned Man, who plays a role in the climax), but his spirit runs through the book. At its foundations, Like Magic is a story of renewal. Plus, Type O Negative is my basic go-to when I am writing erotic or darker scenes, or when the writing is giving me trouble. RIP Peter Steele.
2. The Doors – Light my Fire
http://www.youtube.com/watch?v=flOvM4Z355A
Oh yes, it's all about setting the night on fire. (It was hard to choose between this and "Hello, I Love You" for the Doors entry. Fire trumped stranger-love, I guess.)
1. Van Morrison - Moondance
http://www.youtube.com/watch?v=uNsmF9JTpuI
Sexy stuff. The moonlight is right, and the magic sweeps them up. Of course, Like Magic takes place in the rain, so we'll have to pretend there's moonlight, but everything else is perfect.
And, finally, the theme song for Like Magic:
The Turtles - You Showed Me
http://www.youtube.com/watch?v=HBBj82YCEzo
Not only is this song slinky and downright sensual, it also has a mesmerizing, hypnotic quality that speaks to the compulsion of romance, which fit with the "love magic" themes of the book. Raven uses a trick, which isn't a trick at all, which Ian uses right back on her – the magic of desire.
So, that's the soundtrack for the book. I'm so pleased to share the book with you, and these songs that I love.
- AH
Thank you so much for being with us today! 
Anne Holly is a Canadian writer of romance and erotic-romance, as well as a mother and teacher. She is the author of the novel Strings Attached, which was described by The Romance Reviews as "a classic contemporary romance." She is currently at work editing the remaining installments in her five story holiday erotic-romance series published by Rebel Ink, as well as perpetually producing new stories. She has been published by Wild Horse Press, Decadent Publishing and Rebel Ink Press. Anne's work is characterized by its unusual heroes, sweet/spicy balance, witty dialogue, responsible citizenship, and its positive, optimistic nature. You may visit Anne at her blog or website, or find her on GoodReads, Facebook and Twitter (@anneholly2010). You can find all of her releases on Amazon.
For more information on Like Magic, and a sample (18+), click HERE.