Mushroom-Stuffed Lasagna Rolls with Tomato Sauce
8 Servings; about 250 calories each
Sauce:
4 tsp olive oil
2 med onions, chopped
2 med garlic cloves, minced
1 med red bell pepper, chopped
1 med carrot, grated
1 tbls fresh basil, chopped
1/2 tsp dried marjoram, crumbled
1/2 tsp freshly ground black pepper
1/4 tsp dried rosemary, crumbled
1/2 cup dry white wine
1 1lb can whole tomatoes, undrained
2 tbls tomato paste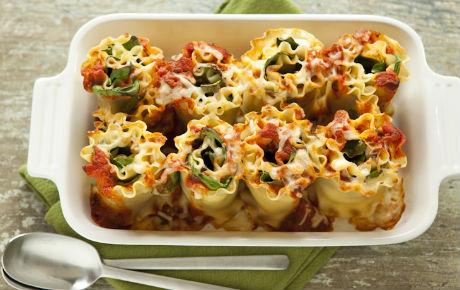 Filling:
1 tbls olive oil
1/2oz dried porcinis, soaked in hot water for 15 minutes, then chopped.
1 large leek, trimmed and coarsely chopped
1 med shallot, minced
1 med garlic clove, minced
1/4 tsp dried marjoram, crumbled
1/4 tsp grated lemon peel
1/8 tsp dried rosemary, crumbled
1/8 tsp ground mace
1/8 tsp fresh ground black pepper
8 tbls Parmesan cheese, grated
1/4 tsp salt
8 lasagna noodles (ruffled edged ones)
For Sauce:
Heat oil in heavy large skillet over med-high heat. Add onions, garlic, bell pepper, carrot, basil, marjoram, pepper and rosemary. Cook until vegetables are tender, stirring frequently, about 5min. Add wine and boil until almost all liquid evaporates, about 5mins. Add tomatoes; break up large pieces with spoon. Mix in tomato paste. Reduce to low, cover and simmer 45mins, stirring occasionally. Uncover and simmer until sauce thickens slightly, stirring frequently, about 10 mins. (Can be prepared 1 day ahead and refrigerated.
For Filling:
Heat oil in hvy large skillet over med heat. Add mushrooms, leek, shallot, garlic, marjoram, lemon peel, rosemary, mace and pepper and stir 2mins. Reduce heat to low, cover and cook 30mins, stirring occasionally. Uncover and simmer until reduced to thick paste, stirring frequently, about 10mins. Mix in 5 tbls Parmesan and salt. Cover and refrigerated at least 20 mins. (Filling can be made 1 day ahead.)
Preheat oven to 375 degrees F. Cook noodles in salted boiling water until just tender but still al dente. Drain and submerge in cold water. Spread half of sauce over bottom of 9" square baking pan. Drain 1 noodle and pat dry. Place on work surface. Spread 3tbls filling on noodle, leaving 1 1/2" border at each end. Roll up jelly roll fashion. Arrange seam side down over sauce. Repeat with remaining noodles and filling, arranging noodles in pan so they just touch. Cover and bake 25mins. Spoon remaining sauce decoratively over rolls, cover and bake 20mins. Sprinkle with remaining 3 tbls Parmesan and bake, uncovered until cheese melts, about 5 mins.
I adapted this recipe from a cannelloni recipe I saw, because I was looking for a different first course pasta dish that wouldn't weigh down the meal. I have served 1 lasagna roll as a first course to a seafood dinner or with a salad as a main meal. Even with 2 rolls and a salad it is still a healthy meal.