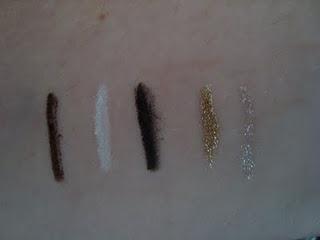 Here are swatches of the eyeliners Brown, White, Black, Gold Glitter and Silver Glitter.
I have used the white and black kohl liners and i like them they don't stay in the waterline all day but they don't say that they are waterproof so i wouldn't expect them to. i have also used the silver liquid eyeliner which applies really well and that stayed on my upper lash line all day.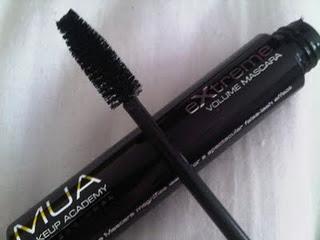 This is the volume mascara it has a big thick wand and it doesn't leave your lashes clumpy but it gives mine volume and holds the curl well.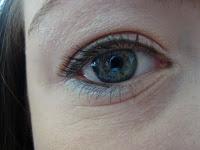 Here is a pic of me with the mascara on.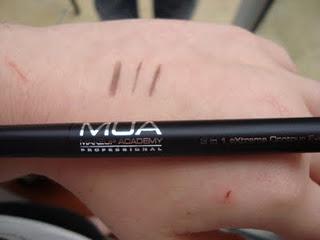 This is the 3in1 contour pen in brown with swatches i haven't used this yet but when swatching it was easy to apply i think it would be good when doing a brown smokey eye.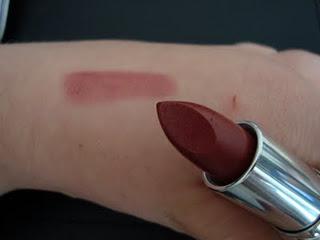 This is the lipstick in shade 10 i thought it was going to be really dark but on the swatch its not as dark it felt really moisturising and glided on smoothly.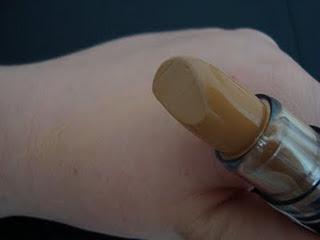 This is the concealer stick in medium you cant really see the swatch very well as it matches my skin quite well its very deceiving looking at the stick as it looks quite dark but its not that dark on the skin at all.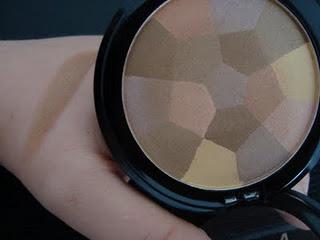 This is the mosaic bronzer natural glow in shade 1 this is a lovely bronzer it is a little shimmery but gives you a really nice glow.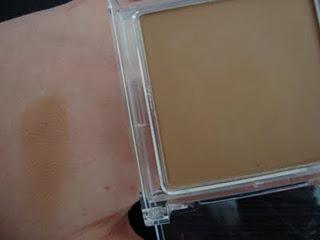 This is the pressed powder in shade 4 which is too dark for me but i am going to use it as a contour or Matt bronzer.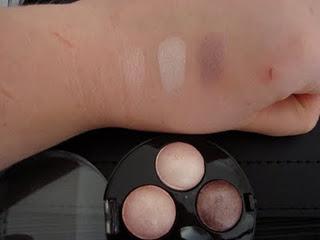 This is the trio eyeshadow in pink sorbet i have used this one and i really like the way it looks the colours are really pigmented this are really good if you don't know what colours to put where as it tells you on the back, one for a highlight (lightest colour), one for the lid (medium colour) and one for blending (darkest colour).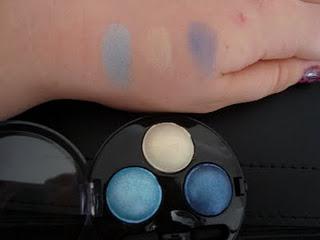 This is the other trio eyeshadow in blue babe i haven't used this one yet but the colours are again very pigmented and its the same as the pink sorbet one it tells you what colours to put where.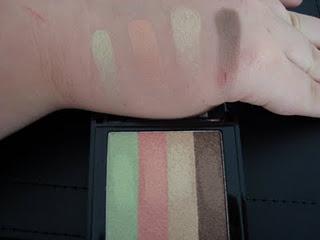 The extreme metallic eyeshadow in starstruck on the swatches they look very pigmented and not very glittery but they are glittery i used the brown on today and i applied it with a brush and there was alot of fallout and it didn't come out as pigmented as the swatches i think i need to have a play with these they might be better if you use your fingers to apply them. I'm not sure about these at the moment!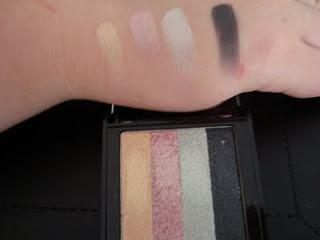 This one is Glammed Up they look very pigmented and they are glittery but the camera don't show it up very well, i haven't tried this one yet.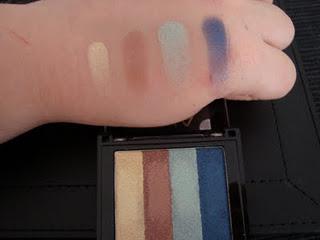 This one is show stopper.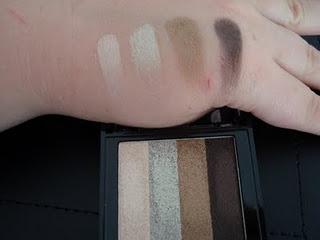 This one is Go Getter i haven't tried these last two yet either.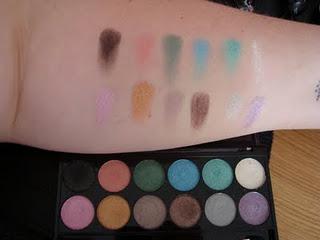 This is the palette Glitter Ball i really like these palettes I've been using them every day they are really pigmented no fall out and they blend really well they stay all day when using a primer i haven't tried them with out yet.
This is the palette Starry Night these eyeshadows are all shimmery and again they are really pigmented and no fallout.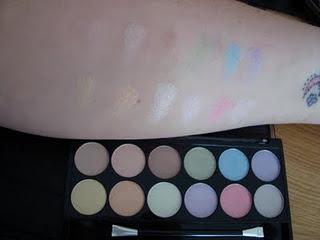 This is the palette Pretty Pastels and again the are shimmery and pigmented but because they are light the camera doesn't do it justice!