Hi Pouties
Hope all of you are doing fine and I am really excited as in few days I am going to visit my parent after long!!! yup me on vacation!!!!


for 1 hole week!! But that might make me go MIA again!! I am so sorry pouties but please bear with me!!
Ok now coming on to today's review!!
MUA Power Pout in RUNWAY & JUSTIFY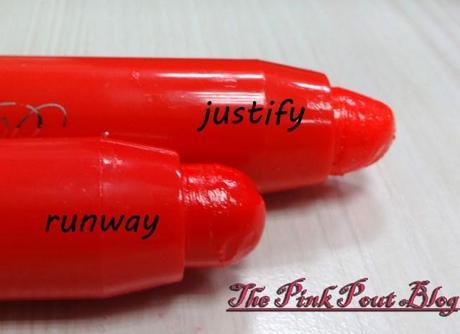 Do you girls remember my haul from MUA?? I had got these two as well from them…
And initially I had thought that these were a dupe for Revlon just bitten or Clinique chubby sticks!! But to my surprise they were not!! These are quite different product!! They not really any lip stain and belong to the balm category … but honestly they are not enough moisturizing for my dry chapped lips!!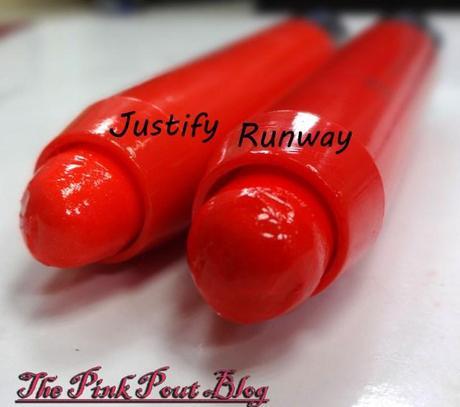 These have a quite strong minty flavor with little shimmer partials which I personally don't mind…and also the colors are not greatly pigmented but I don't really complain as these are too cheap and are not in any way a lipstick… yet another thing is these are super-duper smooth and oil like in texture, they glide on very easy and if you are not as dry lip as me these can work for you!! But ,also bear in mind they melt really bad!!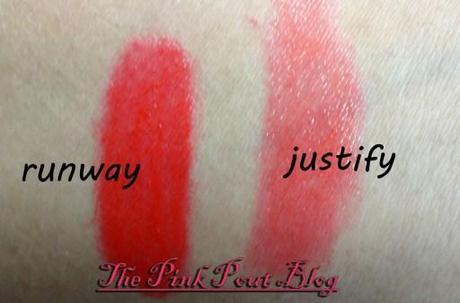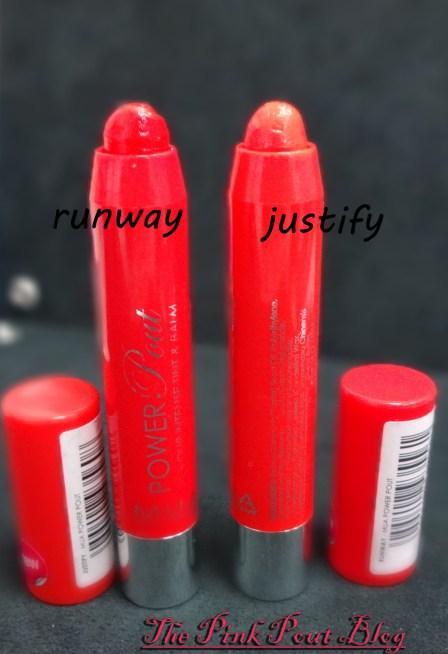 Let's talk about the color!!
Runway:- this one is my favorite among the two as it is much better pigmented and also the color is more of a redish coral kind of color with very little pinkish undertones, and I think it is gonna suit both dark and light skin tones!!
Justify:-  Noop it just dint justify the color!! It does not shows up like it is on the tube and lacks pigments to the core!! I don't really know how to describe the color but its kind of orangey coral and I can say ,may be a very lighter version of runway with orange undertones!! This wont show up on Indian skin tone or pigmented lips… I rather think it will only show up on porcelain skin!!
Price: – £3.00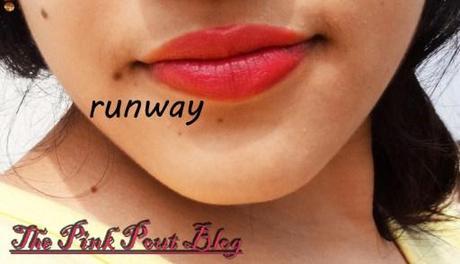 TURN ON:-
The packaging is really cute and crayon

like

!!
The color Runway would look good on various

kind

of skin tones!!
The texture is smooth and very easy to glide!
Lightweight and great for summer!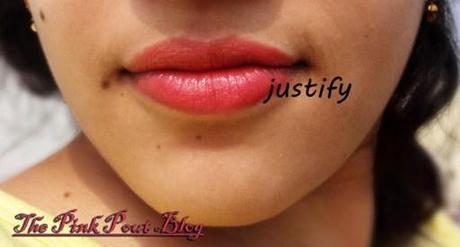 TURN OFF:-
The color Justify is

big turn

off
Won't show up on pigmented lips
Not for very dry lips like mine
Will melt in hot temperature!!
Some people might not like the shimmer particle and the mint flavor

(

I do like it)
Do I recommend it:-
I do at least one of these!! For me these are my summer picks and are not a bad pick with its price tag!!! If you are going to pick this up do pickup Runway and skip Justify!! Also if like me you have already picked up Justify then use it before lipstick like a lip balm!!