Hello!
I've seen quite a few blogs/video posts where the MUA Heaven and Earth eyeshadow palette was mentioned in passing as something they used almost every day. Now, I'm no stranger to Superdrug, so I was surprised when I found out that this was where MUA was sold. How had I not noticed it before??
Last weekend, I gave in and decided that instead of going searching for them in my local Superdrug (which is not a very large branch) I'd indulge in some retail therapy from the comfort of my own sofa. Here's what I ordered: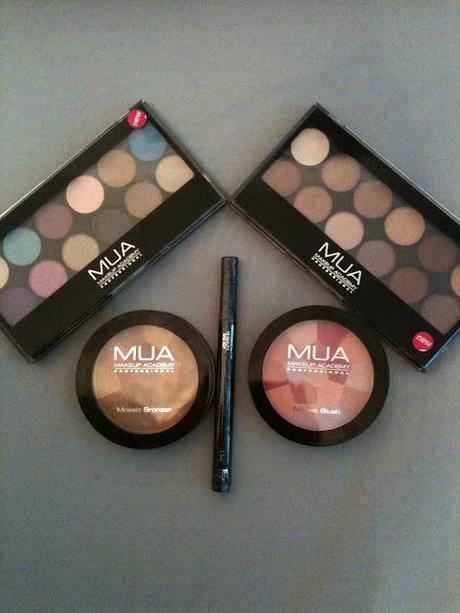 Eyeshadow Palettes: Glamour Days, Heaven and Earth
Other Items: Mosaic Bronzer Shade 1 (Natural Glow), Extreme Felt Eyeliner, Mosaic Blush Shade 3 (English Rose)
Can you tell I have only just discovered the 'Add Caption' button? Ha ha
I originally only wanted the Heaven and Earth palette, but the other items caught my eye once I decided to peruse the rest of the website. The only exception to this is the Glamour Days palette, which was free with any order over £4 (BARGAIN LADIES - Take advantage now!) I couldn't believe how affordable this make up is! I have been missing out for years!
So, once my order was placed, all I had to do was wait for my new make up to arrive. This was actually really hard because I was so excited to try all of this stuff out! Still, it was delivered pretty speedily on Tuesday (I ordered it on Sunday afternoon) so I didn't have to wait too long. They had also packaged it well in some bubble wrap so that it didn't break whilst on it's way to me.
Ok - on to the actual review of the products!
The Heaven and Earth palette is exactly what I hoped it would be. Wonderful neutral and brown shades - perfect for everyday wear and suits my skintone. The shades are a mix of warm and cool tones and there are some light shades for highlighting/bases etc. These are shimmery shadows, but they don't look overly sparkly during the day and have great pigmentation.
The Glamour Days palette is probably not something I would have ordered as it has a couple of neutral shades and then the rest are purples and blues. I tend to wear neutral shades on my eyes or go for a gold/bronze for a change every now and then. However, I actually really like this palette and I'm glad it was part of that offer or I never would have bought it! There are 3 matte shades and the rest are shimmery, like the other palette. They are very well pigmented and easy to wear - even the bright colours! I've been using an angled eyeshadow brush and putting them on as an eyeliner rather than all over the lid.
As for MUA doing a neutral palette (which would be awesome!) - check out their
Twitter
feed as it looks as though there's one on the way!
Next - the Mosaic Bronzer. Once again, I had watched one of
Anna's videos
and been inspired/jealous so wanted to give bronzer a go. I think I owned another bronzer a few years ago...maybe....Anyway, I'm so pleased I got this!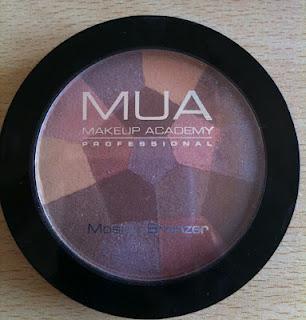 As you can see, there are tones of pink, yellow and brown. It is also slightly shimmery, which I wasn't sure about to begin with - I asked a work mate if it looked too shimmery and she said she thought that was just my natural complexion and that it looked really nice! Mind changed.Another fantastic thing about this is that I applied it in the morning (at around 7.30am) and it lasted all through a really hot day at work. I went out for dinner after work and didn't have to reapply it - it stayed put until I took it off that evening (at around 9.00pm)! That's what I call staying power.
This is quite clearly going to become one of my can't-go-out-without-it-on products for this summer!
I have been equally impressed with the Mosaic Blusher, but must admit I haven't used it as much as the Bronzer.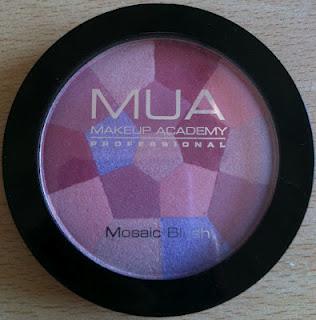 This comes out a really flattering shade - the product description on the MUA website claims that this adapts to suit your skintone and I can certainly see that as a possibility. 
It is also a little shimmery, but this is a really subtle shimmer and I think it may do a little light reflecting work on the side - always a good thing in my opinion as this helps to hide any flaws etc.
The last item I got was the Extreme Felt Eyeliner, which I don't have a picture of - sorry!I got this because my previous felt eyeliner had just run out and for the price of £2.00, why the heck not?! It's well pigmented, easy to use and stays put. What more can you ask for in an eyeliner?
Grace