MUA are releasing their own BB foundation!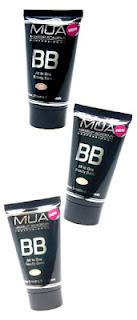 It will come in 3 shades light, medium and dark these are all new tones developed especially for the BB Foundation, it has adapting technologies they say you will be sure to find one that suits you!
This is what they say about it
Inspiredby Asian Beauty Balms, our brand new MUA BB Foundation is a full coveragefoundation containing a multi-functional formula that conceals, brightens andevens out skin tone for a perfect complexion. Its great range of shades willadapt to suit all skin tones. Apply with a big dense brush and buff into theskin for the perfect flawless finish. Easily the hottest and best product inyour handbag – it's the perfect size too!
im looking forward to trying this!
BB Foundation will retailin Superdrug and on www.muastore.co.ukfrom 14th March for £4