MR MATT IF YOU ARE READING THIS TAKE NOTE::: And if not you will see a print out on your pillow anyway, just to hint to you on what I would love to get for Mother's Day :- ) PWWEEASE.
And if not then I will be heading into LUSH anyway to buy some goodies for my Mum, and probably myself as well.
My Mother's Day consists of spending time with my family and then once they all go down to sleep I retreat to the bathroom to soak in the bath with candles and a special adult bevy (although this year I will probably substitute that for a green shake.)
So LUSH and My Mother's Day go hand and hand with one another.
The Mother's Day releases are of course limited and only a certain amount is made in a batch, so once it is gone- its GONE!!
As you would know by know I get sent media samples from LUSH for review purposes and this year for Mother's Day I have been sent some amazing products that every single Mother Deserves to have. Below is what I received and what I thought about them, would love to know your thoughts.
Rose bubble bar ($5.95)
Sweet and uplifting.
This beautifully crafted bubble bar will instantly transform mum's bath time experience into a rose filled voyage through a mountain of skin softening bubbles.  Rosehip oil and cocoa butter grated into the mixture provide the softening properties; while rose and lemon provide the fragrance.
This bubble bar has a brand new formula … cornstarch has been added to the mix to limit the rising effect of our other bubble bars.  This means you get a more condensed bar that can be broken in half and used over two baths.  Or you can use the whole things for masses of creamy, softening bubbles.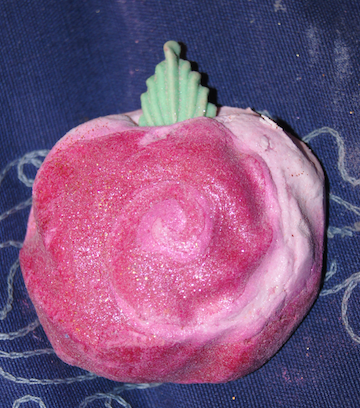 If I were to go run through a field of sweet blossoming roses this is what I would imagine it to smell like- and then the thought of my skin getting ripped up by thorns follows shortly after haha. But this is a beautiful scent that actually reminds me of my Grandma. It is crazy how just a simple product brings back so many memories from past times like- I remember Grandma always had an endless supply of bath products and her favorite were the bath oil dissolving bubbles. These were also my favorite product as I would run and hide behind the couch with a handful of these oil bubbles and sit there squeezing them until they burst- Grandma would get super angry as she paid a small fortune for them at the time.
See it is things like that makes Mother's Day so special, if I were to give this to my Mother I am sure she would also be reminded of her amazing Mother who is now in heaven (my grandmother.)
A beautiful bubble bar, that DOES fill your bath with loads of silky soft bubbles that leaves your skin smelling beautiful.
Inhale Exhale bath bomb ($5.95)
Intensely soothing.
A new bath bomb with two halves – each lightly scented with one half of the two-part Gorilla Perfume fragrance, Breath of God. The Inhale half fizzes quickly, allowing mom to breathe in the light and fruity neroli and rose to relax.  She can then lie back, breathe out and enjoy the grounding effect of the Exhalefragrance, with notes of smoky cedarwood and revitalising lemon and grapefruit.  This half fizzes more slowly to give mom an even longer lasting soak.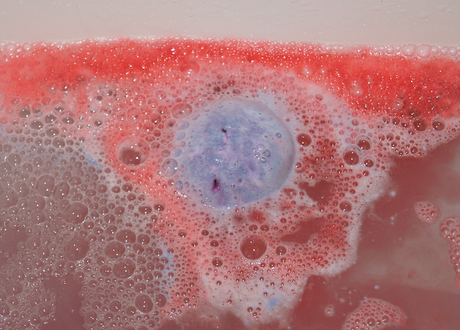 Mother's Day comes at a very cold time of the year here in Melbourne, which is both good and bad at the same time. Good because you get to stay snuggly warm inside with lots of baths and hot showers- bad because your electricity and gas bill hurts your pockets.
When I first opened this and popped it under my nose I wasn't sure if I loaved this or didn't like it one bit. But I thought it may smell differen
t once I drop it in the bath.
As my bath hit halfway full I dropped this bath bomb in my bath and walked out of the bathroom shutting the door behind me.
When I returned a couple of minutes later my bath was full and ready, but the first thing I noticed was the amazing smell that almost cleared my nose and throat right away.
This would be the perfect product to steam up like I did and have your little one sit in the bathroom with you when they are all blocked up and not feeling well, this would work a treat for them.
Once I left the bathroom, I felt refreshed and feeling like a million bucks!
Mum's re-usable bubble bar wands ($9.95)
For masses of skin softening, beautifully scented bubbles.
Back with best-selling fragrances, Mum's are a selection of innovative re-usable bubble bar wands, especially for mom. This year we have blended bath bomb mix into the Mum's formula, so it's never been easier to release the bubbles! Simply hold under running water for a trail of deliciously fragranced bubbles.
Tulip...
 as well as being a beautiful flower, tulips are also an emblem of International Women's Day in Russia… so the perfect choice really.
This one shares the same fragrance as our best selling Sex Bomb bath bomb, a heady scent that will revive and clear her mind.
I'm not sure I have purchased a bubble bar wand before and actually re-used it. Instead I love lots and lots of bubbles and end up using the entire bar. I do prefer the bubble bars on a stick though as my baths tend to be super hot and holding a bar under the water burns my hand, so being on the stick I don't have to come in contact with my hands.
Sex Bomb was one of my all time favorite bath bombs, so having the same scent as this I knew I would love it and I did. I actually love this product even more as it makes BUBBLES and lots of them.
ALSO AVAILABLE IN:
Mum...
 short for chrysantheMUM, this bright and cheerful yellow flower has the same sweet caramel fragrance as Lush's global bestseller, Honey I Washed The Kids soap. Packed full of mood-brightening sweet wild orange and bergamot oils, this one will lift her mood and leave her skin feeling soothed and soft.
Madame Butterfly 
A pretty pink butterfly fragranced with gorgeous rose absolute and rose oil. There's a hint of lemon and geranium oil too which helps to balance the skin.
Wonder Woohoo bubble bar ($6.50)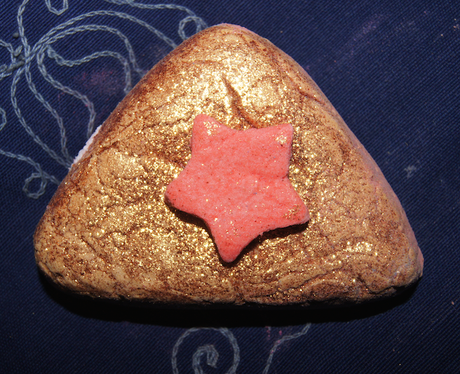 Recharge and rejuvenate.
Inspired by Wonder Woman and created for wonder women! Mums can channel their inner superhero when using this bubble bar, covered in gold sparkle to replicate Wonder Woman's gold tiara!
Packed full of sandalwood and Brazilian orange oil from our best-selling Gorilla Perfume, 

The Sun,

 

Wonder Woohoo

 is ideal for overworked super mums in need of a little time to recharge and rejuvenate.
This bubble bar reminds me of Kei$ha with all of her glits and glamour as the bar even before putting it near water is like a sparkly gold bullion.
But the smell is something different and takes me straight to a tropical island packed with amazing scents. I love the different scents they have mixed together to create this bubble bar.
Again this is one I used at one time creating a bubbly mess, which almost overflowed the bath tub.
The kids also had fun in this bath when Mummy was done. Once you dry yourself and look at your skin, it looks like you have applied a shimmer product to your skin- I love it. But if you don't like glitter and glittery products then you might want to sit this one out.
There are also a beautiful range of packs already made up and ready to give to any Mother, grandmother or women on Mother's Day,
WRAPPED WITH LOVE, READY TO GIVE- SOME OF THE AMAZING PACKS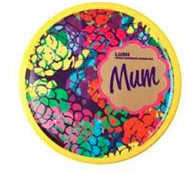 Mum ($39.95)  … 
Encourage Mum to take some time out for herself with this bright, playful, bubble and floral themed gift. Mum gives our mums a choice of five different bath treats to choose from. The round re-usable tin (labelled with a 'Mum' sticker so she can store her things afterwards) has a bright and colourful print that was inspired by hydrangeas flowers. It is this floral design that depicts what's inside.
Contains: Secret Garden bath bomb, Inhale Exhale bath bomb, Mum's reusable bubble bar wand, Rose bubble bar, Mumkin bubble bar, Dream Cream hand and body lotion (100g), Gorgeous facial moisturiser (10g).
Treats For You ($44.95) ... 
Originally created for White Day in Japan, this sweetie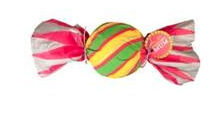 inspired Knot-Wrap gift contains a selection of luxurious products with a mixture of uplifting, sweet and fruity scents … we think it beats a box of chocolates anyway!
Contains: Vanilla Deelite body lotion (100g), Sugar Scrub body scrub, Strawberry Feels Forever massage bar, Godiva solid shampoo bar, Miranda soap (100g).
Hello Sweetie ($14.95) …
 For the sweetest of mums, who need to treat themselves.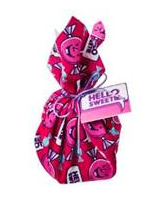 This gorgeous wrap contains two of our most deliciously sweet products, so that mom will come out of the shower feeling like a rock star! Contains: Sweetie Pie Jelly 100g, Rock Star 100g star shape.
You're the Best ($18.95) … 
Cones are a similar shape to a bunch of flowers, which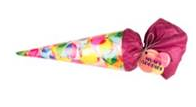 makes this gift a great alternative for Mother's Day, especially as it contains Secret Garden bath bomb which is packed with a variety of petals for mom to enjoy. The print of the cone details beautiful bubbles with holographic and sparkly edging. Mum will find plenty of bubbles inside too as this gift also contains the limited editionWonder Woohoo bubble bar, inspired by female superhero, Wonder Woman.
Contains: Rock Star soap (in a star shaped mould), Secret Garden bath bomb, Wonder Woohoo bubble bar.
Strawberries and Cream ($18.95) … 
A little gift of luxury for mom with two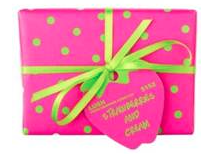 products to soothe and comfort her; a rich body lotion packed with bananas, cocoa butter and vanilla and a luscious massage bar made with crushed strawberries.
Contains: Sympathy for the Skin body lotion (100g), Strawberry Feels Forever massage bar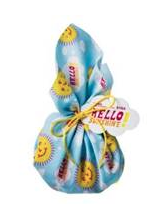 Hello Sunshine ($16.95) … 
These little greenspun Knot-Wrap gifts each have two lovely treats for mom to enjoy. What's great about them is that she can re-use them afterwards as a quirky scarf or hanky!  Both would also make a great gift for dad to treat mom to on Mother's Day, or simply as a 'just because' gift for any occasion.
Contains: Brightside bubble bar, Charity Pot body lotion (45g)
Visit Lush shops nationwide or visit www.lush.com.au to stock up on these limited edition Mother's Day items,