Hello! Today's post is dedicated to Morphe Brushes 35 W eyeshadow palette swatches review and lots of photos for you guys. I have for long wanted to get my hands on the much raved Morphe Brushes 35 O palette but as luck would have it, it was out of stock at the time I wanted to place my order. And I am not that patient to wait for so long and hence I went through the entire site and picked the Morphe Brushes 35 W and 35U palette. And I have used both the palettes extensively now and am ready to review them.
So lets begin. Morphe brushes ship internaionally worldwide. But the shipping rates are just too high. Too high. But honestly speaking the resellers sell it for such high prices that its better to order your own.
PRICE:  USD $19.99
You can purchase it from MorpheBrushes.com
For 35 eyeshadows the price is very decent provided you dont consider the shipping, if you are outside the US. These arrived safely to me the other palette did have a couple of broken eyeshadows and it did take more than a month to reach me.
Moving on to the palette itself as the name suggests 35 W which means 35 color warm palette. All 35 eyeshadows are warm undertone and a delight to look at. See for yourself.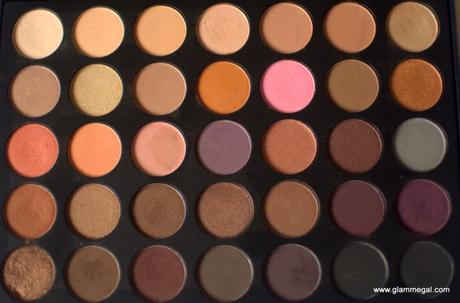 Morphe Brushes 35 W Eyeshadow Palette
35 eyeshadows in this Morphe Brushes palette are a mix of matte and satin finish with the exception of one color which is very metallic.
So lets get into the colors more up close. I am sharing pictures of the rows horizontally.


The first row has all the light eyeshadow colors perfect for highlighting under the eyebrows and those inner corner highlights. I love the right most eyeshadow the most, its a frost finish and makes for an excellent highlighter for the cheeks as well. The swatches are all without any primer and all the shades show up pretty well on my tan skin tone.


The second row has a mix of matte and shimmer eyeshadows. My favorite shade from this row is the fourth one from the left. Its a perfect crease shade and transition shade and I use it a lot. Also the second eyeshadow from the right is a beautiful taupe brown eyeshadow which is a neutral brown not too warm not too cool. I love to use this as an overall lid color and also perfect for crease. All the eyeshadows blend really smoothly.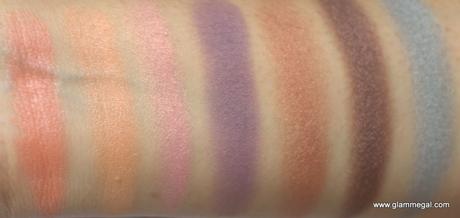 This row has beautiful shades for the lid and outer v, I mean there is no rule as such that you cant use them in other places, just the overall colors in this row are excellent for lid.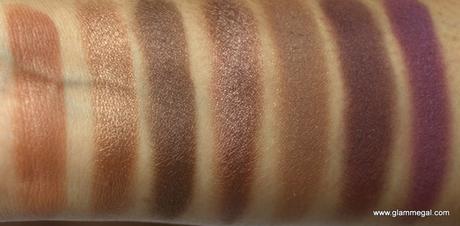 This row has mostly brown eyeshadows in different finishes from satin to matte to shimmery also and a couple of purple eyeshadows. I love love love this row. All the eyeshadows are super pigmented as you can see the swatches are all without any primer or base. And the brown eyeshadows are all different in undertones as well as finishes.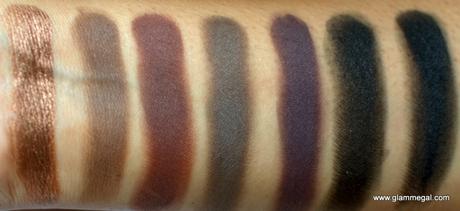 The left most eyeshadow in this last row is the show stopper eyeshadaow in the palette. I mean just look at it its an intense metallic finish brown eyeshadow and when u use it wet it becomes like a foiled eyeshadow and the pigmentation is even more intense. And the third eyeshadow from the left is a red base brown and its is absolutely beautiful color for the crease. And the ones next to it on the right is a very different brown its a gray tone deep brown taupe eyeshadow.
So overall this is a very beautiful warm eyeshadow palette and if you love neutral eyeshadows its a must have palette. The eyeshadows blend nicely. Honestly I havent used up all the shades but I ones I have used I had no trouble blending them but ofcourse I cant compare the blending to any high end palette like say a Lorac Pro palette. These eyeshadows blend nicely but they are not buttery smooth. The staying power is also very nice, I always use my eyeshadows under some primer or base.  Morphe Brushes  35 W eyeshadow palette is a winner and a must have in my opinion.
Related
You Might Also Like
Maybelline Baby Skin Instant Pore Eraser review | How to reduce the appearance of pores
Sleek Blush by 3 Pumpkin Review
Faces Metaliglow Eye Primer Review
LORAC PRO PALETTE REVIEW, SWATCHES, MAKEUP LOOKS AND MORE
LOREAL COLOR RICHE LIPSTICK 290PLUM PASSION REVIEW, SWATCHES AND FOTD
GIA BATH AND BODY WORKS OATMEAL MILK AND HONEY SOAP REVIEW
NYX PARDON MY FRENCH REVIEW AND SWATCHES
COLORBAR HEARTS AND TARTS LIPSTICK REVIEW
Tags:
morphe 35 w palette, morphe brushes 35 w, morphe brushes 35 w palette swatches, morphe brushes eyeshadow palette review, must have eyeshadow palette, review