Type: Donuts
Cooking Time: 30 Minutes
Total time: Minute (s)
Number of people: 6 people
Easy donut recipe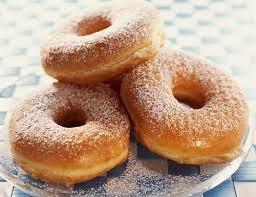 homemade donut recipe -moroccan recipes
INGREDIENTS 
15 cl of milk 
60 g of butter 
65 g of powdered sugar 
1 c. teaspoon salt 
20 g of baker's yeast 
2 eggs 
420 g of flour 
Oil for frying 
For the decoration: 
2 c. tablespoon powdered sugar
PREPARATION
1 - In a saucepan, warm the milk and there to dilute the yeast. Add the eggs and mix. Place the flour in the mixer and add the salt, sugar and milk / egg mixture .
2 -Knead the dough length incorporating the butter cut into pieces to make it soft and sticky. Cover the dough and let rest until doubled in volume.
3 -Tap the dough lightly to remove air and spread it on a floured surface to a thickness of 1 cm.
4 -Using cookie cutters cut Donuts in the rolled out pastry . Cover and let rise the Donuts until they double in volume.
5 -Fry donuts in hot oil and drain on paper towels bath. Garnish with powdered sugar before serving.
6 -Good to know : You have to knead the dough before starting to incorporate the butter . The thickness of the paste should be lowered to 1 cm . The oil should be at medium heat and fry the donuts one or two at a time so they do not brown. As the dough is soft , manipulate Donuts before cooking and gently with a spatula so as not to deform .