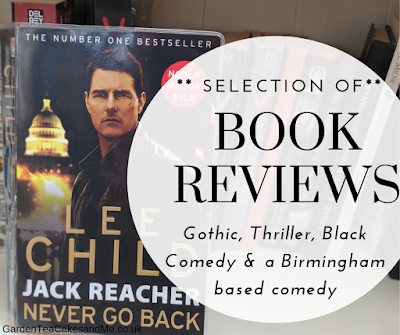 It's the beginning of August 2019 and 7 months into the year I have reached my Goodreads Reading Challenge. I've read or listened to 45 books! A target I thought I may just achieve when I set it at the beginning of the year. How wrong I was, clearly I'm going to need to stretch myself a little more on the reading front in 2020. 
I have a real mix of book reviews for you, a gothic thriller, a black comedy, an action thriller and a funny Birmingham based book written by the poet Laureate of Birmingham.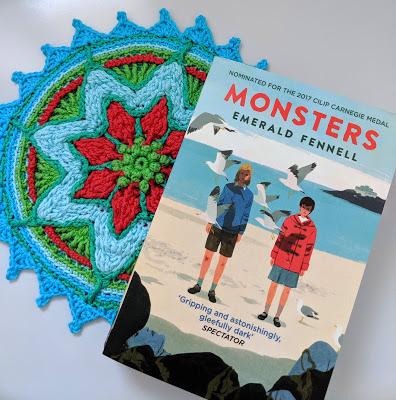 Monsters
by
Emerald Fennell
I scored this book 4/5 on Goodreads
Synopsis:

 A blackly comic tale about two children you would never want to meet. 

Set in the Cornish town of Fowey, all is not as idyllic as the beautiful seaside town might seem. The body of a young woman is discovered in the nets of a fishing boat. It is established that the woman was murdered. Most are shocked and horrified. But there is somebody who is not - a twelve-year-old girl. She is delighted; she loves murders. Soon she is questioning the inhabitants of the town in her own personal investigation. But it is a bit boring on her own. Then Miles Giffard, a similarly odd twelve-year-old boy, arrives in Fowey with his mother, and they start investigating together. Oh, and also playing games that re-enact the murders. Just for fun, you understand... A book about two twelve-year-olds that is definitely not for kids. 
Monsters by Emerald Fennell, is a well written black comedy, a dark and disturbing book ❤︎ ✒.

It features two children who meet on holiday in Cornish seaside town of Fowey, with a very unhealthy interest when a local woman is murdered.




Written in the style of a children's book that is very definitely for adults.




We meet the 12 year old narrator of this story, a troubled young orphaned girl with an unsettled upbringing. She worried me a great deal when I started this book and then she meets Miles, also 12. He is truly creepy. I did have some sympathies for the girl towards the end, but her pairing with Miles was never going to turn out well for the town.

Elements of it reminded me of the teen black comedy film Heathers, with a dash of Killing Eve, which incidentally the author wrote season 2.  You can order the book from Amazon here.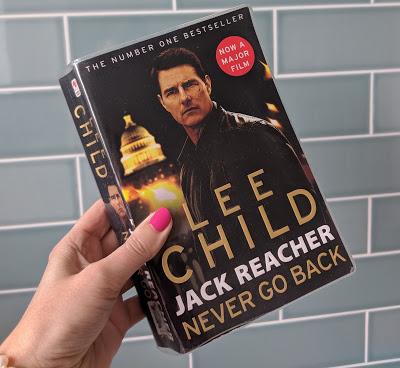 Never Go Back by Lee Child
I scored this book 5/5 on Goodreads
S
ynopsis
After an epic and interrupted journey all the way from the snows of South Dakota, Jack Reacher has finally made it to Virginia. His destination: a sturdy stone building a short bus ride from Washington D.C., the headquarters of his old unit, the 110th MP. It was the closest thing to a home he ever had.

Why? He wants to meet the new commanding officer, Major Susan Turner. He liked her voice on the phone. But the officer sitting behind Reacher's old desk isn't a woman. Why is Susan Turner not there?
What Reacher doesn't expect is what comes next. He himself is in big trouble, accused of a sixteen-year-old homicide. And he certainly doesn't expect to hear these words: 'You're back in the army, Major. And your ass is mine.'
Will he be sorry he went back? Or – will someone else?
My Review
It's been 7 months since I picked up my last Jack Reacher installment and I was eager to meet up with him again. Yes I know he is not real! Yes I also know that Tom Cruise is no Jack Reacher. When I collected this book from my library I was more than a little 'erked that the man that is no Jack Reacher was pictured on the front, needless to say the book was facedown when not being read. There I think I have gotten that little issue off my chest.
As always with Lee Child its a formula that works well, I was hooked by the storyline from the very start. We have been previously introduced to the other lead character in this book Major Susan Turner, who Reacher has been speaking to and also keen to meet in a number of previous books. When he arrives at his old army base Major Turner is not there, she is under military arrest, there is no way Reacher is just going to walk away. It is not long before he also finds himself under arrest for two separate crimes that happened years previous when he was in the army. He finds himself for the sake of national security re-enlisted in the US Army! Major Reacher will stop at nothing to clear both himself and Major Turner of their crimes.
A cracking Jack Reacher instalment, do not make the mistake of watching the film version it is truly abysmal!  The book which lets face it is always better than the film is available from Amazon.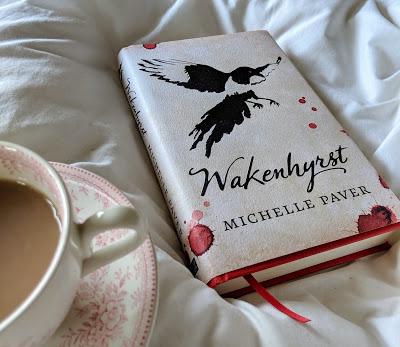 Wakenhyrst by Michelle Paver
I scored this book 5/5 on Goodreads
Synopsis:

 1906: A large manor house, Wake's End, sits on the edge of a bleak Fen, just outside the town of Wakenhyrst. It is the home of Edmund Stearn and his family – a historian, scholar and land-owner, he's an upstanding member of the local community. But all is not well at Wake's End. Edmund dominates his family tyrannically, in particular daughter Maud. When Maud's mother dies in childbirth and she's left alone with her strict, disciplinarian father, Maud's isolation drives her to her father's study, where she happens upon his diary.

During a walk through the local church yard, Edmund spots an eye in the undergrowth. His terror is only briefly abated when he discovers its actually a painting, a 'doom', taken from the church. It's horrifying in its depiction of hell, and Edmund wants nothing more to do with it despite his historical significance. But the doom keeps returning to his mind. The stench of the Fen permeates the house, even with the windows closed. And when he lies awake at night, he hears a scratching sound – like claws on the wooden floor...
My Review
Wakenhyst has to be my favorite read in June. It is also my first ever gothic novel, I was worried it would be let's say a little scary. No, no, no it was the perfect balance of historical mystery. The Suffolk fens creates a dark and mysterious setting for a murder. From the start we know the killer is Edward but it's the why we start to unravel as we read.
I was so absorbed with the character Maud, I found her fascinating and beautifully written and felt real empathy for her.
If this is gothic thriller then give me more!
You can pre-order the paper back from Amazon which is due out in November 2019. Or if you can't wait until then order the hardback.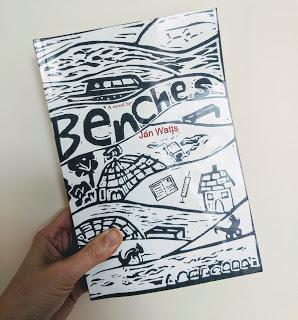 Benches by Jan Watts
I scored this book 4/5 on Goodreads
Synopsis:

 Nancy Byrde tells us her version of the canal side goings on that spice up her retirement. Together with her dog, Steven, she gets close to her family, the good and the evil. She dices, with drugs, violence, a teenage runaway and being over exposed at a wedding she wasn't invited to. Will she find a new happiness? Benches is set in and around Birmingham in the UK. The names of places has been changed to protect the innocent. It grew out of an encounter with a bench that had been graffitied with a rude word. 

My Review


What a surprise and very enjoyable read. A book purchased when the author attended a local literary festival, and gave a talk about the book and her poetry, Jan Watts was the poet Laureate of Birmingham city in the UK between 2011-12.

The book follows Nancy, who is retired and lives near the canals of Birmingham with her dog Stephen. Along the canal towpath there are three benches which Nancy knows very well, which through her doorstep adventures we also get to know.




Who would of thought a book about what goes on at three benches along a canal would be so very entertaining. Along with her very eccentric family and the postcards from her friend who is off on a world tour, there was plenty of tittering going on - just wait until you get to the bit about her gatecrashing a wedding and the swimming pool!




A very enjoyable book, one I would not hesitate to recommend.


You may struggle to get a copy in a bookshop but it is available online at Amazon in paperback or kindle.
***

Another batch of my book reviews shared with you, I hope you find them useful. I am still reading on even though I hit my reading challenge. So there will certainly more reviews heading your way.

 


You can keep up to date with my past and present reads by visiting my Goodreads page, see the link in the sidebar on the right hand side of your screen. 


Have you read any good books of late?



If you choose to buy any of the books I recommend from Amazon and  choose to use my affiliate link, I want you to know how grateful I am. These extra pennies will help me bring you more book reviews.