Are you ready for a book update, two recommended books. An audiobook and a paperback. You should spot some of the items I'm making, whilst I have slipped into another fictional world of an audiobook.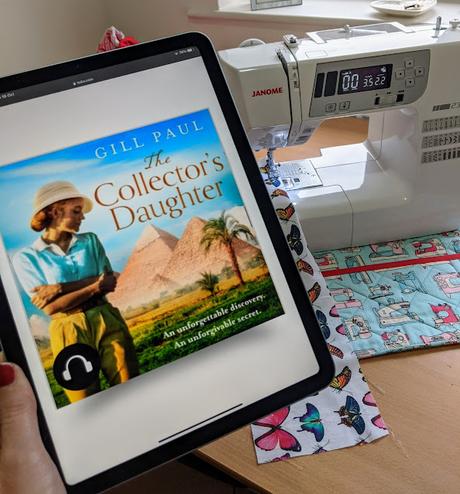 The Collector's Daughter by Gill Paul
SynopsisLady Evelyn Herbert was the daughter of the Earl of Carnarvon, brought up in stunning Highclere Castle. Popular and pretty, she seemed destined for a prestigious marriage, but she had other ideas. Instead, she left behind the world of society balls and chaperones to travel to the Egyptian desert, where she hoped to become a lady archaeologist, working alongside her father and Howard Carter in the hunt for an undisturbed tomb.
In November 1922, their dreams came true when they discovered the burial place of Tutankhamun, packed full of gold and unimaginable riches, and she was the first person to crawl inside for three thousand years. She called it the "greatest moment" of her life—but soon afterwards everything changed, with a string of tragedies that left her world a darker, sadder place.
Newspapers claimed it was "the curse of Tutankhamun," but Howard Carter said no rational person would entertain such nonsense. Yet fifty years later, when an Egyptian academic came asking questions about what really happened in the tomb, it unleashed a new chain of events that seemed to threaten the happiness Eve had finally found.
My Review
This was a delightful read in the historical fiction genre, listened to as an audiobook. I do enjoy a book that picks a moment in history as a basis for a novel, in this case, it's the discovery of Tutankhamun's tomb. 
We follow the life of Lady Evelyn Herbert, daughter of the Earl of Carnarvon (Highclere Castle).  Now elderly and in hospital following a stroke, she starts to reflect on her life.  The arrival of an academic from Egypt wanting to question her about some artifacts missing from Tutankamun's collection opens up some long-forgotten memories.
Reflecting on her life Lady Evelyn describes the events leading up to, the discovery of Tutankhamun's tomb by her father, Howard Carter, and herself. It was absolutely fascinating.
A pleasure to listen to, hearing all about the life of the well to do throughout the 20th century. How the curse of Tutankamun touched the lives of many of those associated with the discovery.
A great story to get lost into, it is worth remembering though this is a fictionalised story of Lady Herbert.
⭐️⭐️⭐️⭐️ Just hitting a four-star read for me!
Thank you to Netgalley and 
HarperCollins UK Audio for a review copy.
Time to catch up with what has been happening over on Instagram. The big news in September...I held a group buddy read of The Appeal by Janice Hallet. Just over 20 booklovers read-along with this new and exciting murder mystery novel, I shared prompts throughout the month followed by 2 Zoom book discussion sessions. It was all rather nerve-racking at first, but a lovely group of ladies soon settled into a fun and relaxed read-along. 
View this post on Instagram

A post shared by Book Reading Reviewer 🇬🇧 (@gardenteacakesbooksandme)
Audible Amazon Affiliate Link
You can enjoy 30 free days, enough time to listen to 3 or 4 books. Then it's £7.99 a month, that's the cost 2 fancy hot chocolates at Costa, or a paperback book. 
By using the link below to buy a copy of the books I'm recommending I earn a tiny amount of commission.