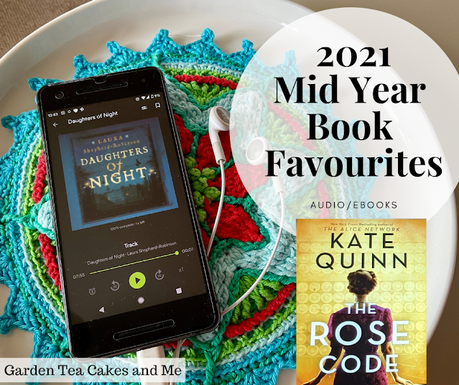 Book Review Time
I've read/listened to some great books during 2021, as we are halfway through I thought I would highlight a few of my favourites.  Both books fall into the historical fiction genre, one set during WW1 at Bletchley Park, England, the other follows a murder in Georgian, London 1782.
The Rose Code by Kate Quinn 
Having enjoyed The Alice Network earlier this year by the same author, I jumped at the chance to read this book in advance of its publication earlier this year. Coming up is the synopsis followed by a photo with my review published on Instagram.
Synopsis1940. As England prepares to fight the Nazis, three very different women answer the call to mysterious country estate Bletchley Park, where the best minds in Britain train to break German military codes. Vivacious debutante Osla is the girl who has everything—beauty, wealth, and the dashing Prince Philip of Greece sending her roses—but she burns to prove herself as more than a society girl, and puts her fluent German to use as a translator of decoded enemy secrets. Imperious self-made Mab, product of east-end London poverty, works the legendary codebreaking machines as she conceals old wounds and looks for a socially advantageous husband. Both Osla and Mab are quick to see the potential in local village spinster Beth, whose shyness conceals a brilliant facility with puzzles, and soon Beth spreads her wings as one of the Park's few female cryptanalysts. But war, loss, and the impossible pressure of secrecy will tear the three apart.
1947. As the royal wedding of Princess Elizabeth and Prince Philip whips post-war Britain into a fever, three friends-turned-enemies are reunited by a mysterious encrypted letter--the key to which lies buried in the long-ago betrayal that destroyed their friendship and left one of them confined to an asylum. A mysterious traitor has emerged from the shadows of their Bletchley Park past, and now Osla, Mab, and Beth must resurrect their old alliance and crack one last code together. But each petal they remove from the rose code brings danger--and their true enemy--closer... 
View this post on Instagram

A post shared by Book Reading Reviewer 🇬🇧 (@gardenteacakesbooksandme)
There was something about this book that really called to me, the writing style, the characters, I'm not sure but it was the right book at the right time.
4 1/2 stars
⭐⭐⭐⭐
Huge thanks to NetGalley and harper collins for an advanced reader copy for review.
Daughters of Night  by Laura Shepherd-Robinson
Synopsis From the brothels and gin-shops of Covent Garden to the elegant townhouses of Mayfair, Laura Shepherd-Robinson's Daughters of Night follows Caroline Corsham, as she seeks justice for a murdered woman whom London society would rather forget . . .
Lucia's fingers found her own. She gazed at Caro as if from a distance. Her lips parted, her words a whisper: 'He knows.'
London, 1782. Desperate for her politician husband to return home from France, Caroline 'Caro' Corsham is already in a state of anxiety when she finds a well-dressed woman mortally wounded in the bowers of the Vauxhall Pleasure Gardens. The Bow Street constables are swift to act, until they discover that the deceased woman was a highly-paid prostitute, at which point they cease to care entirely. But Caro has motives of her own for wanting to see justice done, and so sets out to solve the crime herself. Enlisting the help of thieftaker, Peregrine Child, their inquiry delves into the hidden corners of Georgian society, a world of artifice, deception and secret lives.
But with many gentlemen refusing to speak about their dealings with the dead woman, and Caro's own reputation under threat, finding the killer will be harder, and more treacherous than she can know . . .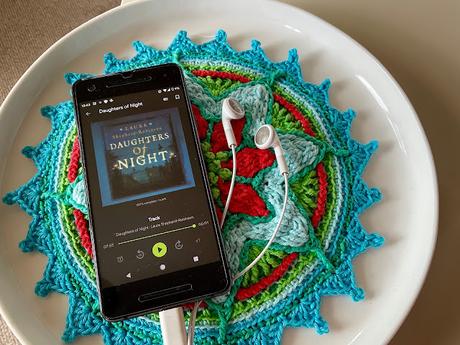 Review
Although I listened to this as an audiobook I have also previously read the physical book. Yes, that's right I loved reading the book so much I wanted to immerse myself back into Georgian, London by listening to the audiobook.  
It's another excellent historical crime thriller from Laura Shepherd-Robinson. Complex multi-layer storylines, with great characters you will love and dislike. For those of you that have read her previous novel Blood and Sugar, you'll enjoy the cross-over of characters into this book, though it's not necessary to have read her previous novel.
Murder awaits in the illuminated night of Vauxhall pleasure Gardens London 1782, 
I enjoyed the descriptions of the pleasure gardens, particularly those when they're illuminated in the evening. 
When you think there was no electricity at that time, absolutely fascinating to find out more about it.
The main character Caroline (Caro) Corsham finds a woman mortally wounded in the bowers of Vauxhall pleasure gardens. When the constables discover that the deceased woman was a high society lady of the night, they stop searching for a killer and it is up to Caro to seek justice.  

Putting female characters to the forefront of this story, in a position women wouldn't normally have in Georgian society. There are detailed descriptions, complex characters multiple storylines, and this book will give you an insight into the Georgian, England so often swept under the carpet. Caro Corsham is not your average high society lady, for she herself has something to hide.

You don't need to have read the previous book Blood and Sugar,  it's not vital for the storyline, there are a few reoccurring characters and we certainly get to know one of the characters an awful lot better. Peregrine Child, a thief-taker, he was very intriguing in Blood and Sugar so it's great to find out more about him. A thief-taker is a man to go to when a gentleman is in a fix, lost some compromising letters, had a diamond necklace stolen, Peregrine child was the man to help them.
Things involve Caro's brother, a member of parliament, and even the heir to the throne of England, mix in ladies of the night it becomes clear that some people are not who they appear to be.
I've never known so much about the complexities of operating and running an exclusive brothel in Georgian London.
As an audiobook you will need to be paying attention, there are plenty of characters. Unlike the physical book, you will not have a character list to refer to. 
Length of book 15 hours 29 minutes.
5 stars ⭐⭐⭐⭐⭐
Huge thanks to NetGalley and Macmillan UK Audio for an advanced reader copy for review.

Reading Challenge Update


I have no Reading Challenge for 2021, I felt I could never top my epic year of reading during the initial pandemic of 2020. So I've decided to go with the flow.
You can keep up to date with my past and present reads by visiting my Goodreads page, see the link in the sidebar on the right-hand side of your screen. Or follow me on Instagram see the sidebar for a link to my account GardenTeaCakesBooksandMe.