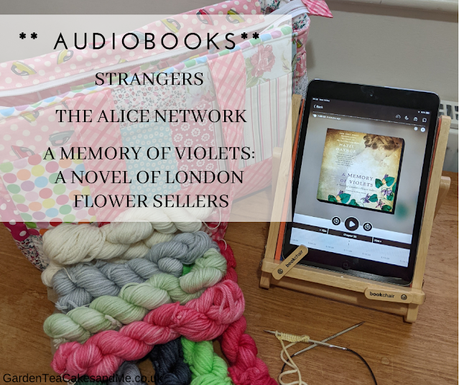 I have another selection of audiobook reviews for you in my latest blog post, an historical fiction, a modern day thriller and another historical fiction set during world war 1 and 2.Audiobooks have been a real help to me in the last few weeks,  sometimes we need a little distraction to find our way to relaxing, and eventually sleep. Audiobooks have worked very successfully in helping me achieve this.  So what have listened to over the last few months:Strangers by CL Taylor 
The Alice Network by Kate QuinnA Memory of Violets: A Novel of London's Flower Sellers by Hazel GaynorAfter months of waiting on the reserve list for The Alice Network, I received the long-awaited notification, that it had been loaned to me. This was one of those books I found whilst searching the library app for a suitable book to listen to. The only reason I added my name to the list, because there were so many other people in the queue. I thought 'ooh this must be a good read if so many people are waiting for it', you get the gist. I've done this before with a few other books and got swept up with the anticipation, only to be terribly disappointed. Find out later in this post how the book faired...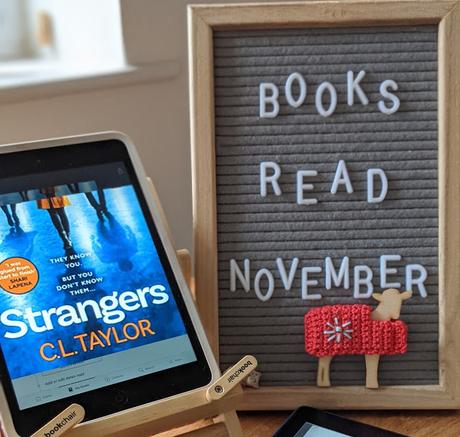 Strangers  by CL Taylor (9 hours 30 minutes)
SynopsisUrsula, Gareth and Alice have never met before. Ursula thinks she killed the love of her life. Gareth's been receiving strange postcards. And Alice is being stalked. None of them are used to relying on others – but when the three strangers' lives unexpectedly collide, there's only one thing for it: they have to stick together. Otherwise, one of them will die.
Three strangers, two secrets, one terrifying evening. This novel will keep you guessing until the end.
My Review
I do enjoy a book where each character's story starts off as a separate journey only for them to converge and interlink towards the end of a book.  This is done very effectively in Strangers, and it is well into the book 75% before the reader reaches this point. It did take me a little while to settle into the characters, not sure if this was just an audiobook thing.
As a reader you really did feel the conflicts Gareth faced, working as a security guard whilst looking after his mom with dementia.
I found Ursula to be the character with the most interest and intrigue about her, she was quirky, odd, and thoughtful. I had a lot of concern for her safety with some of the choices she made! But when she converges with Gareth and Alice towards the end of the book all becomes clear.  
I was definitely taken in with a number of the red herrings. I liked the use of the shopping center as the location for the collision of the characters.
My fourth CL Taylor book, and this ranks as my second favorite following Sleep. 
Thanks to Harper Collins Audio and Avon for an audiobook edition of this book, which I listened to via Netgalley.
3.5-4 stars out of 5
You can purchase this book as audio, kindle or paperback from Amazon. 
By using my link to purchase I earn a small amount from the sale, which helps me to maintain my book review blog.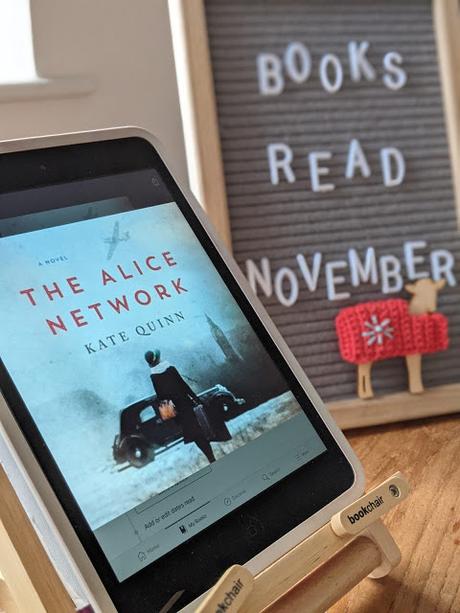 The Alice Network by Kate Quinn
(15 hours)
SynopsisIn an enthralling new historical novel from national bestselling author Kate Quinn, two women—a female spy recruited to the real-life Alice Network in France during World War I and an unconventional American socialite searching for her cousin in 1947—are brought together in a mesmerizing story of courage and redemption.
1947. In the chaotic aftermath of World War II, American college girl Charlie St. Clair is pregnant, unmarried, and on the verge of being thrown out of her very proper family. She's also nursing a desperate hope that her beloved cousin Rose, who disappeared in Nazi-occupied France during the war, might still be alive. So when Charlie's parents banish her to Europe to have her "little problem" taken care of, Charlie breaks free and heads to London, determined to find out what happened to the cousin she loves like a sister.
1915. A year into the Great War, Eve Gardiner burns to join the fight against the Germans and unexpectedly gets her chance when she's recruited to work as a spy. Sent into enemy-occupied France, she's trained by the mesmerizing Lili, the "Queen of Spies", who manages a vast network of secret agents right under the enemy's nose.
Thirty years later, haunted by the betrayal that ultimately tore apart the Alice Network, Eve spends her days drunk and secluded in her crumbling London house. Until a young American barges in uttering a name Eve hasn't heard in decades, and launches them both on a mission to find the truth...no matter where it leads.
My Review
I loved this dual timeline historical book, which I listened to as an audiobook. I realised that I have read very few if any WW1 / 2 related novels, and I particularly found the aspect of the spies and resistance fascinating.  Who do you trust, who will turn you in? The tension and anxiety of the characters come across really well, you really do feel involved in the storyline. The narrator does an excellent job of bringing the characters and story to life, I do find a narrator can really effect a reader's enjoyment of a book. 
My favorite character was Eve Gardiner, she's gritty, unforgiving, and cool as they come. The revealing of her past and the life she endured to help others, reflects the character's traits later in the storyline. 
There were times, when I did just slightly get confused between the timelines. Which I know is down to me reading this book as an audiobook, it only takes a moment for your mind to wonder.
I spotted on Twitter recently that there is a another book in this series due out soon, one I will certainly want to read.
4 out of 5 stars
You can purchase this book as audio, kindle or paperback from Amazon. 
By using my link to purchase I earn a small amount from the sale, which helps me to maintain my book review blog.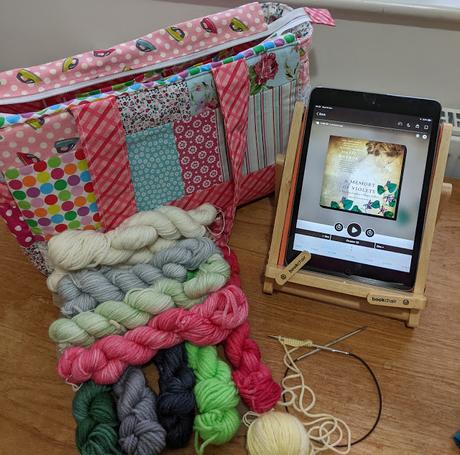 A Memory of Violets: A Novel of London's Flower Sellers by Hazel Gaynor
(10 hours 30 minutes)
SynopsisIn 1912, twenty-year-old Tilly Harper leaves the peace and beauty of her native Lake District for London, to become assistant housemother at Mr. Shaw's Home for Watercress and Flower Girls. For years, the home has cared for London's flower girls—orphaned and crippled children living on the grimy streets and selling posies of violets and watercress to survive.
Soon after she arrives, Tilly discovers a diary written by an orphan named Florrie—a young Irish flower girl who died of a broken heart after she and her sister, Rosie, were separated. Moved by Florrie's pain and all she endured in her brief life, Tilly sets out to discover what happened to Rosie. But the search will not be easy. Full of twists and surprises, it leads the caring and determined young woman into unexpected places, including the depths of her own heart. 

My Review
I always feel passionate when I discover a historical book that not only tells a tale but educates the reader on the social history of England. Children and adults alike living in squalor, with few clothes or possessions and very little to eat. Life in central London during Edwardian England was certainly bleak if your were anything but wealthy. 
We follow two children selling small posies of flowers in the street for pennies, the reader is immersed into the lives of sisters Florrie and Rosie. 
It was really interesting to hear about the establishment of the Crippleage and Flower Girls Mission at Clerkenwell combined within the story of two fictional flower girls.  I also never knew that during winter the flowers girls sold watercress.   
I enjoyed the tale of Florrie and Rosie, if took some turns I had not been expecting. I like how Tilly Harper was used to continue their story when she discovers Florries diary. Through the story of Tilly we also visit the Lake District and the seaside at Clacton.
I had not expected there to be a twist to this tale but there was one towards the end, surprised I was. A most enjoyable book.

4 stars out of 5


You can purchase this book as audio, kindle or paperback from Amazon. By using my link to purchase I earn a small amount from the sale, which helps me to maintain my book review blog.



Where to get your audiobooks
I listen to many of my books for free from my local library, but if this is not an option for you another way to listen to them is to pay for a subscription to Audible. You can find more information about Audible including signing up with them here.
A quick mention to the lovely yarns you may have spotted in one of the photos above. I'm in the process of knitting a Christmas Stocking, one I can hang up every year. This is a kit from Wool is the Answer, which also includes the pattern, the yarn is a very soft merino wool.
Follow my Book Shelf & Reading Challenge Pinterest board