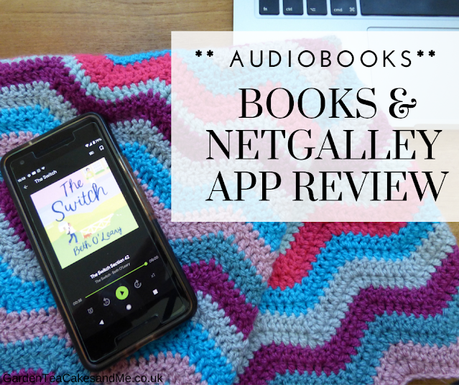 Today I'm talking about the most recent audiobooks I have listened to. All of the books were free for me to download and enjoy. Two of them from my local library using the very well known Libby app, and one my first audiobook for review from NetGalley.  
The Switch by Beth O'Leary (NetGalley)

The Court of Miracles by Kester Grant (library Libby app)

The Wife Between US by Greer Hendricks & Sarah Pekkanen (library Libby app)

NetGalley App
Let's talk briefly about the NetGalley app. An app available for influencers or regular book readers to request advanced copies of books for review. When NetGalley initially launched their app, for ebooks as well as audiobooks,  I did encounter a number of issues which made it impossible for me to even download an audiobook.  But, I am pleased to say that following a number of updates NetGalley has rectified the majority of problems and I am now able to enjoy selected audiobooks for free in return for an honest review. I love the sleep function on the app, perfect for us bedtime readers. Just occasionally the audiobook may not respond if, for example, I've paused the book, but it's not every time. Simply closing the app and reopening it sorts it out.  Oh for those of you that are interested I use an Andriod Google Pixel 2 phone.
Book Review Time
The Switch by Beth O'Leary run time 10 hours 11 minutes (NetGalley)
Contemporary Romance Genre
⭐️⭐️⭐️⭐️3.5 - 4 stars on Goodreads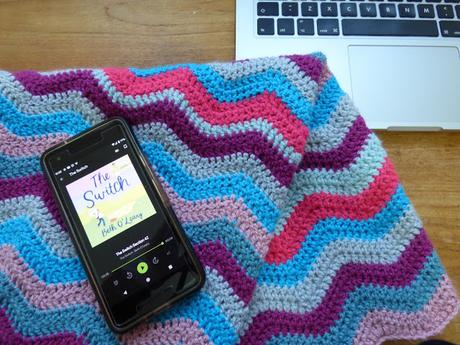 Synopsis
Eileen is sick of being 79.
Leena's tired of life in her twenties.
Maybe it's time they swapped places...
When overachiever Leena Cotton is ordered to take a two-month sabbatical after blowing a big presentation at work, she escapes to her grandmother Eileen's house for some overdue rest. Eileen is newly single and about to turn eighty. She'd like a second chance at love, but her tiny Yorkshire village doesn't offer many eligible gentlemen.
Once Leena learns of Eileen's romantic predicament, she proposes a solution: a two-month swap. Eileen can live in London and look for love. Meanwhile Leena will look after everything in rural Yorkshire. But with gossiping neighbors and difficult family dynamics to navigate up north, and trendy London flatmates and online dating to contend with in the city, stepping into one another's shoes proves more difficult than either of them expected.
Leena learns that a long-distance relationship isn't as romantic as she hoped it would be, and then there is the annoyingly perfect - and distractingly handsome - school teacher, who keeps showing up to outdo her efforts to impress the local villagers. Back in London, Eileen is a huge hit with her new neighbors, but is her perfect match nearer home than she first thought?

My Review
Firstly, whoever had the idea to cast Alison Steadman as the voice of Eileen is a genius. She bought so much to the role and personality of Leena's grandmother. 
This is a light contemporary novel but with some important messages for the reader, I suspect the book is drawn to a younger audience. The balance and the importance of the lives of younger people mixing with older people and vice versa. It also makes the reader aware that older people have an important part to play in the life of the community around them. It touches on loneliness, neighbours, and how to get involved and be part of a community.
Dealing with love, grief, domestic violence yet the book has a lighthearted and at times funny appeal. Listmakers and project plans, I mean, everyone loves a list.
A most enjoyable book to listen to, it kept me engaged throughout the whole story. In fact, I listened to the book quite quickly as a result and it kept me company whilst I was sewing. 
This book is available as an audio book from Audible or kindle or paperback.


Many thanks to NetGalley and MacMillan Audio for a review copy of this audiobook.



The Court of Miracles by Kester Grant run time 10 hours 45 minutes
Young Adult Fantasy Genre
⭐️⭐️⭐️3.5 stars on Goodreads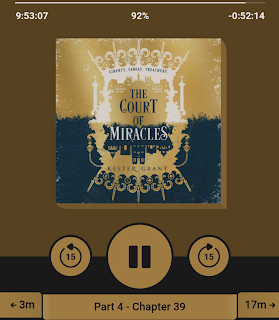 Synopsis
A diverse fantasy reimagining of Les Misérables and The Jungle Book.
In the dark days following a failed French Revolution, in the violent jungle of an alternate 1828 Paris, young cat-burglar Eponine (Nina) Thenardier goes head to head with merciless royalty, and the lords of the city's criminal underworld to save the life of her adopted sister Cosette (Ettie).
Her vow will take her from the city's dark underbelly, through a dawning revolution, to the very heart of the glittering court of Louis XVII, where she must make an impossible choice between guild, blood, betrayal and war.
My Review


A clever Young Adult fantasy reimagining of Les Misérables and The Jungle Book. An enjoyable read as an audiobook, I didn't have to think too hard with many of the characters as I am quite familiar with the Les Miserables story so they were very recognisable.
Enjoyed the underworld aspect of the story, which needed the contrast of the court of Lois XVII for it to shine through the darkness that surrounded it. Though by the time I had got to the 9hour mark of the book I was ready for it to have finished. Part of a series of books, which if the next book appeared on my library app as available to loan I may well check it out. Not sure I would go looking for it.
The audio narrator of this book did a very convincing job of capturing the different characters in the book.
This book is available as an audio book from Audible or kindle or paperback.
The Wife Between Us by Greer Hendricks and Sarah Pekkanen
run time 11 hours 13 minutes
Mystery Thriller
⭐️⭐️⭐️ 2.5 stars on Goodreads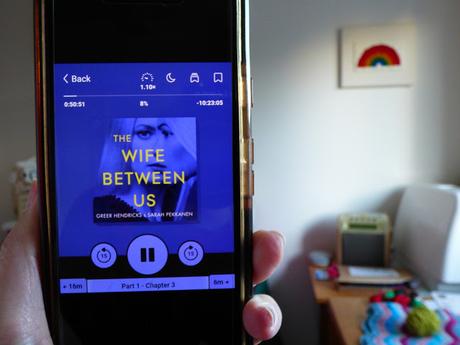 SynopsisWhen you listen to this audiobook, you will make many assumptions.You will assume you are listening to a story about a jealous ex-wife.You will assume she is obsessed with her replacement – a beautiful, younger woman who is about to marry the man they both love.You will assume you know the anatomy of this tangled love triangle.Assume nothing.
Twisted and deliciously chilling, The Wife Between Us exposes the secret complexities of an enviable marriage - and the dangerous truths we ignore in the name of love.
Listen for the truth between the lies. 
My Review
Disappointing audiobook, although I know I disagree with the vast majority of readers. Possibly not helped that I did not particularly enjoy the narrating, and that the book I really wanted to listen to on the library app was not available and this was a fill-in. 
Not sure I would have persisted reading this if it was a physical book. Nothing particularly surprising in the storyline except for the slight twist at the end. Although I don't think it's worth going through the whole book just for the twist.
If you have read this book, I would love to know how you found it and what star rating you would have given it.
This book is available as an 
audiobook from Audible or kindle or paperback.
Reading Challenge Update
My 2020 Reading Challenge has been blown out of the water thanks to the pandemic of 2020. It's currently early November and I have read 70 books.  
I have just started listening to The Alice Network audiobook which is set just after the second world war. 
You can keep up to date with my past and present reads by visiting my Goodreads page, see the link in the sidebar on the right-hand side of your screen. 
Have you read any good books of late? Let me know with a comment below ⬇️⬇️⬇️
📍

Pinterest Pin Me!

📍