Most iPhone owners use their smartphone for literally everything, from checking e-mails, making calls and text messages to browsing the internet, listening to music, etc. This is why iPhone 4 / iPhone 4S battery is one of the most important features on this smartphone. Unfortunately, iPhone is very demanding in terms of battery consumption, so you will probably need additional power source before the day ends.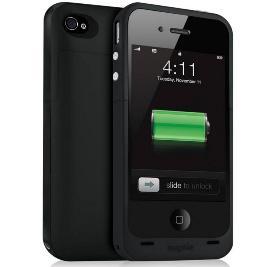 Mophie Juice Pack Plus iPhone 4, 4S Battery Case – Black
Juice Pack Plus by Mophie is something you will find very useful to have, since it can prolong iPhone's battery usage for up to 8 additional hours of talk time or 7 additional hours of internet use (over 3G). It actually doubles the battery life of your iPhone! Sounds great, doesn't it?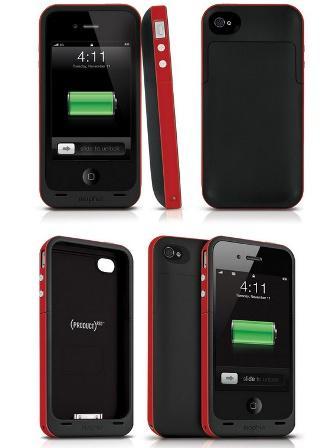 Mophie Juice Pack Plus iPhone 4, 4S Battery Case – Red
Basically, Mophie Juice Pack Plus is battery case for iPhone 4S / 4 that snaps right onto the iPhone, with appropriate cut-outs for the camera, ports and buttons. Although it does add a bit of bulk to the overall dimensions of the iPhone (Juice Pack Plus measures 5.07 x 2.51 x 0.68 inches), you can completely disregard this, because it gives you so much more. Juice Pack Plus can be used in two ways – you can turn it on, and rely on its power, until it is completely drained, and then you can move on to iPhone's internal battery. Or it can go other way round – you can use your iPhone 4 / 4S own power first until it's almost empty, and then turn on the Juice Pack to recharge the iPhone as if plugged into the mains.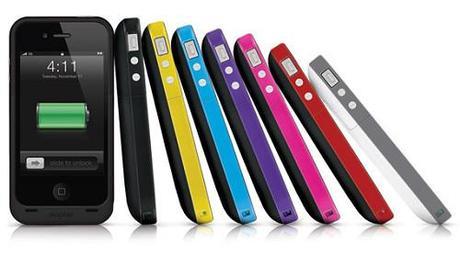 Mophie Juice Pack Plus iPhone 4, 4S Battery Case – Available Colours
Mophie Juice Pack Plus for iPhone 4, 4S  is available in wide range of colours, including blue, pink, yellow, purple, red with black accents, all black, or glossy white with a rubbery gray band around the case.