The Monsters from SwitchEasy now conquer the market of iPod Touch cases! Turn your iPod Touch 5G into a real monster!
This iPod Touch 5G case will bring color into your life and put aside all the boring colourless cases available on the market! The SwitchEasy Monsters for iPod Touch (also available as a case for iPhone 5) are creepy, but cool cases with a funny appearance. The different models with a 3D "monsterish" face on the back will protect your iPod from scratches and other damage. They are made of soft silicone and therefore easy to apply and remove; they provide better grip and offer a perfect fit.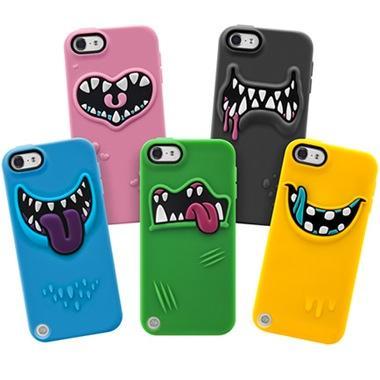 These funny Monsters cases will steal the show as your personal iPod Touch 5G monster and will put a smile on many faces. Surely, case with a monster face on will not appeal to everyone, but there are many who will simply love it!
The non-slip silicone is completely tailored for the iPod Touch 5G, providing it with an instant funky look. The silicone coating on the volume, on / off and home buttons provides improved ease of operation and optimum protection of your iPod. There are cut-outs for the lightning  dock connector and the camera.
As we expected nothing less from SwitchEasy, this case also comes with several useful accessories. In the package you will find:
1 x SwitchEasy Monsters Case for iPod Touch 5G

2 x Anti-Static Screen Protectors
1 x Microfiber Wipe
1 x Squeegee for your Screen protector application
2 x Connector Protectors
As you can see, the included accessory pack has everything necessary to keep every piece of surface and an opening on your iPod free from scratches, dust and dirt. Your iPod is protected from bumps and broken display glass because the velvety silicone has extremely shock absorbing properties. Scratches on the display have no chance, because two free screen protectors are included in the package! Two practical dust plugs for the Lightning port and the headphone jack round off the set!