Money is in demand. In social media, money is what drives any promotion. Money is what is desired as the result of a social media campaign, right? Of course engaging customers in dialog and promoting brand is desired too.
Your money is no different than my money.  Many of us find a need for more!
The groceries I put in my cart are not getting cheaper, either are yours.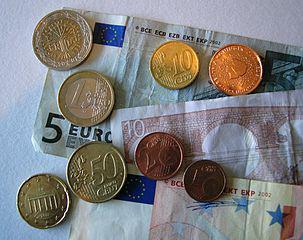 Money shown as Euros
Songs and books have been written, wars have been fought, all over money.
If your social media is not focused on attaining a goal that in the end results in money, maybe you need to rethink your goals.
Here are a few immediate social media posting steps you need to take (to get more….you know….MONEY):
Use a call to action (click here, like this post, buy now etc.)
Be clear and concise
Say why it is better, stronger or shinier
Post relevant information worthy of a re-share
Ask for re-shares
Strive to be consistent and post regularly, set a schedule
Use intriguing images that are free of restriction
Do not exaggerate, lie or defame
Tell a personal story, get the hook in
Follow up with a call to action as applicable
A connection is what you seek with the personal story, clearly written to get the reader to click your post, buy what you sell and come back soon.
The above list is not difficult.  The ideas should not surprise you.  It's just that the fanciness of the spacing, colors, people, places and things in social media get in the way. Remember we all need the same thing, more money.
I feel a need to explain that even the simplest act of kindness using money is money well spent. I try my best to be kind, lately though I don't have enough money. To clarify, I am not a greedy person and don't think that is a course any of us want to take.