Monday...oh Monday.  You torture so many of us.  I'm on the edge of indecisiveness.  On one hand, I really need to crack on and do work.  The other hand, I'm really wanting to just blog nonsense posts and watch Sliding Doors.  I'm not sure.....so I'll do quick post, cook dinner and take it from there.
I'm applying for work as I need more income (not just to shop) to supplement my venture.  Times are tough.  Well, tough for those who it's tough for.  I know the economy isn't really effecting many out there by the looks of it, but it's definitely tough in mi casa.  So please stop by my blog sale later today (link is on the top header) as I am really in need of downsizing and earning some money.  Also, please don't hesitate to make me an offer as I just want these into new homes.
Today is a no makeup (ok a little bit of bb cream) and PJ type of day.  I did do my nails tho LOL!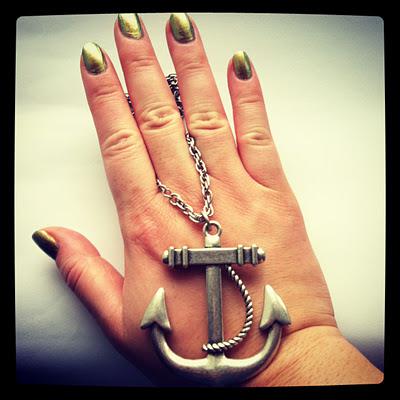 Chanel Peridot with my awesome £2 Heavy Anchor necklace
So Here I go, off to try to do some work and continue applying for some part time jobs out there.
Have a good one !!!!