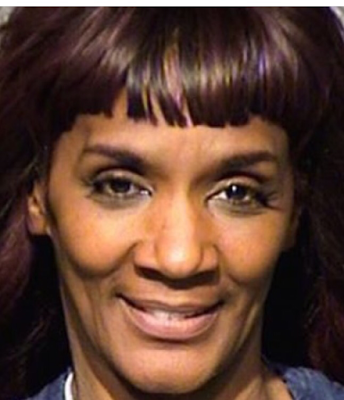 Seems like the kingdom needs to marry off their Princess to a Prince, or raise taxes in the kingdom. Reality Royalty Momma Dee has been arrested for allegedly attempting to dine and dash in Milwaukee (they don't play that sh!t), when she and those in her court felt like the $500 tab they ran up was so beneath them, they weren't going to pay it. Momma Dee tried to pull a 'slide to the floor and crawl to the door' and they were NOT here for her or her shenanigans. They said what you WILL do is pay this tab and those legal fees stemming from this embarrassing arrest. Scrappy hasn't put out a hit since Chris Brown and Rihanna and the fact that Ms Dixon is suing him for non child support payments pretty much leads me to assume that the kingdom is going broke. Instead of partying and trying to do it for the Vine, Momma Dee need to be somewhere 'pimping' that song like she did those hoes! HOEKAY!? I guess music isn't as easy as va-jayjay! Hell, pu$$y damn near sell itself. Don't worry Momma Dee, if push comes to shove, you can blackmail The Bambi with her fake reality TV miscarriage, to be your bottom b!tch back into the game! Yassssssss! In a year or two you could add Masika Tucker, Hazel E, and Teairra Mari, call it Love & Hip Hip Hollywood Head... Got a ring to it don't it!?Let me stop. Momma Dee actually did nothing wrong and it was all on some overzealous owner. I do however believe SOMEONE tried to dine and ditch and they were already watching them. Jesus take the wheel.
Momma Dee had this to say via her Instagram: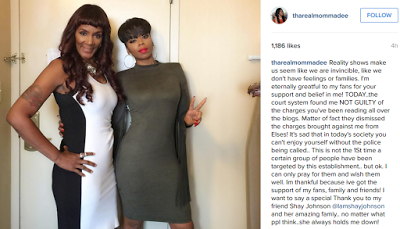 So according to Momma Dee, Shay Johnson family called some friends over to the restaurant and tried to eat on Momma Dee's dime. She need to add Shay to that list of potentials if the homies are coming through broke and eating. Oh HELL No! Momma Dee said, I have MY money, Ion know THOSE fools!" Get into this TMZ interview...