This week, I admit, I changed things up from my schedule just to free up time for more important things.  So while they are all easy - some were as easy as humanly possible.
December 16
The race is on.  The girls loved seeing the paper bag race in front of the tree.  It was actually pretty simple to set up.  Just some paper lunch bags, a bit of ribbon and a few toys (and two decorative snowmen to hold up the finish line)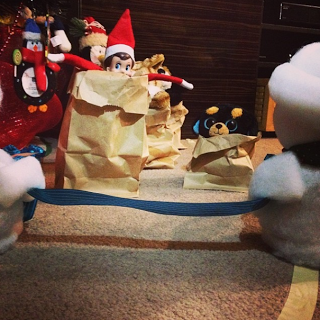 December 17
My girls go in bursts and stops when it comes to playing with their Duplo.  I figured they wouldn't mind if Libby stole some to build her own lego dream house.
Of course, that day they wanted to play with it after they saw Libby in it.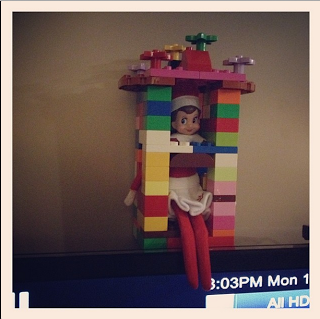 December 18
The classic tea party.  I left hubby to set this one up while I ran and he did such a cute job.  I particularly love the puppy with his own teeny teacup.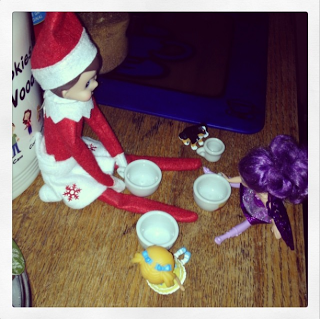 December 19
This one looks more complicated than it was.  A few days earlier, I had pulled out a strand of twinkle lights with an absent-minded excuse to the twins that I wanted to put them up.  Then, that afternoon, I put them across the top of the window and plugged them in.
Then Libby decided to "adjust" them when she got back and look what a mess that made...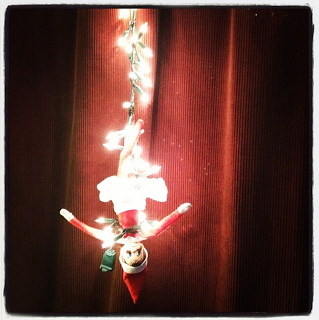 December 20
Here's one of those simple ones, but somehow every time the twins see Libby anywhere on the tree they get super excited.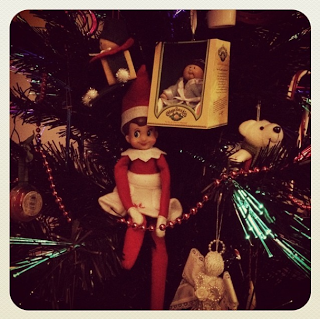 December 21
We've had a ton of snow here this month (apparently it's broken some 112 year record or something like that).  Libby must've been getting jealous watching the girls play outside in it and decided to build a few marshmallow snowmen of her own.
I used toothpicks to hold the marshmallows together and drew the eyes and mouth on with marker.  The nose is a broken toothpick.  I realized after the fact that something looked off because I should have made toothpick arms.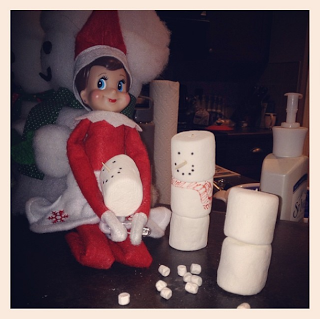 Not that it mattered...the "smarshmallows" were apparently eaten by Libby around the time the girls went downstairs in the morning.  I was told this by a 4 year old with smarshmallow breath.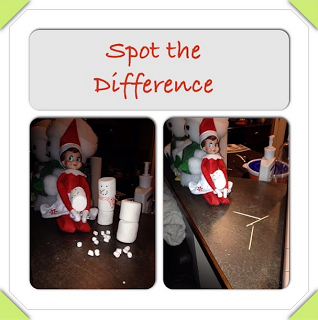 December 22
We'd had a few too many days of Libby within reach and too many close calls so this one was just a way to get her up off the counter...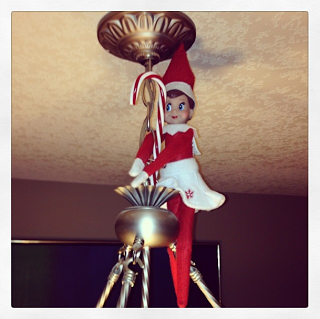 So there is another week of ideas you can feel free to steal ;)  and, as always - if you like them, please pin them (or repin them because I will have them pinned on my RWRM Elf on the Shelf board!)