Oops - cutting it a little close on keeping this post on a Monday this week ;)  Busy day around here.
Anyway - before I get into the ideas, I want to share a little story of Christmas magic with y'all.
This weekend, we ended up going to Fabricland to source some fabrics for one of hubby's upcoming shoots.  Me and the girlies were hanging out around the fun fur (o - they were trying to climb INSIDE the fun fur) when a man and his wife came around the corner.  He was a big guy.  Full head of white hair and a neatly trimmed white beard.   And both he and his wife were wearing red button down shirts.   I did the super sneaky "Psst.  Grls..." and nodded my head over to him and he caught my eye and winked.
In a stage whisper I said "Oh my girls...look at that man.  You don't suppose it could be , you know who, do you?  Like that he might be buying supplies to make christmas toys from?"
Their eyes got big as they took in this big fellow.  He casually sauntered over to the fur they had been playing with and winked at them.  Then asked "I am thinking of upgrading my suit this year"  he stroked the long fluffy white fun fur - "Do you suppose this would look nice on it?"
Both girls jaws dropped and in a twinking and a wink - the man turned a corner and was gone with his wife grinning behind him.
It was AWESOME.  I can't even make this shit up.
Now on to the ideas.
I found this little hat and robe at the dollarstore and decided to expand Libby's holiday wardrobe...oh yeah...and they happened to be a wine bottle wrapping....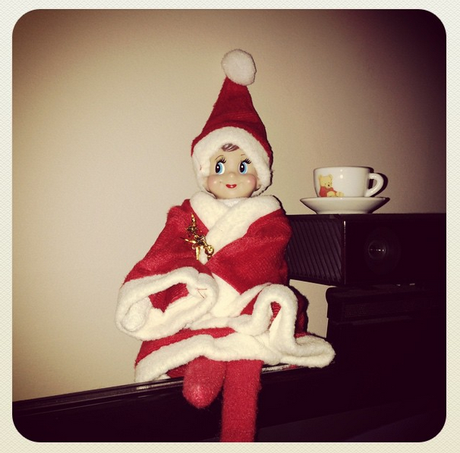 One day the girls made hats like these at school and couldn't wait to tell Libby about them.  Guess Libby wanted one of her own too and whipped it and some paper dolls up while she was crafting...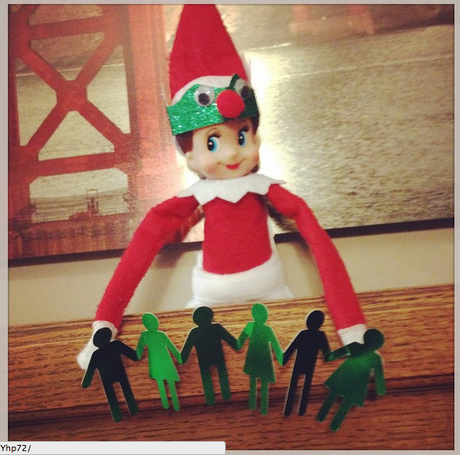 Libby seemed to really be missing the north pole this year.  She brought the girls a holiday puzzle but ended up only building half of it in favour of snuggling with the santa piece instead.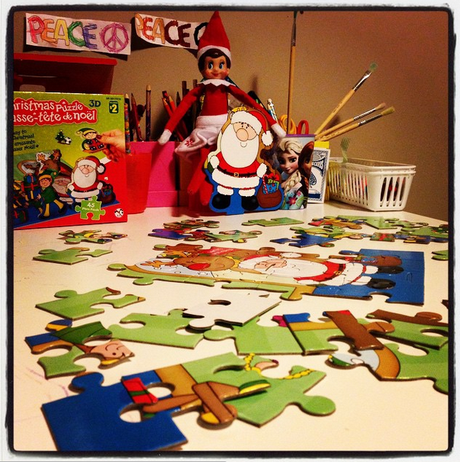 To follow the theme of missing home - she also snuggled up in the tree with a couple of elfy friends one night.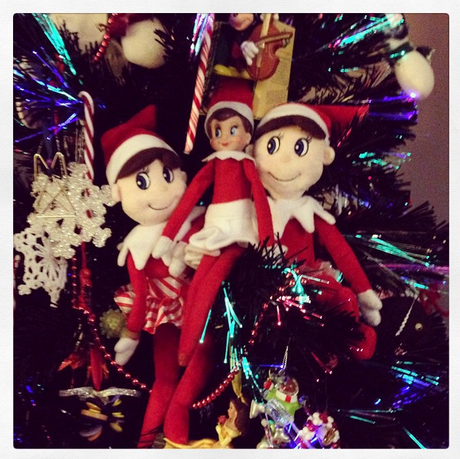 This one is pretty easy, as long as you don't buy gft wrap at costco (that roll never ends)...I meant to do it with 2 full rolls, but couldn't seen to acquire a second roll...so I cut the one in half....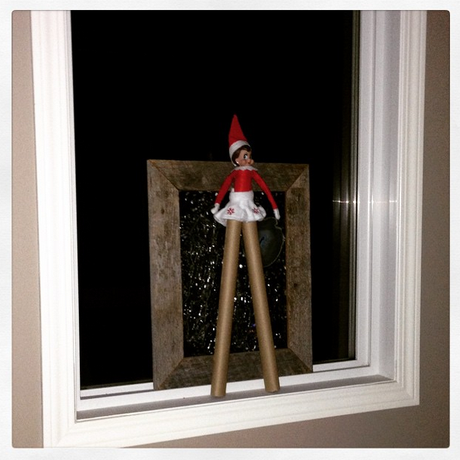 A little acrobatics from the ceiling fan in our bedroom.  And no - we will not be doing another elf setup in our room EVER.  6am wakeups with 2 kids with flashlights is NOT a fun time!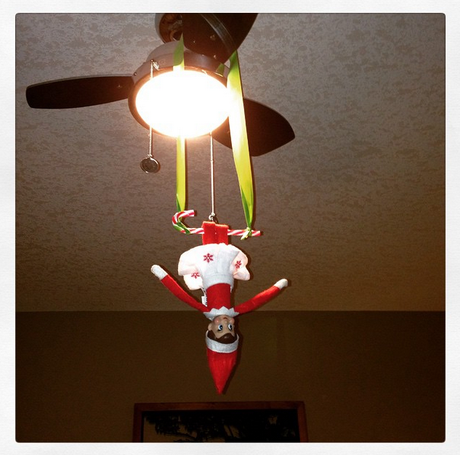 Oopsie - it looks like someone knocked the santa tree topper right off the Christmas tree that night...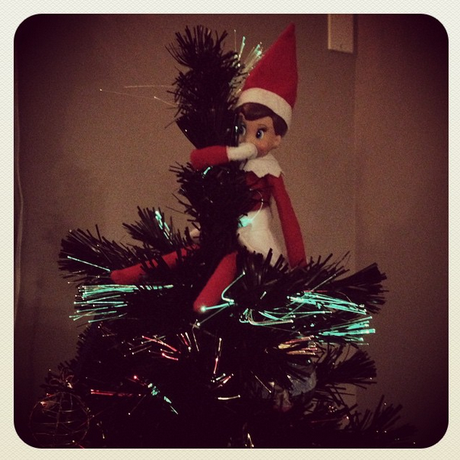 I ended up skipping over one of the ideas on my calendar because the girls weren't sleeping soundly enough for me to fill their rooms with balloons...so I handed it over to hubby to come up with an idea to replace it.  This is what he came up with.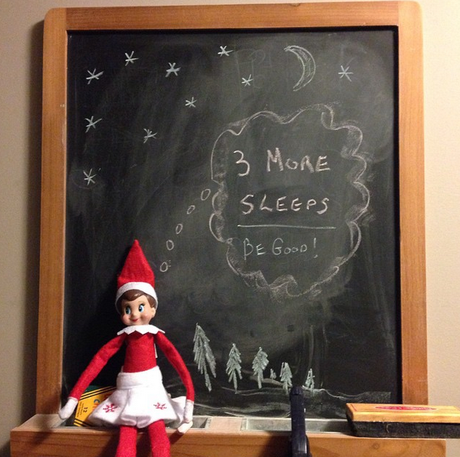 For our last night at home before heading out to spend the holidays with family - Libby got a little creative with toilet paper, washi tape and the living room ceiling....