I have a few mommy posts to do this week, but I wanted to start with this one because it is a bit time sensitive for anyone local.
If you have been to the Calgary Zoo lately, you have been greeted by a lovely surprise.  The entire grounds is strewn with stunning lanterns as the Illuminasia Lantern and Garden Festival  is going on until November 1!
Until I saw these during the day - I didn't really have any desire to spend the money to attend the festival at night.  But look at these!  How freaking adorable are they?  Me and the girls were fascinated...nay...OBSESSED with them.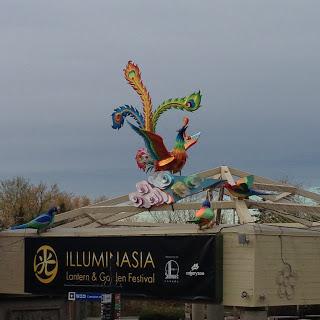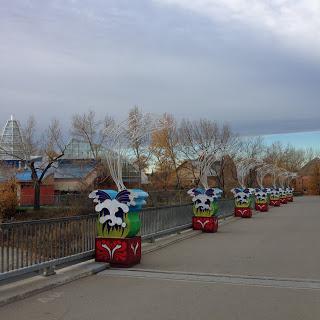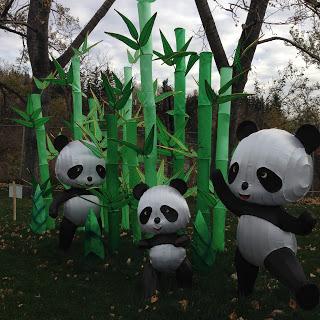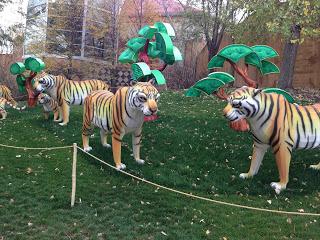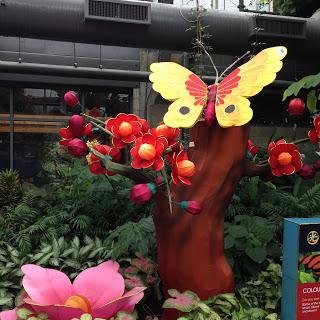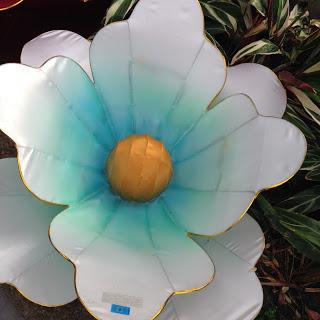 It then became a race to figure out when we might be able to actually make that happen.  Doodle and I both have this thing about crowds...as in how to avoid them.   When a mom at our school mentioned that she had gone on a weekend and strongly suggested we go on a weeknight, suddenly our options for available dates changed dramatically.  We had two Thursdays left.
So, when parent-teacher conferences left us with a whole Thursday night at our disposal...we took full advantage and leapt.  Luckily, I am an Engage member at the zoo (yay - free parking) so it meant I could buy up to 5 tickets at 20% off.  Every little bit of savings helps..especially since this event is not one of those "included in your membership" things.   For our little family - it ended up costing around $70 to get in.  My advice would be to buy your tickets online and then bring snacks and a wagon!
We got to the zoo as the sun had set and headed through the light crowds to where the magic was happening....everywhere.
See for yourself...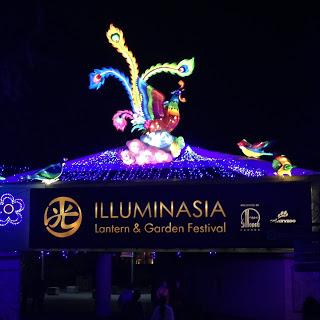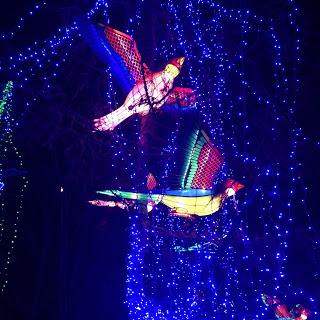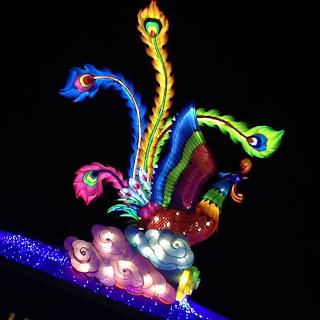 Daylight has NOTHING on this bridge at night.  NOTHING.  Wow.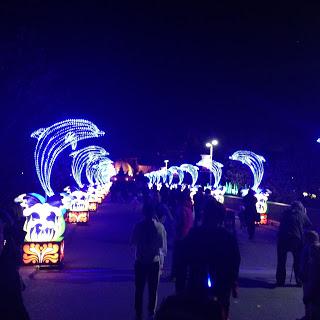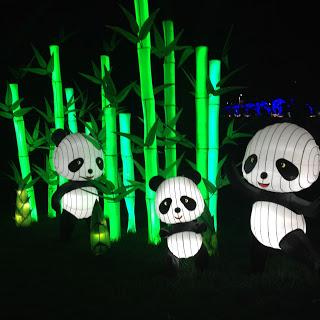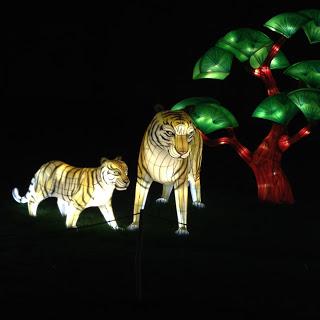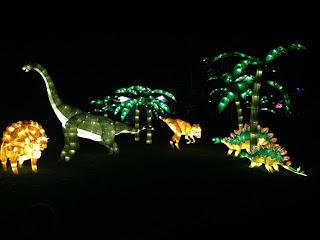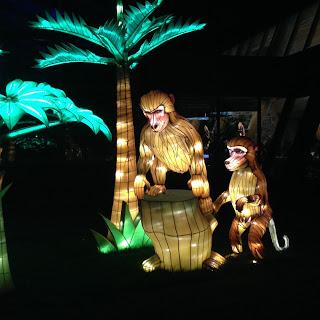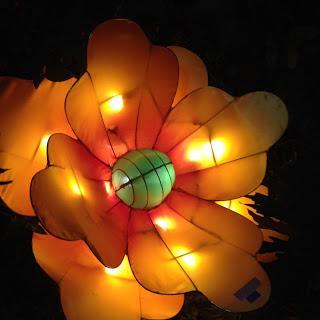 The butterflies are gone from the garden, but the lanterns were enough to put smiles on these faces.  (Also - holy hell humid in there.  We only lasted a few mins.  I feel bad for hubby who had to wait for his pro camera to acclimate to it).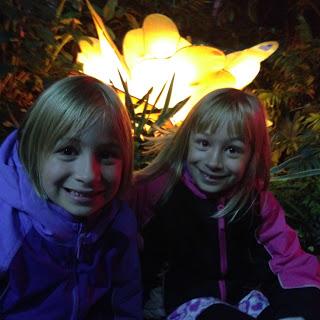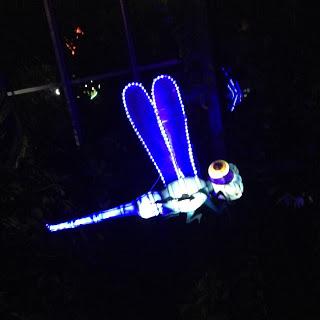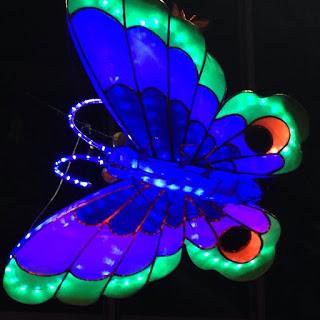 In the atrium of the conservatory - there were vendors and a "dress up" station to try on traditional costumes of the featured culture.  That night it was part of India's week.  My beautiful Buggie was all too happy to don that saree.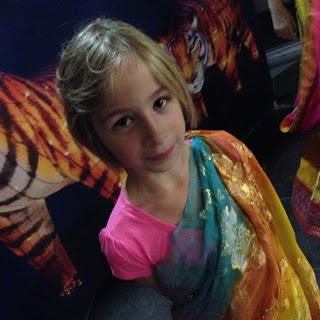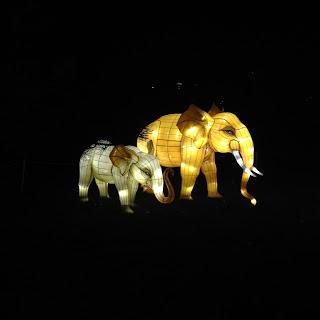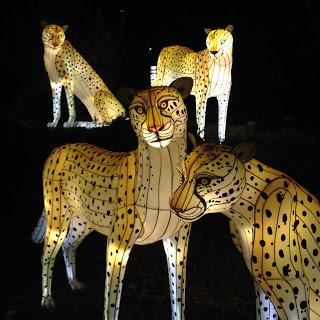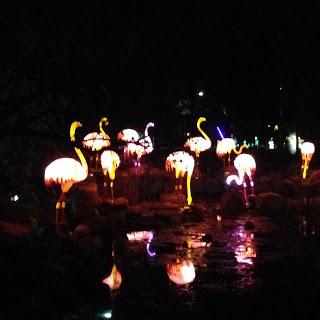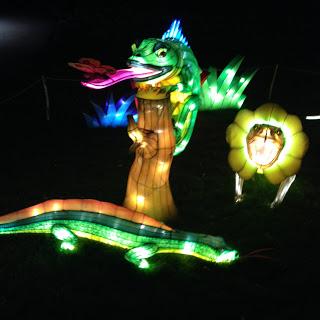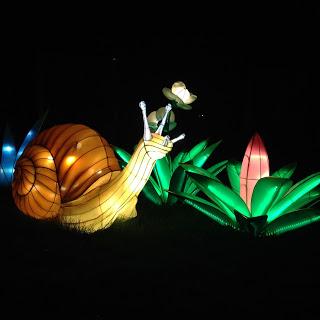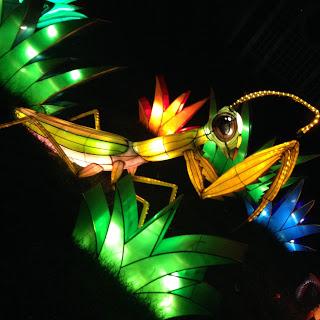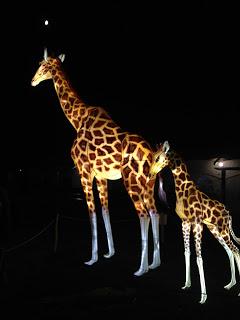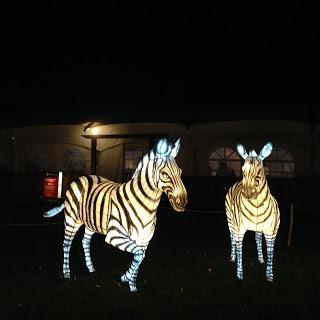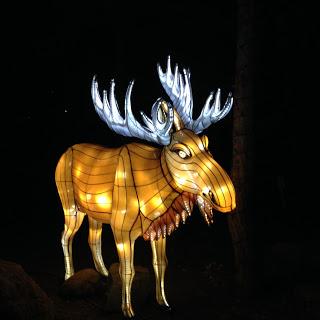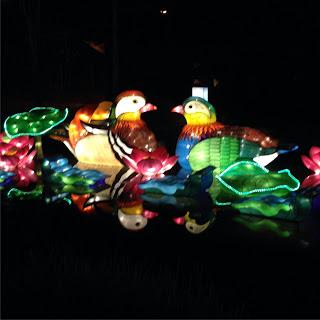 It was breathtaking.
Now - do I think it is worth the money?  That's something you have to decide for yourself.  I DO think it is overpriced for what it is...but so is Zoolights and how many of us shell out for that each year?   This event does make for a very late night...particularly if you don't live near the zoo.  We walked around and saw all of the lanterns but we didn't hang out for the entertainment.  My girls went to bed after 10pm that night...on a school night.   That is a bit late in my thinking for two 6 year olds...but it was an interesting experience for them and they did like seeing the lanterns.  But they liked seeing them in the daylight too - when they weren't tired and cranky.  When the sun was up and warm without the chill and dark surrounding them.  And I liked that during the day was included with our zoo passes.
This is the last weekend for Illuminasia.  Thursday-Sunday to see them lit up...or anytime to see them unlit.   Your call, but they are cool to see.   And if you have kids who maybe don't handle staying up past their bedtimes - you can still get in on this cool experience without feeling your wallet cringe.