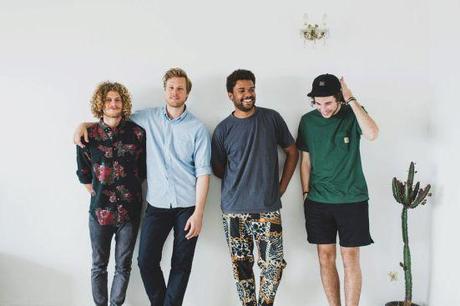 Mitzi are an Australian based quartet hailing from Brisbane having been dubbed as one of NME's Buzz Artists over the past couple of years. Their debut EP was launched in 2011 and is called All I Heard, a song which features on this years debut album Truly Alive.
On a first listen to Mitzi you'd be forgiven for putting them down as being another bland electro, indie pop band, therefore it's not surprising that NME have them flagged as one of their 'Buzz Artists'. It feels like they only back the same old boring indie stuff.  However, as bland as they first seem, they are nice to listen to and I could definitely find myself listening to this guys on a late summer evening with a glass of wine and some friends.
So to Who Will Love You Now. It opens with a deep funky bass line and soft kit, that makes me want to listen to some chilled out 70s funk tracks. It's overlaid with some synth chords and low vocals. When we get to the chorus a harmony is added with the second voice. On the return of the verse section there is now an addition of a mid range guitar riff before looping back to the chorus and the harmonised echoey vocals. The biggest change in the whole track is the bridge section where we're left with nothing but the line 'To set things straight in our hearts' and a cascading synth sound. The track then comes back to the chorus now with an arpeggiated synth riff that is put up the octave to finish the song. That's about it!
The track does very little by way of building or changing throughout and that's why you'd be forgiven for your earlier assumption that they're just another boring indie, electro pop group. However there's a reason why these guys have supported the likes of Darwin Deez and Foster The People whilst on tour; and there's a reason why they were given the opportunity to remix artist like Two Door Cinema Club (Something Good Can Work) and Cassian (Nobody). That's because they're good at what they do. As simplistic and minimalistic as it is, it sounds good and it's easy to listen to. I have a feeling that these guys will be around for a long time.
-TWSH
Download Who Will Love You Now and Truly Alive
Find out more about Mitzi:
Facebook SoundCloud Tumblr Twitter Website