Hi chickies!
It's time for another challenge day in the Mish Mash Challenge hosted by Kimbers Lacquer Korner! Today's theme is taping. I have a very love hate relationship with taping, striping tape to be more specific... I absolutely love the effect it can give but really hate cutting all those stupid little pieces! They always find a way to get stuck all over me -_- But I wanted to do something really cool for this challenge so I sucked it up and cut 2673857489 little pieces of tape.
I'm not sure where this design idea came from, it actually wasn't my first idea but I couldn't quite get that one to work out without swearing profusely! So I just kind of stuck some tape on my nails until I had something I remotely liked ;) 
To start this design I painted all of my nails with two coats of OPI My Boyfriend Scales Walls and then two coats of China Glaze Orange Knockout on top of that. Once my nails were dry (I used some Poshe top coat to speed up drying time ;) ) I put the vertical pieces of tape on my nails. I put one piece horizontally to make the cut off line nice and clean. I painted over the tape with Lime Crime Peaches <3 Cream and pulled the tape off. When that was dry I put the horizontal pieces of tape on and painted over those pieces with the same polish. After I pulled the tape off I did some touch ups with a striping brush, top coated everything with Poshe and I was done!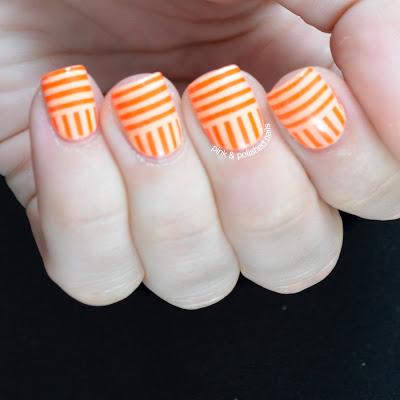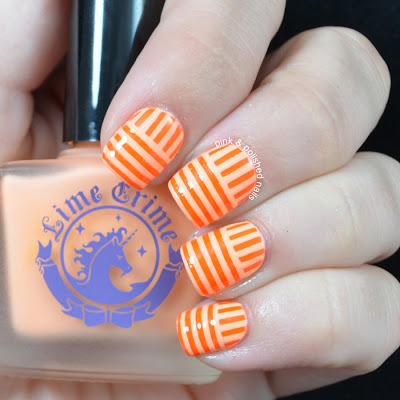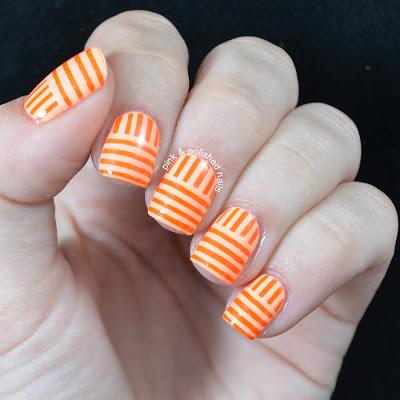 I really quite like how the final result looks! It was a little time consuming but I definitely think it was worth it. What do you guys think? Do you use striping tape? Is there an easier way to cut all those pieces because I don't think I can handle the nightmares!! ;) 
Thanks guys and don't forget to check out everyone else's taping nails! I can't wait to see what everyone comes up with :)