Hi chickies!
Happy hump day! You know why I like Wednesdays so much? Because it means another challenge day from the Mish Mash Challenge hosted by Kimber's Lacquer Korner! Yay!!! Today's theme was something kind of cool: a nail art technique you've never tried before. There's a million and one different nail art techniques I haven't tried yet so I was pretty excited for this day. I knew whatever I chose would be challenging, and it was ;), but I always love a good challenge!I've been seeing water spotted nails floating around the blogosphere a lot lately and knew I had to try it out. Water spotted nails always seem to make me think of one idea, turquoise stone nails. YES! I was correct in thinking that this would be difficult though -_- I followed the tutorial from Lacquerstyle she made it super easy to follow! And even though they didn't really end up looking like turquoise stones I still quite like them! ;)I started with a base of Zoya Zuza on all of my nails. Then I ripped up a makeup sponge and lightly sponged Sinful Colors Mint Apple randomly. When that was dry I used a new piece of the sponge to dab on Sally Hansen Golden-I randomly as well. Then I put a drop of Wet n Wild Black Creme in a cup filled with water and sprayed some hairspray on it to create all the holes in the water. I dipped each finger in quick to get my design. Top coat with some Poshe and this design was ready to go!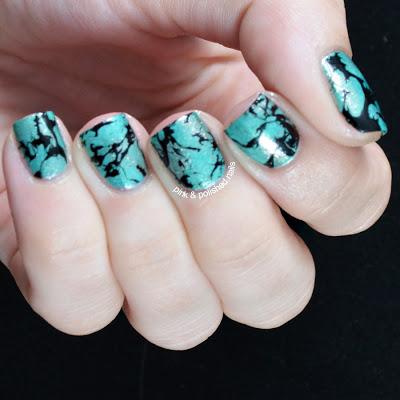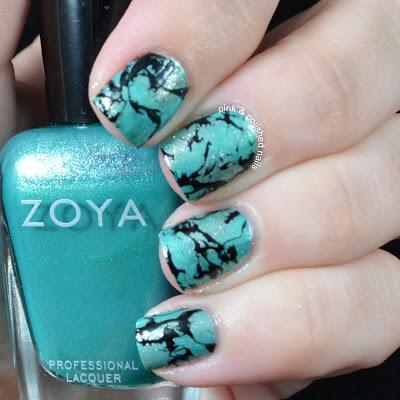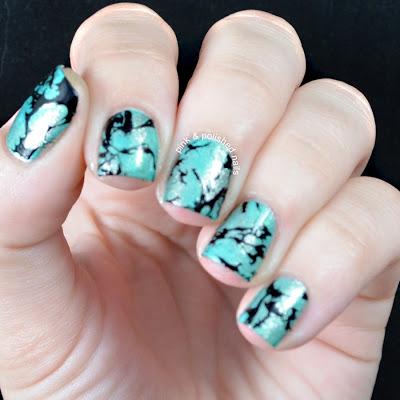 Why is this so blurry?!?!? -_-
And to make it look even more rock-like I added NYC Matte Me Crazy to take away the shine. I really like it this way!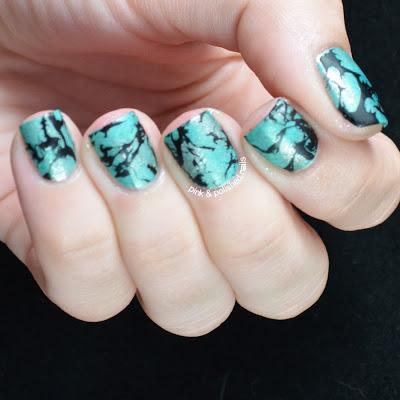 I wouldn't necessarily call this a 'fail', more like a 'needs improvement' ;) But that's ok because practice makes perfect right? And even though it was a bit frustrating and they didn't really turn out looking like turquoise stones I still think the final effect is pretty cool!
Have you tried water spotted nails yet? What's your favorite color combination? 
Thanks guys and don't forget to check out everyone else's designs I can't wait to see what everyone comes up with!